Visiting Phuket with kids gives you the chance to experience stunning beaches, amazing hotels, glorious weather and a great mix of cultural and natural attractions. And the best part? All of this is available for some fabulous prices that won't break the bank.
Phuket must be one of the most child-friendly places to travel in Thailand and has some of the best family hotels that you could hope to find. It is a destination that offers a great mix of relaxation, adventure, comfort and convenience.
In this Phuket with family blog, we will cover all the things that you need to know before your trip to Phuket and fill you in on all the best things to do in Phuket with kids.
---
Top Family Hotel: Centara Grand Beach Resort

Best Day Trip: James Bond Island (with snorkelling and kayaking)

Top Family Activity: Splash Jungle Waterpark
---
Things to do in Phuket with Kids
Hit the Beach
We'll start with the most obvious of the Phuket activities for kids – going to the beach. The beaches are why this place is so famous and why such a huge tourist industry has been built up in the area so I think that it is fair to say that you will want to visit the beach on your family trip to Phuket.
There are lots of beaches though so it is worth giving some thought to the type of beach that you and your family will enjoy most. Phuket is quite big, has lots of traffic and expensive taxis so it is worth ensuring that you are staying at a beach that you will enjoy.
Phuket has some amazing family accommodation that is right on the beach, so the biggest challenge is probably narrowing all the great options down and choosing where to stay on your Phuket family vacation.
To help you out, we have written a round-up of the best family resorts in Phuket, and below we have listed our favourite on each beach.
Karon Beach
Is a lovely big, wide, beautiful beach. There is a main road with everything you need and the beach has a good vibe that is popular with families. There is a playground at the northern end for when you have had enough of the beach.
Top Hotel Choice: Centara Grand Beach Resort
Mai Khao Beach
At 11 kilometres long, it's the longest beach in Phuket and also one of the least visited and least developed thanks to being part of Sirinat National Park. We think that this is the best area to stay in Phuket for families and there are many great family-friendly resorts.
Top Hotel: Marriott Phuket Beach Club
Nai Yang Beach
Nai Yang Beach could be the best family beach in Phuket.
We came here when we visited Phuket with a 1 year old, and enjoyed our stay and the beach here. It is quite quiet with just a few restaurants on the beachfront. It is part of Sirinat National Park some buildings were removed a few years ago to preserve that natural environment. There are big trees behind the beach that offer some shade.
Where we stayed: Dewa Resort
Kata Beach
Kata Beach is another of the most family-friendly beaches in Phuket. It is wide and long so there is plenty of sand for everyone, and there is a lot going on here to keep you entertained. There is a good range of accommodation here and loads of restaurants.
There are some nice snorkelling spots and in the offseason, you can surf here (nice calm sea in the high season). Be sure to check out the lesser-known beach at Kata Noi.
Where to Stay: Chanalai Garden Resort
Bangtao Beach
A big, wide beach with watersports available. The northern end is our favourite as it is untouched by development. Stay at Angsana Laguna Phuket, which is one of the biggest resorts on the island.
Patong Beach
This is the place to go for nightlife and it can be pretty seedy. It's not all bad but we don't recommend going there with family given that there are so many better options in Phuket.
Visit Phuket Old Town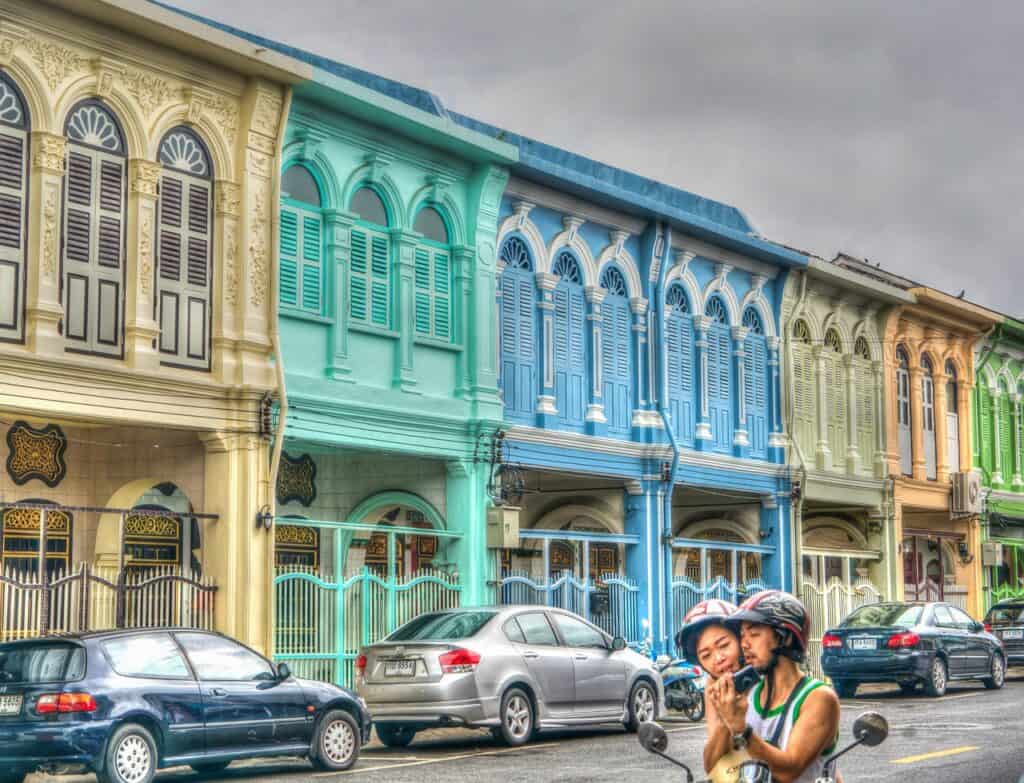 Phuket isn't all about the beaches and modern tourist developments. Phuket Town has an old town area with a core of historic streets with pretty and interesting Sino-Portuguese architecture.
It is one of the top places to visit in Phuket with family, and worth a look if you a have a day to spare. You can check out the Thai Hua Museum, Baan Chinpracha mansion and the Lard Yai Sunday street market.
Phuket Town has the best Thai food restaurants on the island and is generally cheaper than elsewhere, so be sure to grab some food whilst visiting.
To find the best food in town, take this awesome street food tour which calls in at tucked-away places with delicious food.
Check out the Gibbon Rehabilitation Project
There are a lot of animal attractions in Phuket that we aren't keen to promote on our site. Attractions like elephant riding and tiger petting at Tiger Kingdom may claim to be ethical but there are some pretty dubious practices that go on and we don't want to support that.
The Gibbon Rehabilitation Project seems to be different. Their aim is to help and rehabilitate gibbons that have been rescued or confiscated from the pet trade. It offers a great opportunity for children to see gibbons and to learn about this endangered ape.
The best way to come here is by mountain bike on a lovely half-day tour through the countryside that will also take in the Bang Pae waterfall so you can make a day trip out of it. There is a 200 baht fee for the national park, the Gibbon Rehabilitation Project is free to enter.
>>> Book Your Countryside Bike Tour Here
View Underwater Life at Phuket Aquarium
If you are wondering what to do in Phuket for kids, the Phuket Aquarium is worth a look. Our girls always love visiting aquariums. They seem to hold their attention far better than a zoo.
The one here is fairly small but it is well presented and has some interesting species. There are some large tanks and an underwater tunnel that gives you a great view of sharks, rays, and tropical fish.
Outside there is a trail that takes you to see some sea turtles that are rehabilitating following rescue from the sea. The Aquarium is on Cape Panwa at the south-east tip of Phuket.
>>> Book Your Aquarium Ticket Here
Take a Day Trip to James Bond Island and Phang Nga Bay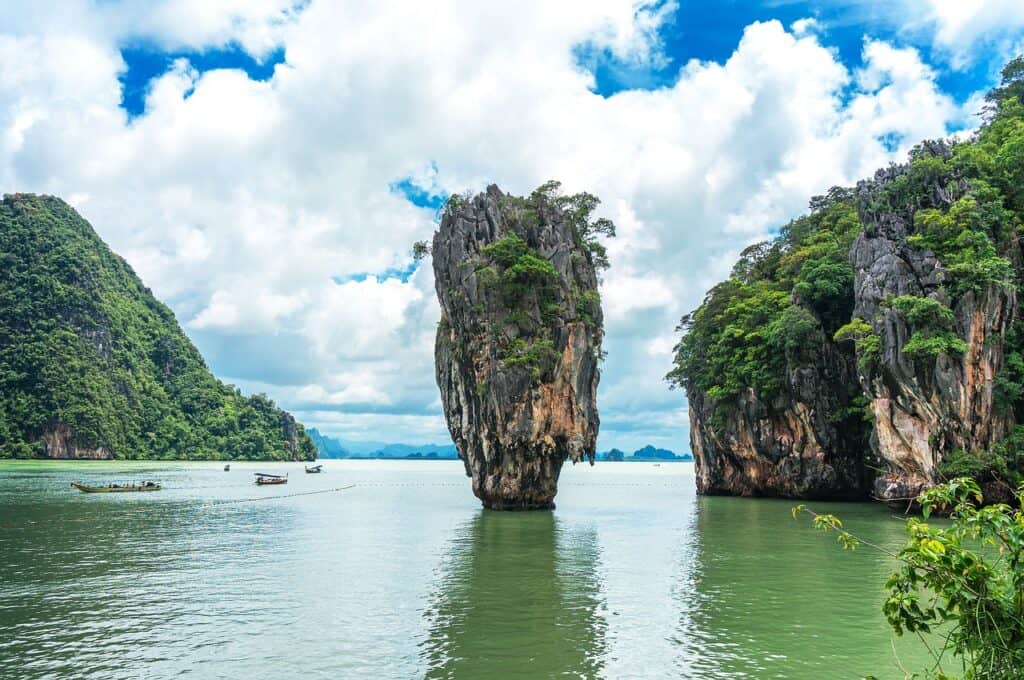 Phang Nag Bay is an extraordinary place where stunning karst islands rise majestically out of the blues sea. It is generally billed as a trip to James Bond island but this is a trip that everyone should do for the incredible scenery.
It is one of the best family activities in Phuket and can be done in a few different ways to suit your family.
For an amazing, luxury experience, you can't beat getting the full James Bond experience by travelling in a private speedboat (this is amazing value for big families).
>>> Click here to book your private speedboat
Or, if you fancy a bit of added adventure, take a tour that gives you the chance to paddle a kayak around these islands for the perfect fun activity in Phuket for kids.
>>> Click here to book a tour to James Bond Island (with snorkelling and kayaking)
Sail to stunning Phi Phi Island
The other great day trip from Phuket is to head to the incredibly beautiful Phi Phi islands. The most famous and arguably most beautiful island in the area is well worth a visit.
You may want to include a couple of nights stay on Phi Phi within your Thailand itinerary, but if not, you should still head over for the day.
It is a stunning location and it is surely one of the best places to visit in Phuket with family. Day tours will take you to see 'The Beach' at Maya Bay and include stops for snorkelling and a visit to Bamboo island.
>>> Book your discounted Phi Phi day trip here
Try Watersports from the Beach
Active kids of all ages will love the range of water sports that are on offer in Phuket. The warm waters and generally calm seas make this the perfect place to try out a new sport.
They could take the chance to try stand up paddleboarding (SUP) or have a surfing lesson in Kata or Bangtao. If you are looking for Phuket kids activities that involve a bit more speed, your children could take part in wakeboarding or flow boarding sessions.
A more sedate activity that is popular with kids in Phuket, is to take a dinghy sailing course at Ao Chalong Yacht Club.
>>> Click here to book your Stand Up Paddleboard lesson
Explore the Jungle
Phuket might not be famous as a trekking destination but it does have some great short trails that are fun to explore with kids. The short trail to Kathu waterfall is sure to be a hit with kids. It is set within a small park and the small natural pools make great places to cool off under the hot sun.
In the north of the island is Khao Phra Thaeo wildlife sanctuary where you can trek to Bang Pae and Tonsai waterfalls along trails that are easy to navigate and safe for kids to explore.
Play a round of Mini Golf
I love mini-golf, and it is another great thing to do in Phuket with kids. There are a couple of places where you can play mini-golf in Phuket.
One is Dino Park Mini Golf at Karon beach where you will find a jungle and dinosaur themes course. It is really nicely made with vegetation, dinosaur footprints, caves and waterfalls making for a great backdrop to a fairly challenging and interesting course where you (try to) hit the ball through caves, over bridges and around dinosaur fossils.
The other option is Phuket Adventure Mini Golf near to Bang Tao Beach.
Visit the Big Buddha Phuket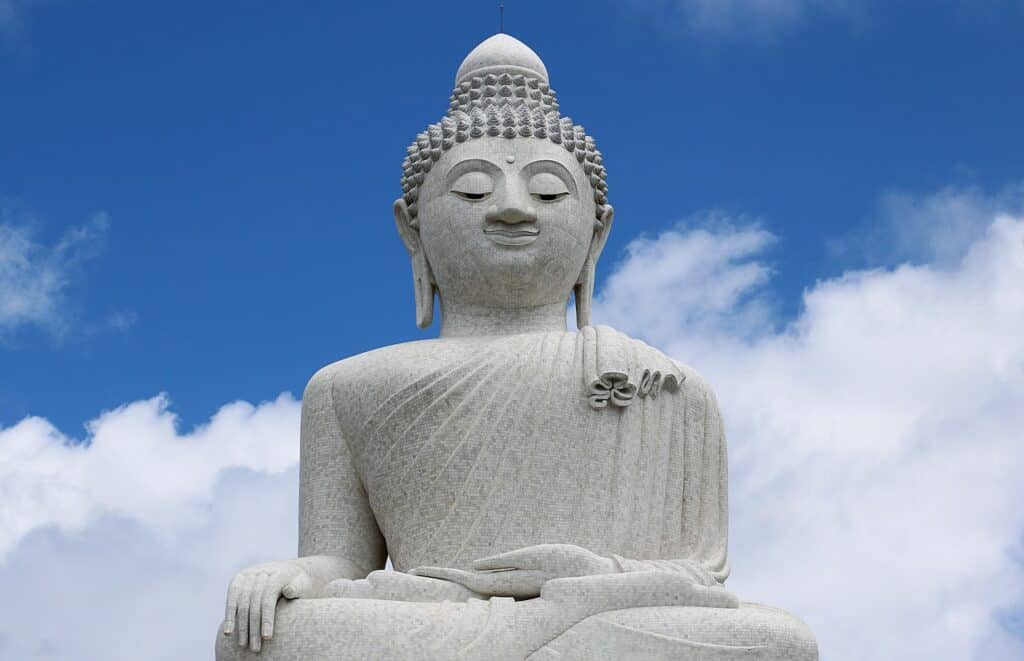 This one doesn't need too much description. It is a massive Buddha! 45 metres tall in fact, and you can see it from all over Phuket. It is a good chance to get away from the beach, share a bit of culture with your family and remember that you are in Thailand, a devoutly Buddhist country.
The other great reason to come here is to enjoy fabulous views over the island. Most people that visit here combine it with other sights on a Phuket island tour.
As it is a religious site, please remember to dress appropriately with shoulders and knees covered.
Swim at Splash Jungle Waterpark
For the ultimate swimming experience, you should be sure to visit the Splash Jungle Water Park at Centara Grand Beach Resort. It is one of the most fun things for kids to do in Phuket as you will find a variety of great slides and a lazy river all set in lush grounds.
If you factor in taxi costs and the high entrance fee it is quite a pricey option to visit this waterpark from elsewhere in Phuket. For this reason, we recommend staying at least one night at the Centara Grand West Sands Resort as guests here are granted free access to the water park.
>>> Click here to buy discounted water park tickets
Fly Through the Trees on a Zipwire
The Flying Hanuman Phuket is a zip-wire course that gives you the opportunity to fly through the trees. It is definitely one of the most exciting activities for kids in Phuket. There are a few different courses, including one that is designed to be easier for younger children. They take children from 4 years old, but they'll need to be super brave, we didn't try it with our under 5's. We have heard that 7 upwards is a good age.
The staff here are full of enthusiasm and really set the place apart from similar attractions elsewhere. As well as being fun, they are very professional and will ensure your young adventurers are kept safe through the proper use of safety equipment.
>>> Book your flying adventure HERE
Baan Teelanka (Upside Down House)
This is a fun (if somewhat disorientating) Phuket attraction for kids. It is exactly as it sounds, a house where everything is upside down. This goes for every detail from pictures on the wall to a full-size tuk-tuk.. It is a fairly odd attraction but is generally a hit with the kids and it gives you the chance to get some unusual family photos (staff are on hand to help with this).
Relax in the Park
There are a couple of municipal parks in Phuket that are worth a visit. Our kids can't seem to get enough of playgrounds and we try and find them whenever we are travelling (not that easy in Thailand).
The parks here may not be as lush and beautiful as you find in Europe but they offer an alternative place to relax away from the beach.
The park at Saphan Hin in Phuket Town and the lake near Nai Harn Beach are good places to relax with the family.
If you are happy to pay a little for a good play area, there is a new park area at Rawai Park where there are 4 areas aimed at kids in different age groups. There is a water park for under 12's, 2 indoor playgrounds and an outdoor climbing tower for bigger kids.
Strike a Pose at Phuket Trickeye Museum
Like the upside-down house, this 3D art museum is another type of attraction that has sprung up all over South East Asia. Essentially it is a museum where all the walls are covered with 3D art that you can stand in front of.
The optical illusion of the paintings means that it looks like you are part of the scene in the artwork. You are bound to take hundreds of photos and kids love it. The perfect place to come if it is raining outside.
>>> Book an Aquarium and Trickeye Museum Combo ticket here
Best Time to go to Phuket with Kids
Phuket has tropical weather with a dry season from November to April and wet season from May to October. The dry season is the peak season for tourists and it can get pretty busy in the popular spots. The price of hotels is double the low season price.
The weather is almost guaranteed to be perfect though and that is why people are prepared to pay the extra.
April or November give you a good chance of nice weather and low prices (April is hot). The wet season is a bit of a gamble you can get away with just a few hours of rain a day, or torrential rain for weeks that could see you confined to your hotel.
---
Phuket with Kids: Before you go Essentials
1. Remember your immunisations. It is always worth visiting your doctor a couple of months before you leave to ensure that you are up to date.
2. Make sure that you have good Travel Insurance, like this great policy from Word Nomads (you can still book this even if you have left home).
3. Get the right Guide Book
4. Pack what you need, and not what you don't. Check out our Thailand family packing list
---
Final Thoughts on Travelling to Phuket with Kids
We hope that you have enjoyed reading our guide to Phuket with kids.
It is a fabulous, family-friendly destination and we are sure that you will have a great fun-filled time. It is the perfect destination to combine adventure with purehttp://morelifeinyourdays.com/krabi-airport-to-railay-beach relaxation and you will definitely not be short of ideas of what to do in Phuket with children!
The weather is fabulous and that always goes a long way to ensuring that you have a great holiday. On top of all that, family accommodation in Phuket is wonderful and there are some great bargains to be had, especially outside of peak season.
If you are looking for somewhere to visit after Phuket, we recommend heading to Krabi province. We have written a post that will help you to decide where to go in Krabi, it includes wonderful places like Koh Lanta, Koh Ngai, Railay Beach and Ao Nang.
If you are travelling around Thailand with kids then you should take a look at our guides to Bangkok with kids, Chiang Mai with kids and Krabi with kids.