The turn of the year is always a time for looking ahead and thinking about your hopes, dreams and plans for the year ahead. In our household that generally means that it is time to start planning our family holidays for the year ahead.
I am sure that we are not the only ones who think like this so we decided to pull together this list of the best family holiday destinations in the world to help you decide where to travel as a family in 2023. We are definitely hoping that travel gets back to normal this year!
The list is full of fabulous places to visit and we hope that it provides some inspiration for your own travel plans for the year ahead.
Sardinia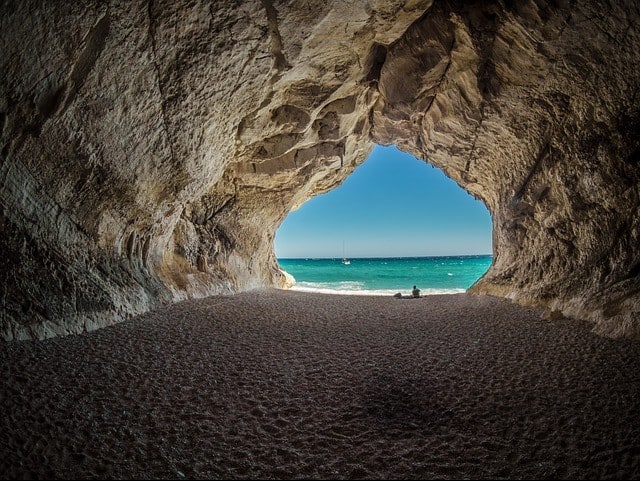 Sardinia is beautiful. There is a wonderful range of landscapes in such a small area; looming mountains, deep canyons, intriguing rock formations, deep caves with glistening stalactites, crystal clear blue seas and some of the best beaches in Europe to cap it off.
When the natural attractions are combined with wonderful Italian cuisine and warm hospitality, Sardinia might just be the perfect holiday destination.
There are many great places to visit all over the island, but if we were to pick just one as a base, we would choose Alghero. It is a fortress city by the sea with great bastion walls, narrow cobblestone streets, charming piazzas, opulent churches, and an array of stunning shops with coral jewellery. Some glorious beaches are just a short drive away giving you the perfect mix of town and beach.
If you are keen to explore further you will find that car hire is cheap whilst the roads are quiet and easy to navigate. The island is fairly small so you can easily visit many of the highlights in a week or two. It is stunning so don't forget your camera!
---
For more ideas, please check out these posts:
---
When to go to Sardinia
Sardinia has a Mediterranean climate and enjoys warm dry summers that are perfect for exploring the delights of the islands and soaking up some sun on the beach. It is relatively windy and there is shade to be found so you won't find it quite so stiflingly hot as places like the Greek islands.
Although you are almost guaranteed great weather in July and August, you may want to consider avoiding these peak months due to the higher costs you will find and the fact the island gets very busy.
The shoulder season of May/June and September/October are great times to visit with a good chance of warm dry weather but without the crowds of the summer.
Top tips for parents of babies, toddlers and young kids
Cala Brandinchi is one of the most beautiful and well-known beaches in Sardinia. A long sweeping arc of white sand in a shallow and sheltered bay provides the perfect beach for young families as even the youngest of toddlers can wade out quite a long way before the water gets too deep. For more tips please check out our guide to Sardinia with a baby
Koh Ngai, Thailand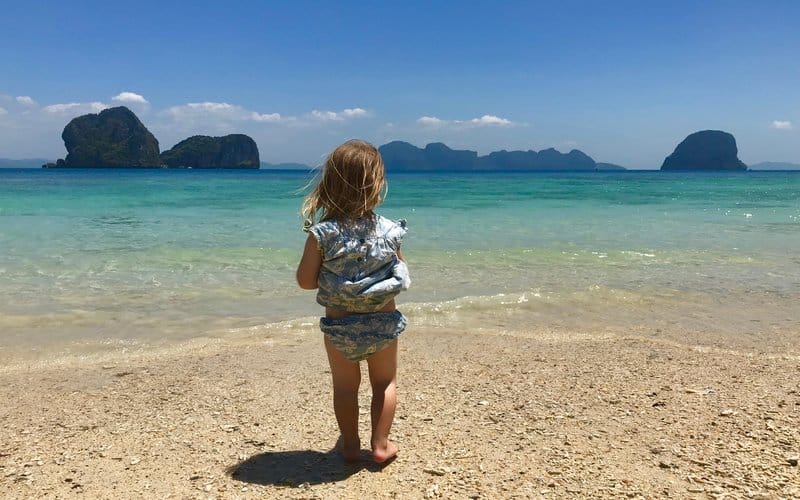 Koh Ngai is our favourite place in all of Thailand. It is a tiny island in the Andaman Sea where hornbills swoop overhead and karst islands rise out of the azure sea to provide the perfect view. It is a perfect beach for young children to play with shallow waters, soft white sands and shade throughout the day.
The interior is jungle clad providing adventurous walking options for older children, who will also love being able to snorkel with colourful fish over the small reef just a short swim from the beach.
Kayaking is another great option here with trips to deserted beaches and tiny karst islands a favourite with many visitors.
Trips by long tail boat to the nearby islands of Ko Kradan and Koh Muk can easily be arranged through any of the hotels, the Emerald Cave on Koh Muk is a must-see for any visitor to this area.
The beach is the main draw though and is one of our favourites in all of Thailand, the view is just spectacular while the warm calm seas invite you to take a dip. Palm tree line the 2 kilometres arc of sand and there are just a handful of low key accommodation options set just back from the beach.
We've visited this tiny paradise a couple of times now and have loved every minute!
Read all about Koh Ngai in our complete guide to the island
When to Visit Thailand
Thailand has a tropical climate with distinct dry and rainy seasons. The effects of these seasons vary around the country but generally, the 'cool' and dry season between November and April is considered the best time to visit.
Click here for more detail on the climate in Thailand.
Top tips for parents of babies, toddlers and young kids
The main beach on Koh Ngai faces east which means that you can get shade throughout much of the day. There is a great tree by the Koh Hai Fantasy Resort where lots of families congregate in the shade. There is also a small play area here.
Koh Hai Fantasy Resort does free food for under 3's. The choice is a bit limited, cheesy pasta, chips, chicken burger etc but is saves buying an extra meal.
Where to Stay on Koh Ngai
We have stayed at Koh Hai Fantasy Resort on several occasions and think that it is the best place to stay on Koh Ngai for families.
The whole place is really geared up for families with a small play area right by the beach and a nice swimming pool set further back.
Click here to check the latest reviews and prices
---
Planning a trip to Thailand in 2023? Check out these posts:

Tips for travelling in Thailand with a Baby and Toddler

Best Beaches in Thailand for Families
---
Venice, Italy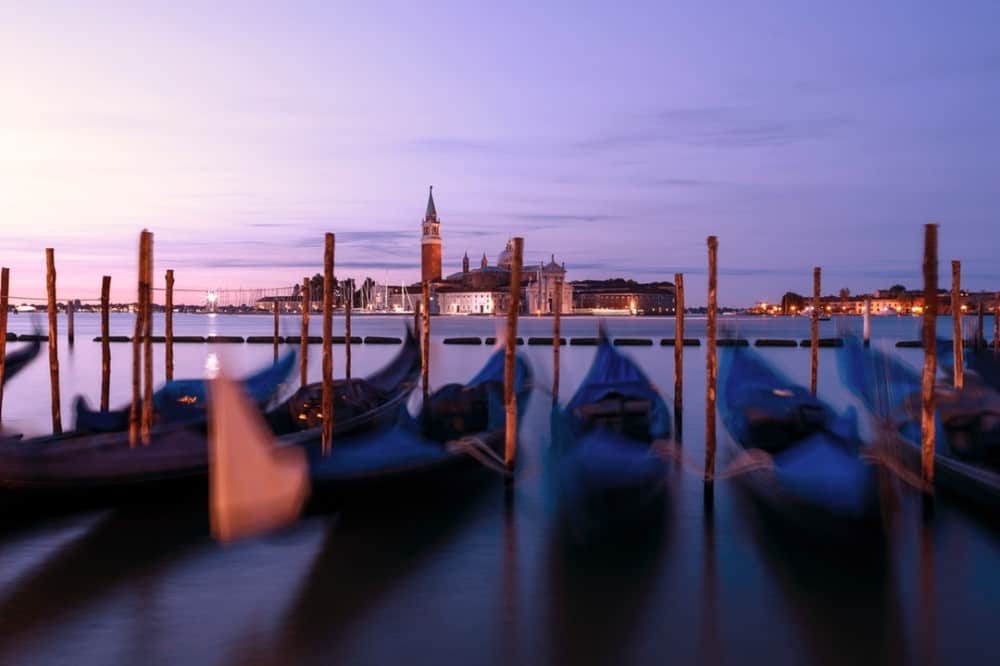 Venice is a magical place to visit. It is quite unlike anywhere else in the world, it is sure to enthral you and your kids.
There is a romance and majesty to the city that evokes the glories of the past when trading from the East brought great wealth to Venice.
We think Venice is a great place for families to visit and makes a perfect destination for 2023.
Your children are bound to be enchanted by Venice, everything is just that bit different, you have boats instead of cars and canals instead of roads, the buildings are brightly coloured and you can eat pizza every day.
As I said, it is just that bit different to everywhere else.
Be sure to take to the water to enjoy the delights of the canals where dozens of fabulous palaces back on to the water. You can do this by Vaporetto, which is Venice's answer to a bus, or why not try paddling your own gondola?
Make sure that you wander around the pretty Cannaregio and Castello areas which are our favourite parts of the city. Away from the worst of the hustle and bustle of tourism you can enjoy the Venice of your imagination and experience a unique cityscape that has changed little in hundreds of years.
---
---
When to Visit Venice
For hot and sunny the summer months are your best bet but this will also mean that you have to deal with hordes of other tourists so it might be worth trying the shoulder months of June and September for a more relaxed experience.
We visited in July and didn't feel that it was as overwhelmed with tourists as we had expected.
Many people recommend Venice as a great winter destination where the cooler temperatures.
Top tips for parents of babies, toddlers and young kids
Consider leaving the baby stroller behind. There are quite a few bridges to cross in Venice which can be a challenge with a stroller as they are mostly steep and have steps to climb so you may prefer to use a baby carrier. Some areas, like the Santa Croce and San Polo areas, are fine to take a stroller, with wide flat streets and large piazzas.
Most of Venice is covered with either buildings, piazzas or water but there are a few small parks and playgrounds dotted around the city including Parco Savorgnan in the Cannaregio district where you will find a couple of small playgrounds that cater for kids of all ages. Read more in our guide to Venice with a Baby.
Where to Stay in Venice
Looking to book a room in Venice? Check out our favourite places on Booking.com
Hotel Palazzo Stern – Spectacular Location: For a truly memorable stay try this old palace right by the Grand Canal. The canal side terrace is an unbeatable place to have a meal or drink whilst the interior is opulent enough to make it feel like you are staying in a palace (which you are!).
Ca' Due Leoni – Where we stayed: This is a hidden gem located in a quiet residential area at the heart of the Cannaregio District. It is a small hotel that is great value with a pleasant courtyard for breakfast and antique furnishings for a touch of glamour.
B&B San Firmino – Top rated on Booking.com: Overlooking the Santa Maria Formosa church's baroque façade and the canal this B&B offers wonderful breakfasts and comfortable rooms.
Dartmouth, Devon, England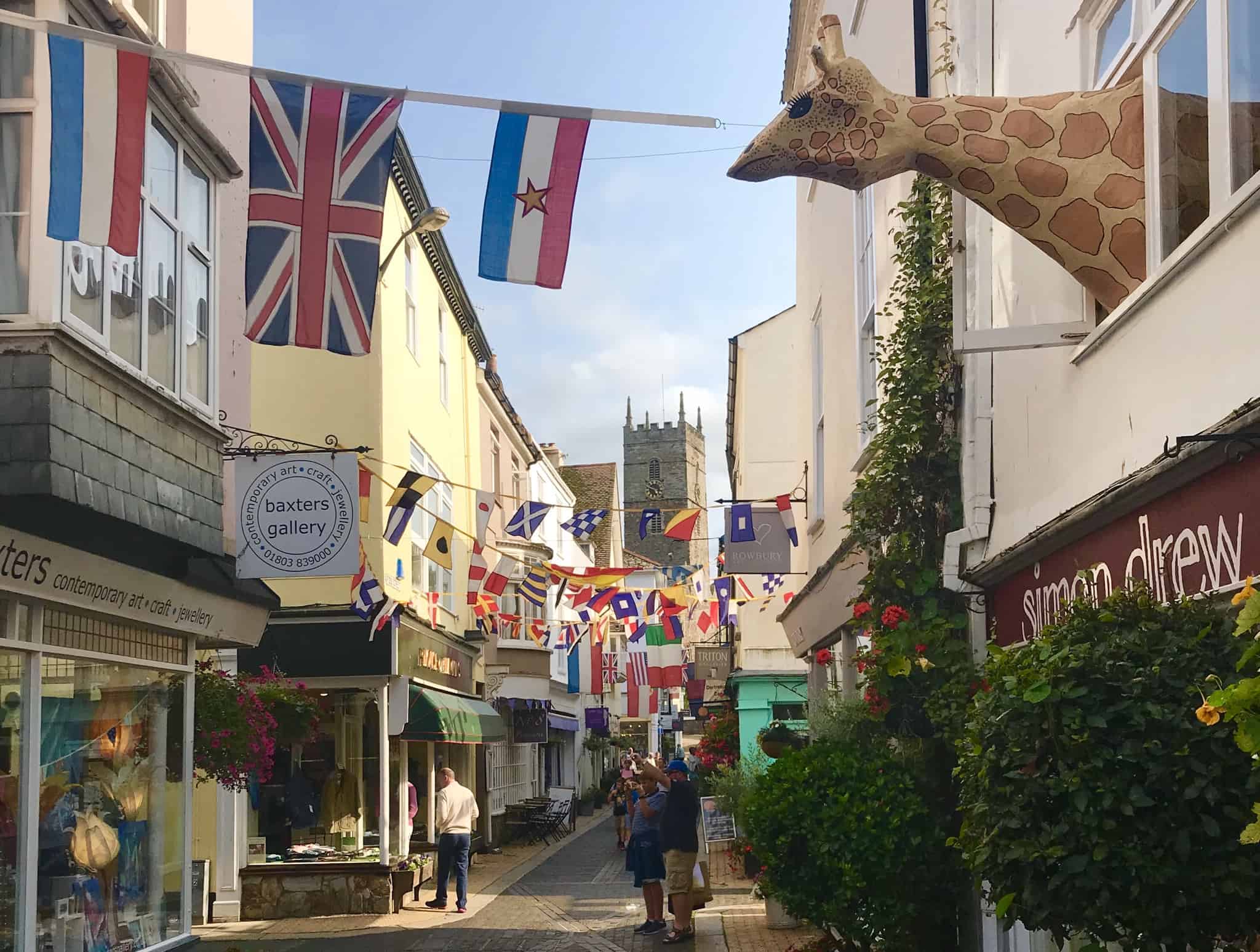 Dartmouth is a beautiful, colourful harbour town situated at the mouth of the River Dart in Devon. It is one of the most charming towns in the UK and makes a great place for a family holiday.
The town is centred on the bustling river where you can watch the comings and goings of various river craft, and enjoy views over to beautiful Kingswear.
There is lots to keep you and the kids busy in this beautiful historic town. You may like to take a stroll along the riverfront promenade, visit the castle, ride a steam train, head to the beach, wander around the boutique shops and art galleries, or take to the water for a boat trip out to sea or up the river to Totnes.
---
Like the sound of Dartmouth?

Check out our post on the Best things to do in Dartmouth
---
When to Visit Dartmouth
Given the vagaries of the English climate, you can never guarantee yourself good weather when visiting South Devon but we have enjoyed some gloriously sunny and warm weeks there between June and September.
With great weather, it is really hard to beat Dartmouth for a family holiday.
The winter months in Dartmouth have a charm of their own as the town is largely free from tourism and slips back into the sleepy harbour town vibe of yesteryear.
You can enjoy the 'sight' of the Dart being shrouded in mist and Kingswear disappearing from view altogether. The winter months will have less in the way of tourist services but there is still plenty to keep you amused.
Aside from the weather, you may want to time your visit to coincide with one of the special events that take place every year.
Dart Music Festival
An annual 3-day music festival now in its 22nd year with over 100 performances spanning almost every musical genre.
Dartmouth Royal Regatta 
The Dartmouth Regatta is a 3 day packed programme of air displays, sailing, sports, live music, street food, fireworks and more in the beautiful town of Dartmouth.
Top Tips for parents of babies, toddlers and young kids
One of our favourite things to do is to have a go at crabbing from the embankment. You are sure to catch something! In summer the waterfront is lined with scores of families dangling their lines over the edge, it is always a winner and great fun for all the family.
Dartmouth has a great playground in Coronation Park.
Take a toddler tablet for quiet time in your room
Where to Stay in Dartmouth
Dartmouth is pretty compact but it is worth noting that the town rises steeply away from the river with many properties accessible only via steep roads or stepped alleyways.
Royal Castle Hotel: Stay right in the heart of Dartmouth at this iconic award-winning hotel overlooking the boat float.
Bayards Cove Inn: This charming 500-year-old building has beautiful rooms right by the waterfront of Bayards Cove.
Dart Marina Hotel: This stylish riverfront hotel has rooms with balconies overlooking the Dart, a luxury spa and an award-winning restaurant.
Apartment 4: We often like to have the option to cater for ourselves. This apartment is well furnished and has all you need for a comfortable stay in the heart of the town.
Alternatively, you can stay in one of the many holiday cottages that can be rented through AirBnB.
Lanzarote, Spain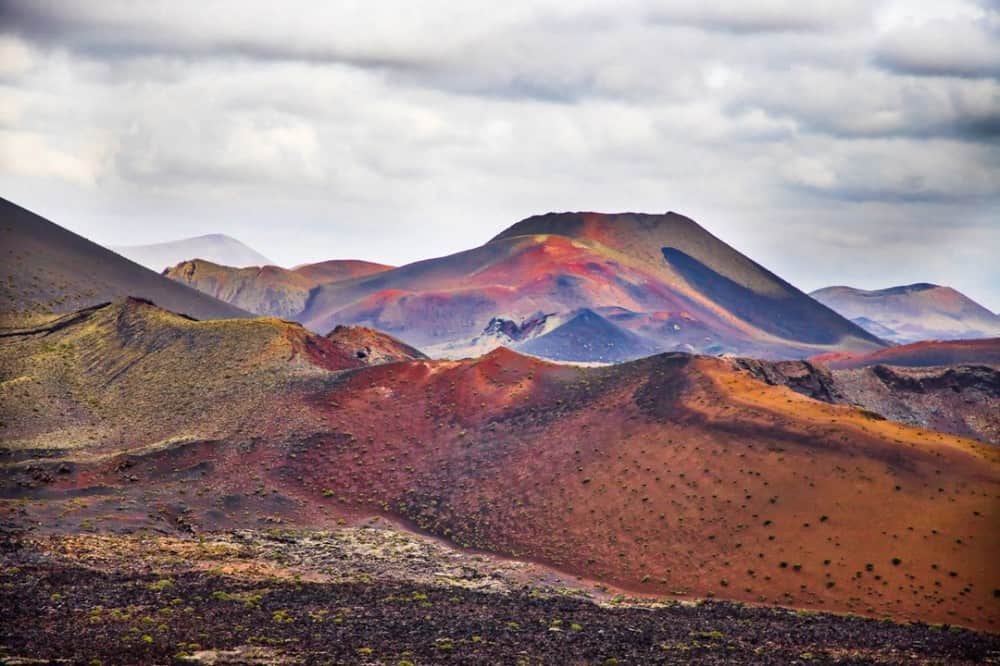 Lanzarote makes a great destination for some winter (or spring, or summer or autumn) sun. Just a short plane journey from the UK and mainland Europe, the big draw of the island is the wonderful climate that is warm and sunny year round.
When you combine this with some gorgeous beaches and beautiful scenery you get a wonderful family holiday destination.
Lanzarote has escaped the worst excesses of overdevelopment that have blighted some of the other Canary Islands.
You will be able to find great accommodation to suit all tastes and budgets while the island has enough attractions to keep you busy should you prefer to venture away from the beaches.
This small volcanic island can be easily explored by rental car (crazily cheap when we visited in December). The island's must-see attractions include:
Mirador del Rio – One of César Manrique's architectural masterpieces with fabulous views over the sea to the island of La Graciosa
Costa de Papagayo – Beautiful, wild beaches at the south of the island.
Teguise – Explore cobbled streets and atmospheric squares in this charming town.
Timanfaya National Park– is home to the Montañas del Fuego that caused the volcanic eruptions in the 1700s. The landscape here is unique, with the lava fields, craters and boulders that give an impression of being on the moon.
When we visited Lanzarote our daughter came down with chicken pox, this meant that we could not fly home and had to extend our trip by a few days.
As she wasn't too sick and we were enjoying it there, this actually worked out quite well. Read more about it in this post.
When to go to Lanzarote
One of the great things about Lanzarote is that it has a nice climate all year round. This makes it popular for those seeking some winter sun. Having said that you are likely to get better and warmer weather in the summer months. Average temperatures are 20°C (68°F) in January and 30°C (86ºF) in August.
Where to Stay on Lanzarote
We loved Casa Tomaren where we stayed in Lanzarote. It was a beautiful property with lots of wood carvings, statues and even a rickshaw imported from Indonesia.
The breakfasts were great, but the absolute highlight of the hotel was the swimming pool which was stunningly beautiful.
We definitely recommend Casa Tomaren, check out the best prices on Agoda or Booking
---
Travelling with a baby or toddler?

Check out our post of the most essential baby and toddler travel gear
---
Yucatan Peninsula, Mexico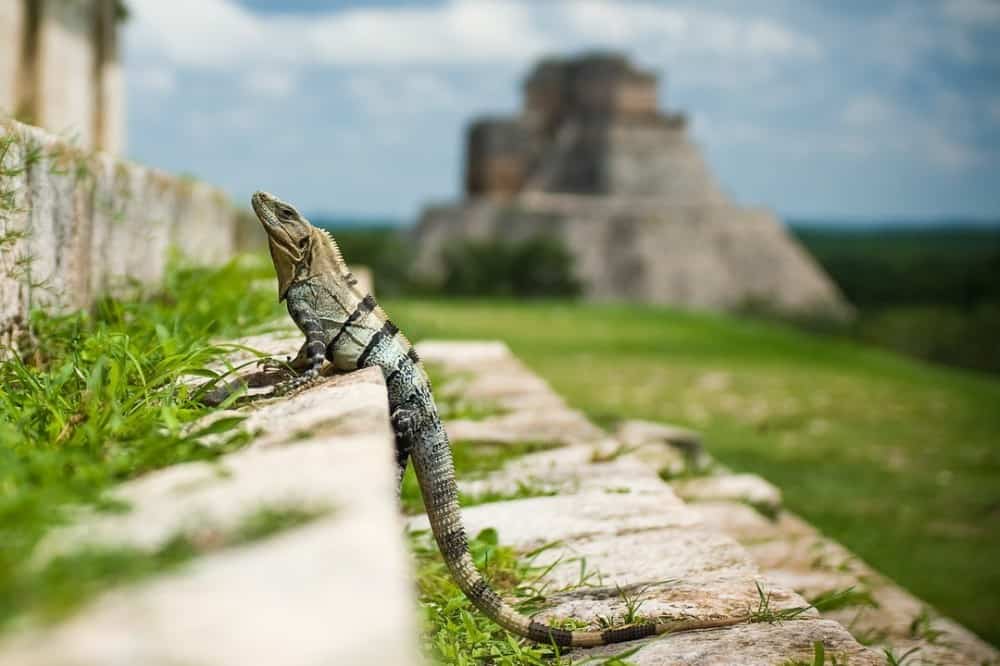 Stunning tropical beaches, steamy jungles, small colonial towns, evocative Mayan ruins and delicious Mexican food – the Yucatan Peninsula of Mexico is a fabulous destination for a family holiday in 2023.
We aren't just talking about the beach towns of Cancun and Playa Del Carmen, this area of Mexico has so much more to offer if you venture a bit further afield.
We visited Mexico as the first long-haul trip that we took as a family, flying from London to Cancun with our 13-month daughter.
It is a great place for a family trip and perfect for babies, toddlers, or children of any age. We spent time on the beach, swam with turtles, climbed Mayan ruins, swam in cenotes and soaked up the atmosphere of old colonial towns. Check out our guide to visiting Mexico with a baby or toddler.
We travelled all around the peninsula, even exploring the Calakmul ruins deep in the jungle.
---
Are you worried about flying with young kids? Don't be! Check out our tips for flying with a baby or toddler
---
When to go to Mexico
The best time to visit the Yucatan is between the end of October and the beginning of April. You will enjoy clear skies and temperatures that are hot but bearable.
We went in November and that was great, over Christmas and New Year you can expect it to get pretty busy so be sure to book your accommodation in advance.
Top tips for parents of babies, toddlers and young kids
Mexico has a really good bus service but we made a very last minute decision to rent a car and we feel that this is the best way to explore the peninsula and is so much easier if you have a baby or young kids with you.
Chichen Itza is flat and open so you may want to take a stroller there if you have one, but I think this was pretty much the only time we found it useful.
Having visited most of the major Mayan ruins in Mexico and Guatemala, I wasn't really all that taken by Chichen Itza.
I am sure that you will want to visit but I really recommend that you spare the time to visit some other ruins as well (not Tulum), we really enjoyed Uxmal.
Angkor Wat, Cambodia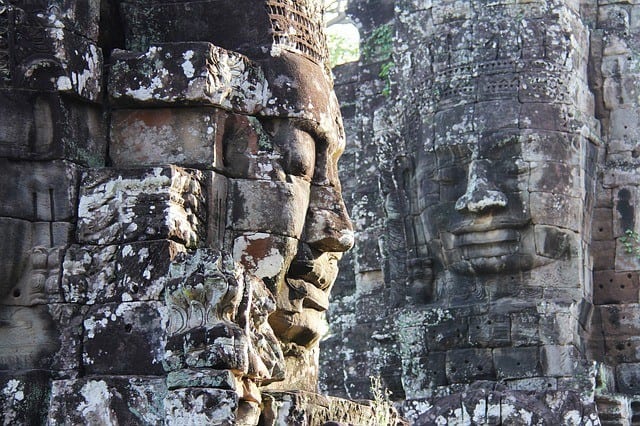 Surely one of the world's greatest wonders, the ruins of Angkor Wat make for an unforgettable place to explore with your kids.
The great Khmer city in the heart of Cambodia was the centre of an empire that ruled much of south-east Asia. Long since abandoned and reclaimed by the jungle, the ruins that remain are spectacular.
No matter what age your children are they will surely be enthralled by the strange temples rising up through the jungle. Huge trees have grown around and through some of the ruins making them all the more exciting for young explorers.
Our daughter looked like a tiny tomb raider as she explored the fallen corridors and doorways of these temples in search of the secret doors that we may have told her would be there.
There are lots of steps to climb and it will be hot so expect to do a lot of walking and some sweating,  but it is totally worth it. If you get tired just ask your tuk-tuk driver for a rest in his hammock!
There are two main routes, the big loop and small loop that take in the main temple. You really need to spend at least 3 days here and we instantly regretted not buying the 7-day ticket that is just slightly more expensive.
Our favourite temples were generally the lesser known ones where we could explore at our own pace. Try to avoid getting sucked into trying to grab the perfect Angkor Wat sunrise photo, there are far better things to be doing on the site.
When to Visit Angkor Wat
The best time to visit Angkor Wat is the cooler dry season between November and March.
Top tips for parents of babies, toddlers and young kids
Some temples are inaccessible to under 12's, so you will not be able to climb up. This is not a huge issue as there are so many other places that they can visit but our 3 year old still talks about going back when she is bigger to climb to the top of Angkor Wat!
You can get a 1 or 3 or 7-day ticket. For the multi-day tickets, they do not have to be consecutive days so we recommend having a break from the temples at some point, a hotel with a swimming pool is a great idea.
It is dirty and dusty, we had a crawler with us who wouldn't be happy in the harness all day so just had to accept that she would get dusty and try to find clean bits of temple to crawl about on. The tuk-tuk also proved to be a great playpen!
Where Will You Travel as a Family in 2023?
We hope that we have inspired you to take an adventure holiday with your family this year. Where will you go? Please let us know in the comments below.