Koh Mook is a beautiful island with white sandy beaches, impressive limestone cliffs and picture-perfect sunsets. 
As with most islands in this area of the Andaman Sea, the water is incredibly clear which makes it ideal for snorkelling while the empty beaches draw you in for lazy days relaxing by the shore.
Despite all this, and the unique Emerald Cave, Koh Mook remains relatively undiscovered by tourists. It remains an off the beaten path island destination where you can find cheap accommodation and can eat authentic Thai food in roadside shacks for a couple of dollars.
Koh Mook (sometimes spelt Koh Muk), has not yet completely given itself over to the tourism industry so the island retains the authentic atmosphere of a community that largely make their living from the sea and land.
Where to Stay in Koh Mook
Koh Mook is an island where it is still possible to find some very cheap places to stay making it a good choice for people on a budget or stopping here as part of a longer trip. 
Mook island is small so you will never be too far from some stunning beaches but a lot of the accommodation is off the beach with not too many beachfront bungalows.
If you pay super cheap prices you can't expect too much for your money and some of the places on the island are fairly basic and not always kept to the best standards. 
It seemed to us that if you want somewhere a bit nicer, the prices jump quickly and were more than you would pay for comparable standards on neighbouring islands like Koh Ngai or Koh Lanta. 
We didn't like our pre-booked accommodation so spend quite a lot of time looking around other places to find somewhere better. All the places below looked great but not all were available last minute so be sure to get a reservation before you arrive on the island. 
Best Hotels in Koh Mook
Sivalai Beach Resort –  Stay here if you can. It is easily the best hotel on the island and has well maintained, comfortable bungalows a spectacular location right on the beach.
It is a bit more expensive than other places on the island but it is really good value and even if it is more than you usually spend on accommodation it could be worth the splurge in this case, as there aren't many other nice beachfront options.
Be sure to book ahead as this place usually books up well in advance.
>>> Check availability for your dates here
Koh Mook De Tara Beach Resort– This might well be the next nicest place to stay and has a great beachfront location.
Mook Lamai Resort and Spa – This is a really nice mid-range hotel with good quality facilities. It seems a bit more expensive than you would expect given a fairly ordinary inland location but I think that is because of the lack of other decent mid-range hotels.
Mookies Bungalows – This place has decent basic bungalows not far from the beach for ok prices. Not a bad choice if you want somewhere near to Charlie Beach.
Mountain View Resort – If you can cope without aircon this is a really good option with lovely bungalows set on a wooded hillside. The owners are lovely and the place has a great atmosphere. It is opposite to Mookies and just a minutes' walk from the beach.
Had Farang Bungalows – Unfortunately, this is where we had booked to stay. We don't recommend it. They have horrible rat-infested rooms and staff that don't care. We spent lots of time looking for a better place to stay and the ones above were our favourites.
Things to do in Koh Mook
Koh Mook is a relatively small island and there aren't a huge amount of specific things to do here. 
You will most likely spend your days relaxing on the beaches or taking day trips to the other Trang nearby islands. 
Koh Mook is an interesting island to explore and you could rent a motorcycle to venture into the interior of the island or to get between beaches and the main village. Alternatively, you can find tuk-tuk to drive you around the island.
Much of the island is jungle-clad and it is home to monkeys amongst other things (I am never sure why some islands have monkeys and some don't!), it is largely unspoilt by development and there are only a couple of roads across the island. 
Sivalai Beach (Ao Kham)
This is a stunning beach that juts out into the Andaman Sea so that the narrow peninsular is surrounded by perfect blue seas on both sides.
In an area crammed full of beautiful beaches, Sivalai offers something a little bit different that makes it worthy of your visit, particularly at low tides when it is much bigger than at high water.
The Sivalai Resort here is undoubtedly the best place to stay on the island. The beachfront bungalows are lovely and a great place to make the most of your time on the island.
Ao Kham Beach offers tremendous views to Hat Chao Mai National Park on the mainland.
Charlie Beach (Haad Sai Yao/Farang Beach)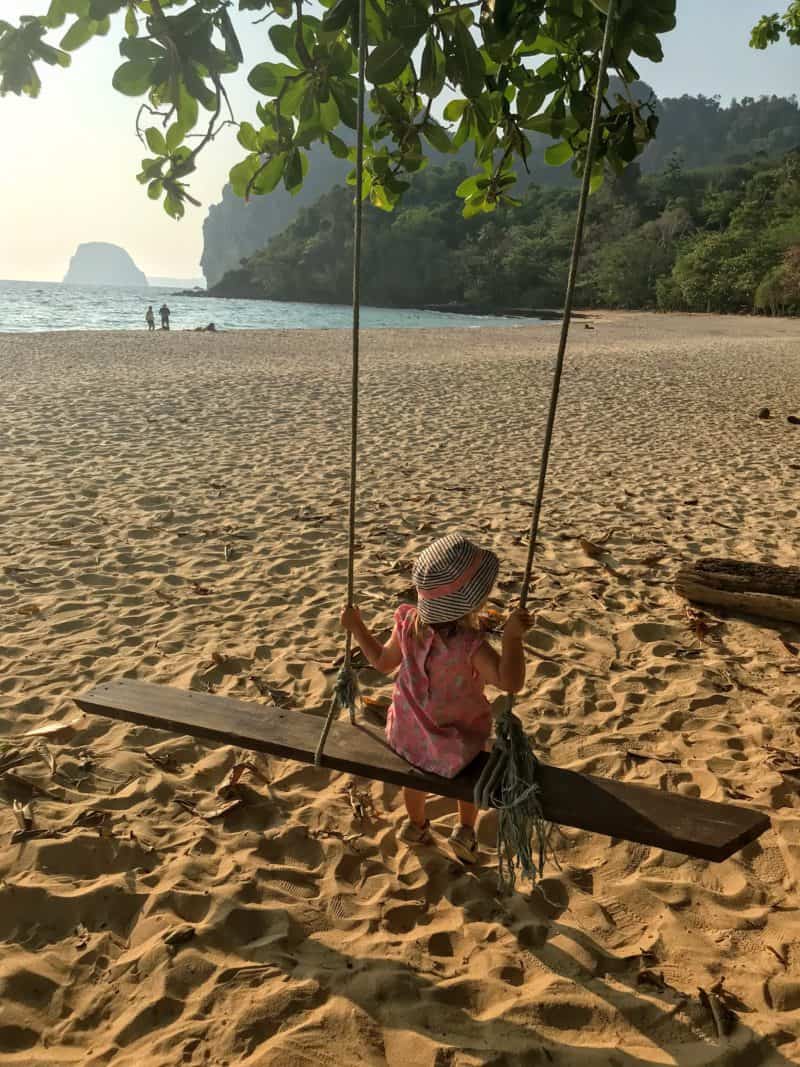 Haad Sai Yao has a couple of nicknames that are a bit more memorable and easier to say. It is known as Farang Beach because this is where all the foreigners come (it is away from the village and not used by locals except for tourist services).
Its other nickname is Charlie's Beach, named after the hotel that used to have a beachfront location here. The hotel has closed down which gives the approach to the beach quite an odd feeling as you walk towards the water.
All the beach bungalow-style buildings were still there when we visited, but they are empty and slowly starting to fall apart.
The hotel was forced to close by the Thai authorities as it had encroached into the national park so in theory the buildings should be removed at some point giving this area a more natural feel eventually.
The beach itself is fantastic and probably the best on the island. It is a really wide beach with plenty of sand to sit on even if the island does start to attract more visitors. From the beach, you get a fabulous view across the water to Koh Kradan.
The waters here are nice for swimming and a spot of snorkelling but there is no reef. It makes a good spot to go kayaking and you can paddle round to small coves or go a bit further to the north and be dwarfed by the limestone cliffs that rise above you.
Although the hotel here was forced to close there are a few restaurants and bars on the beachfront and up the hillside that make for great places to watch the sun go down.
When we visited there were a few budget bungalows on the north side of the beach that seemed ok (although they had monkeys jumping all over the tin roofs which could be a bit alarming in the night time!).
It is a great beach and makes it onto our round-up of the best family beaches in Thailand.
Emerald Cave (Tham Morakot)
Hidden behind huge limestone cliff you will find the Emerald Cave which is the most famous place in Koh Mook and a truly spectacular sight.
To get here you will have to swim through a small tunnel under the limestone escarpment. It is about 100 metres of swimming through the pitch-black so it can feel a bit claustrophobic.
Your reward for making it through is the secret hidden beach of Ao Sabai that is within a cave that is open to the sky. 
The cave is justifiably well known and very popular with day-trippers and can get very busy at times. Many of the tours come from relatively faraway places like Koh Lanta so one of the benefits of staying on Koh Muk is the chance to get here early and beat the crowds. 
It is even possible to make your visit more adventurous by kayaking from Farang Beach to the cave entrance. 
Explore the Village
Koh Mook is not an island that has been completely taken over by tourism. The village here is still mainly home to people that make their living through fishing or other non-tourist related jobs. 
Of course, there are hotels, restaurants and shops that cater to tourists but it has a very different feel to some other islands in the area where all you see are tour operators and trendy cafes (Koh Lipe we are looking at you!). 
There are no 7-elevens but there are a couple of small convenience stores and as of 2019 there is an ATM on the island which makes getting money a lot easier. We still recommend bringing some cash with you just in case it is not working.
It remains an authentic fisherman village and part of that is the authentic levels of rubbish that you will see. This is a less pristine environment than you might find elsewhere and doesn't exactly scream 'island paradise' but it gives you a chance to see and acknowledge the realities of life in much of Thailand.
It gives a glimpse of the difficulties that island communities like this have in dealing with rubbish (both their own and what's washed up).
The best way to explore is by bicycle or motorbike but you can manage it by foot or pay for a tuk-tuk to show you around. As with most islands around here, motorbikes with sidecars fill the role of a tuk-tuk and they have set prices per person.
Jungle Trekking
There are a few paths that cut through the jungle which make great activities on Koh Mook island. There are no detailed maps available, but some of the hotels can provide sketch maps.
There is a viewpoint that is well worth going to and takes about 45 minutes from the village. The walk is steep in places with some loose stones so this isn't a hike to do in flip flops. You should see monkeys along the way.
If you fancy a longer trek you could try the jungle path to Sabai Beach (about 1.5 hours).
Day Trips from Koh Mook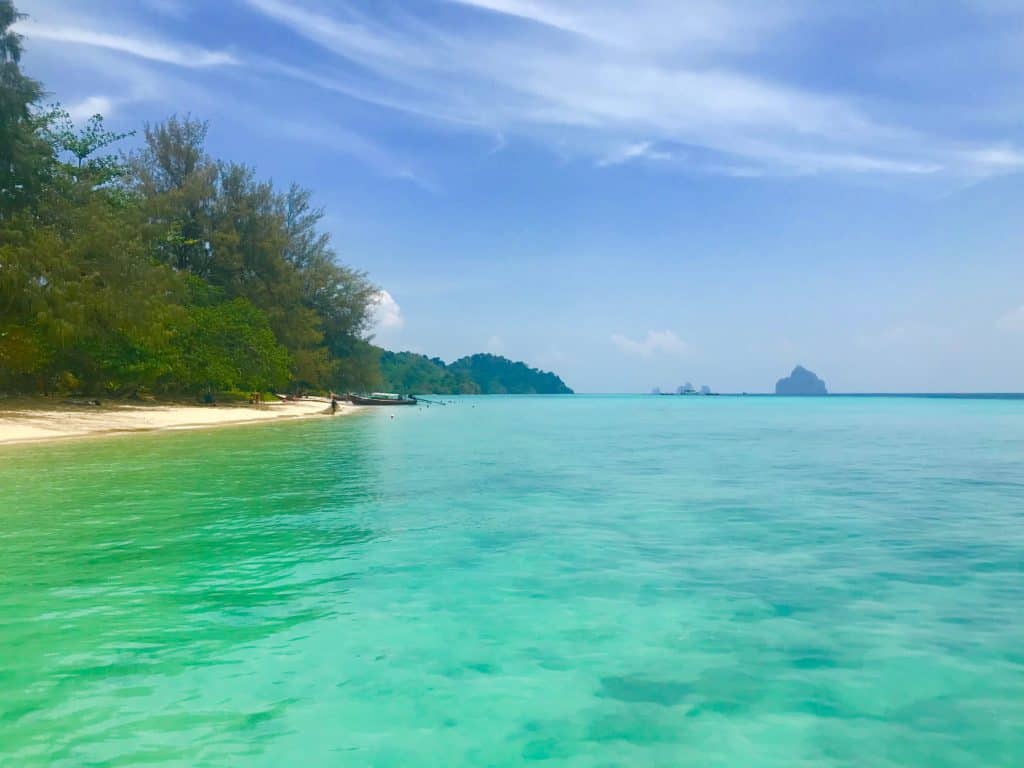 Koh Mook is well located for day trips by long tail boat to some other gorgeous islands in the area. The most popular option would be to head across the water to Koh Kradan or Koh Ngai. You could do both in a day or dedicate a day to each and you could combine either with a visit to the Emerald Cave if you wish. 
Koh Kradan is often considered the most beautiful of the 3 islands and has unrivalled snorkelling spots. 
Koh Ngai has incredible views, nice beaches and decent snorkelling opportunities. We love it here and recommend you dedicate more than just a day trip to this stunning location. 
If you are looking for something slightly different you could arrange a trip to Koh Libong and try to spot a dugong. These manatee like sea cows are highly endangered but their population is concentrated around Koh Libong so you stand a decent chance of seeing one. 
Koh Mook with Kids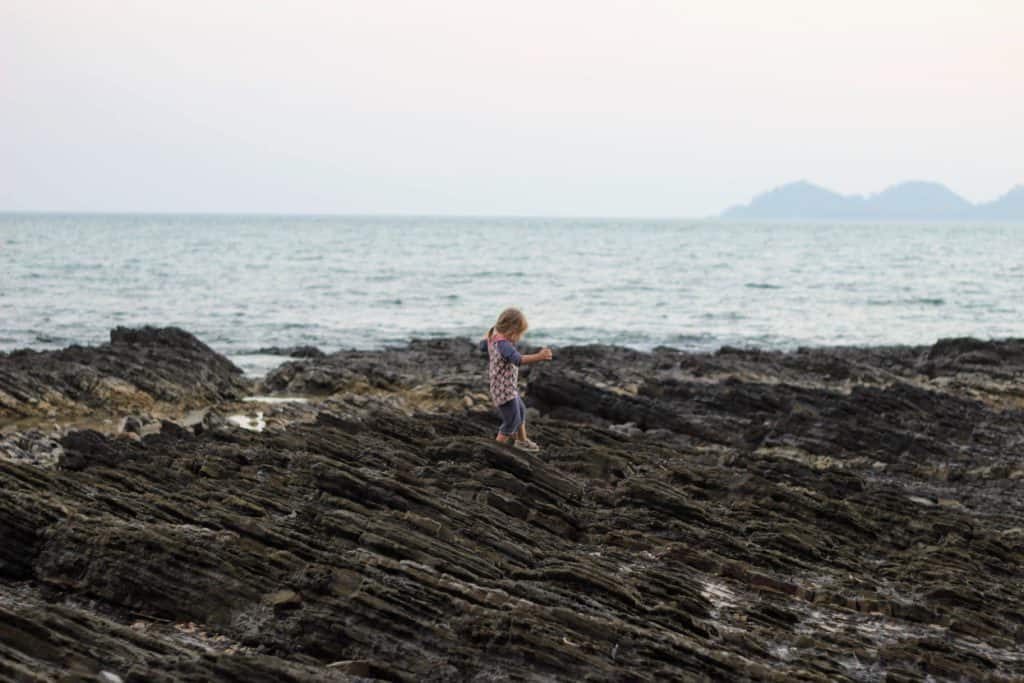 To be honest, our enjoyment of Koh Mook was really soured by the terrible accommodation we ended up in. 
Having a good hotel makes such a difference when travelling as a family. When travelling with a baby and toddler you have to accept that they will be crawling around and eating things that they find but where we had booked was just too disgusting and the attitude of the staff made it worse.
You can avoid this by choosing one of the nice places we have listed above and that will go a long way towards ensuring that you have a great stay on Koh Mook. 
Aside from the accommodation, things were fine. Eating out is nice and cheap but service can be slow so you will need to be prepared with some entertainment for the kids. You won't find any high chairs so we were glad to have packed our chair harness. 
The beaches are great they are clean so your little ones are sure to enjoy playing in the sand and may even get to see some monkeys.
At low tide, Farang Beach has some rocks for scrambling on and rock pooling. 
Older kids will be able to enjoy kayaking and snorkelling off the beaches.
Getting to Koh Mook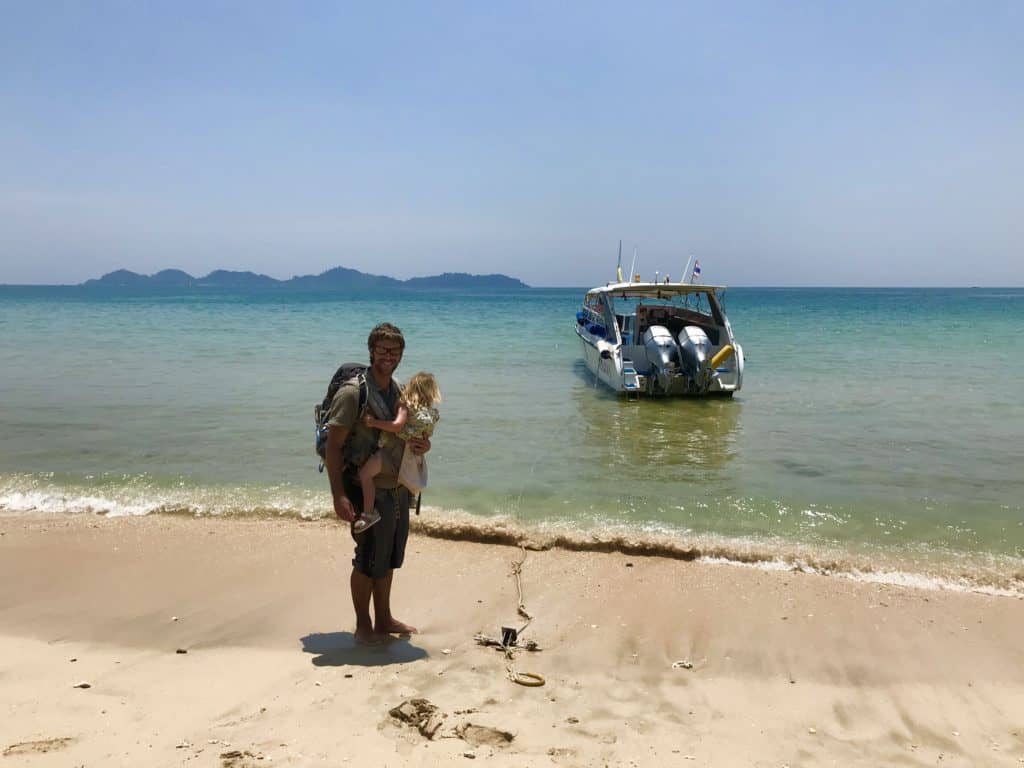 Koh Mook is about 15 minutes from the Thai mainland in Trang province.
To get to Ko Mook from the mainland you will need to catch a ferry or long-tail boat from Khuan Tung Khu.
In high season Ko Muk can be easily reached from various other islands by taking ferry or speedboat services between the islands. These are generally pretty well organised and you can arrange a through ticket form most places that will get you to Koh Mook either directly or by switching boats somewhere. 
The nearest airport to Koh Muk can be found in Trang which is about 1.5 hours flight from Bangkok. From the airport, you can book a combined van and boat transfer which is well-timed for the flight arrivals meaning the total journey time from Bangkok is only 3-4 hours. Alternatively, you could fly to Phuket or Krabi and continue by boat.
Final Thoughts on Koh Mook
Koh Mook makes a great stop if you are island hopping through the Andaman Sea. It is a quiet island where you can really get away from it all so i it is a perfect place to relax on any Thailand itinerary.
It is a great place to come if you are looking for the chance to sample a different atmosphere form more touristy islands and you will see something other than wall to wall resorts and tourist bars. 
The Emerald Cave is a world-class natural attraction and not to be missed and the two main beaches are up there with some of the best in Thailand (which by default puts them up with the best in the world). 
We hope that you have enjoyed reading our Koh Mook travel guide and that it has helped you to plan your own island getaway. Let us know how you get on in the comments below.