In this guide to things to do in Bangkok with kids, we will highlight some of the best places to go during your family trip to Bangkok.
Of course, whilst you are in Bangkok you absolutely must enjoy the cultural and architectural delights of the city that travellers of all ages will enjoy.
Don't miss attractions like the Grand Palace, views from the Sky Towers, Chatuchak weekend market, street food, the ancient city of Ayutthaya or the gloriously decorative temples dotted around the capital itself.
Children will love these as much as anyone else and they are must-see sights when visiting Bangkok with children. We have covered all these places (and more) in our Bangkok itinerary so we won't be talking too much about them here. 
This post will look at more specifically kid-friendly places in Bangkok that aren't so well known, so please keep reading to discover the best Bangkok attractions for kids. 
Best
Things to do in Bangkok with Kids
Sea Life Bangkok Ocean World
Our girls absolutely love aquariums, they can happily while away several hours staring at the underwater world.
The aquarium in Bangkok is great and definitely one of the best places to visit in Bangkok with family. You can find it at the bottom of the Siam Paragon Mall and it is one of the largest aquariums in Southeast Asia. 
There are more than 30,000 marine animals and has all sorts of wonderful underwater creatures like stingrays, leopard sharks, sea dragons, octopus and of course plenty of Nemo's and Dory's that might just be the highlight for your little ones. 
If you are looking for a bit more adventure you can have a diving experience inside the tank which gives you the chance to get really up close and personal with the sea life.
A fun alternative for kids would be to get on the glass-bottomed boat that floats across the top of the oceanarium but most people will be happy enough going through the glass tunnel that offers a fabulous view of the underwater world.
If you plan to visit SeaLife Bangkok Ocean World, it is worth getting there early as it can get crowded. We also recommend buying tickets online in advance, they are cheaper and you don't have to waste time queueing for one of the top things to do in Bangkok for families.
Click here to buy discounted tickets to SeaLife Bangkok.
Bangkok Canal Tour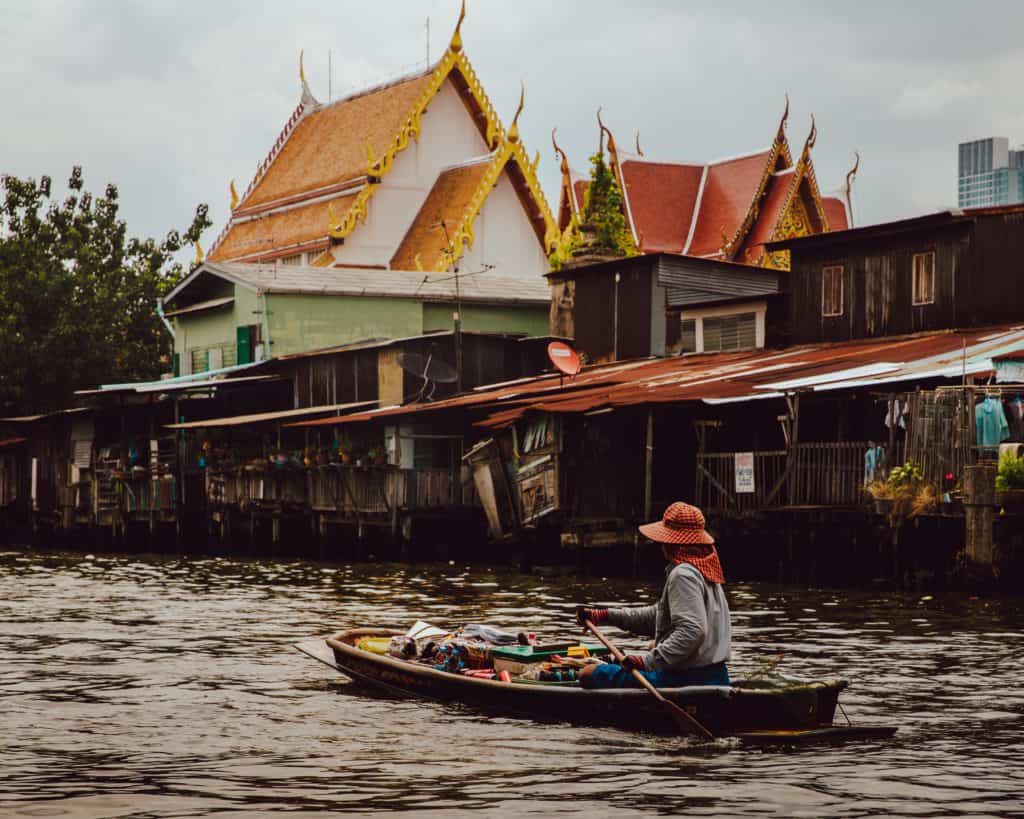 If you are looking for a way to explore some of the more charismatic areas of Bangkok, we recommend getting out to see the Khlong (canals) of Thonburi. A boat trip through this district is one of the best Bangkok tours for kids and gives you a chance to explore an area that has retained much of its rustic charm. 
For an even more fun family vacation in Bangkok you can combine the boat trip with a bike ride on this tour.
The boat trip will take you past ramshackle old buildings, traditional temples, and old wooden bridges. Some tours include the opportunity to paint traditional masks or watch a puppet show. This is surely a winning activity for kids in Bangkok!
Floating Market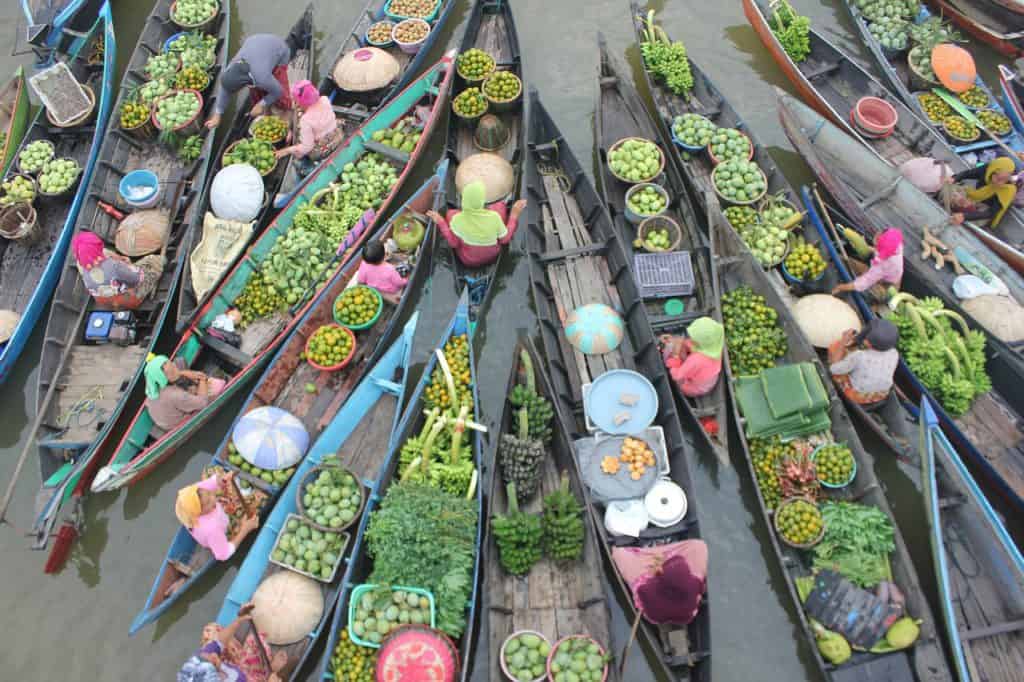 Visiting a floating market is one of the top Bangkok tourist attractions for most visitors, but we include it in this list of Bangkok activities for kids as we are sure that children will really love the exotic sights and sounds of a market that is acted out on the river.
There are several floating markets to choose from. The biggest, busiest and most famous is Damnoen Saduak floating market about an hour south of the city.
This is the place to come if you want to witness boats jostling for position and the river disappear from view beneath a platform of boats. It is also pretty packed out with tourists and some people find it too touristy for their tastes.
A smaller and closer option is to Khlong Lat Mayom which gives a more authentic, local atmosphere, bust might have fewer boats than you are hoping for. 
Amphawa falls somewhere between the two in terms of size and popularity and is probably the best floating market in Bangkok to visit with kids. 
We recommend this small group tour as the best way to enjoy one of our favourite family activities in Bangkok
Dreamworld
A firm favourite out of all Bangkok attractions for kids is Dreamworld. This theme park is packed full of rides and rollercoasters that are sure to put a smile on your children's faces.
There are rides suitable for all ages and also some shows to watch (Animal Show and Stunt Show) and famous characters and mascots to meet. 
The park is probably better for younger kids rather than teenagers but if you are feeling brave you can take on the Sky Coaster which hurtles you through many twists and turns whilst your feet dangle beneath you and the classic Space Mountain roller-coaster in the dark. 
For a small extra cost (150 Bhat) you can visit Snow Land where you can enjoy the unexpected opportunity to play with real snow in Thailand. 
Dreamland is just outside the city near to Don Muang airport. Entrance tickets cost 650 Bhat , they include all rides and attractions except the snowy bit.
Siam Amazing Park
Siam Park City (Siam Amazing Park) is one of the most popular places for kids in Bangkok and offers a great chance to cool off in the heat. There is enough here to keep you busy for a whole day. 
The park is split into five sections. There is a water park that has a wave pool and some fun and exhilarating slides, and the other 4 sections (X-Zone, Family World, Fantasy World and Small World) make up an amusement park with rides for big and little kids.  
It is the water park that is the most popular area and many families spend their whole day here. 
There are two ticket prices. 900 Bhat will get give you access to all the rides in the park whilst for 400 Bhat you can use the rides aimed at younger visitors (under 130cm).
Asiatique Night Market
The Asiatique night market right by the Chao Phraya river is a good choice if you are wondering what to do with kids in Bangkok at night. This is a recently refurbished warehouse area and it now houses shops, restaurants and a night market alongside some fairground rides. 
The big Ferris wheel here has quickly become a bit of a local landmark and it has remained in place having originally been planned as a temporary attraction. 
Asiatique also features a number of shows and street entertainment so there is plenty here to entertain the family. 
It is a popular attraction and many hotels offer a free boat service to Asiatique which gives you a good chance to view the riverside lit up against the dark. It is well worth going here one night to see a different side of the city, it might well be a highlight of your Bangkok trip with family.
Art in Paradise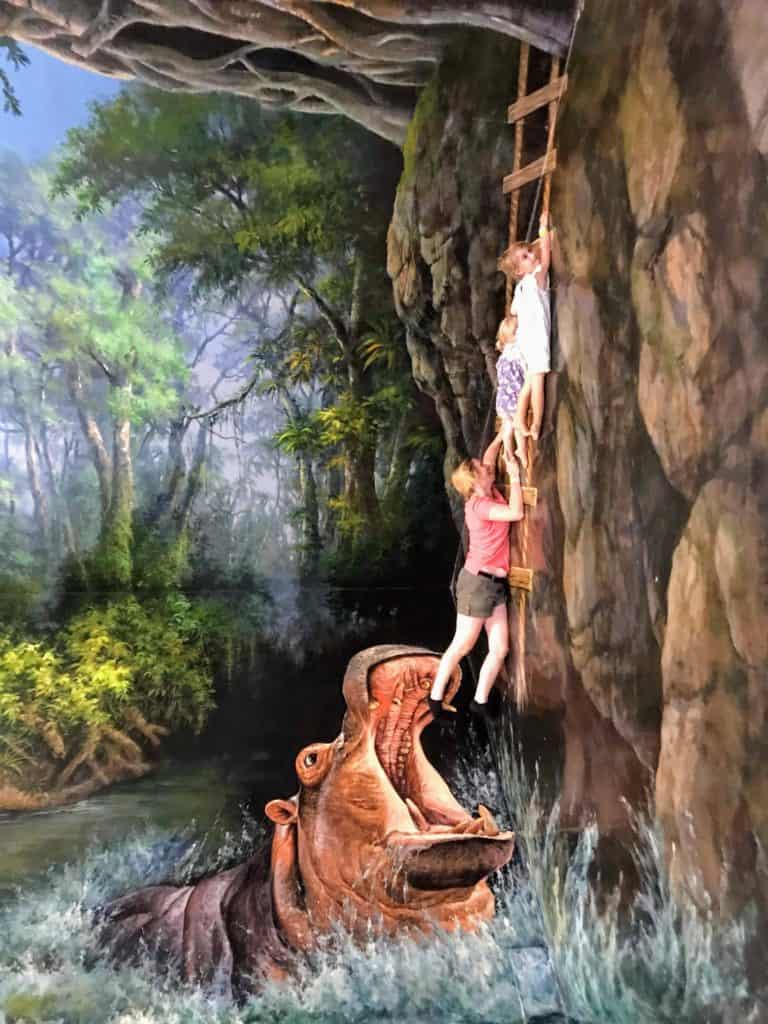 This is another great Bangkok kids activity. The idea is pretty simple, the walls and floors of this building have been painted with 3D artwork. You and your family get the chance to pull out your best poses and become a part of the painting.
It is actually a lot more fun than I expected and be sure that you have plenty of memory on your phone/camera when you go as you are sure to take loads of snaps. 
The aim of the game is to come up with some great poses that make you fully part of the action. Luckily you can watch what other people do and there are handy arrows to show you where you should be standing to take the best pictures. This is a great activity if you want to get out of the sun for an hour or two and is yet another kids Bangkok attraction that is sure to entertain your children.
Unicorn Café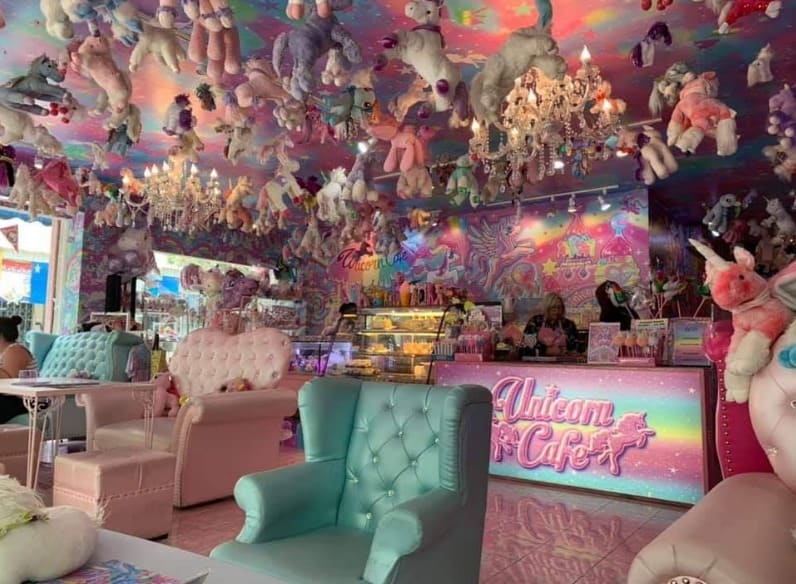 If you have children that love unicorns and all things glittery and sparkly then a trip to the Unicorn Café is a must do Bangkok for kids destination. They have really gone to town on this place.
The walls, ceiling, and floor are covered in unicorns, rainbows and pastel pinks. They have cuddly unicorns to play with and unicorn onesies to were if you really want to get into the spirit of things. The unicorn theme doesn't stop with the décor.
The menu is also very unicorny with plenty of treats like waffles, pancakes and ice cream all made to fit in with the theme. They even have a unicorn burger that comes with a horn. It is pretty much a dream come true for our girls and makes for a great treat on Bangkok family holiday.
Kidzania Bangkok
If you are in Bangkok with family you will probably feel the need to escape from the heat and sun for a bit. An interesting way to do this is Kidzania at Siam Paragon. At Kidzania you will find a miniature city where the kids can take control and perform all the jobs normally done by grownups. It is one of the more unexpected places of interest in Bangkok for kids.
It is billed as edutainment, but don't let that put you off this place is loads of fun for kids and a bit of a break for parents (adults aren't allowed in and watch from the lobby where they have computers and cakes to keep them occupied)
Working in small groups, children from 4 to 15 can get stuck into 80 different jobs. Fight fire with real water, take the rescued people to the hospital in an ambulance where you can heal them with realistic equipment. Then report on the action for a newspaper or TV station.
Other jobs include acting or bottling Coca-Cola or making burgers at McDonald's.
It is all brilliantly executed and loads of fun for kids who dress in the appropriate outfits for each job and earn some 'money' that they can put into a 'bank' and spend in the shop.
There is enough here to keep you busy for most of the day, the only downside is that it does get busy at times so your child may have to wait for some attractions. 
Playtime Ekamai
Another of the top things to do in Bangkok with kids is Playtime Ekamai. This is a great Bangkok attraction for babies and toddlers as well as kids up to about 8 years old. Here you will find a great indoor soft play area with plenty of slides, tunnels, and obstacles for your little ones to play with. It is one of the best indoor playgrounds in Bangkok
There are plenty of other things to play with as well like a dinosaur excavation area, climbing wall, zip line, and trampoline. Adults can enjoy a relaxing foot massage whilst their kids go wild on the play area!
Museum of Siam in Bangkok
Set inside a large old neoclassical house this looks like it will be a standard dusty old museum. The reality is that this is an ultra-modern take on the museum format and as you move from room to room you will be transported through Thai history and culture. 
There are plenty of hands-on exhibits as you go along and this is a great museum for people that don't like museums and probably the best museum for kids in Bangkok. You should all learn a little bit about Thailand and Thai culture whilst enjoying some family time together at one of the more educational places of interest in Bangkok for family.  
Where to Stay in Bangkok with Kids
There is loads of great family accommodation in Bangkok, so choosing a place to stay can be a bit of a challenge. We have written a whole post on where to stay in Bangkok that describes all of the different areas and the best hotels in each. Have a read of that post to get a better feel for the city, or keep it simple and pick one of the hotels below that are great for families (this avoids being overwhelmed by choice!).
U Sukhumvit Hotel
U Sukhumvit Hotel: This is a nice hotel with a central location and lovely pool on the roof terrace. They offer a free tuk-tuk service to the main shopping area and it is also near to a sky train and subway station.
Avani+ Riverside Bangkok
Avani+ Riverside Bangkok: Enjoy a spectacular riverside setting and elegant rooms at this sumptuous hotel. They offer a shuttle boat service to get you into town, the perfect way to travel!
Getting Around Bangkok with Kids
Getting around Bangkok can be a slow process. We really like to use the Grab app to get taxis as you know what you are paying and don't have to worry about haggling over the price or arguing over putting the meter on. 
We prefer not to use tuk-tuks in cities as exhaust fumes can be pretty bad when you are sitting in traffic jams. 
The Metro in Bangkok is a pretty good way to get around town if you have a station near your hotel and your destination. Boat trips along the Cham Phraya River are a scenic and enjoyable way to travel with young kids. 
When getting around on foot with young kids, it is best to leave the stroller behind and use your baby carrier to get around (this advice applies to most places around Thailand). 
Bangkok with a Baby or Toddler
We love Thailand. It has to be one of the best places to travel with a baby or toddler. But, that is mainly based upon our time on stunning islands like Koh Lanta and Koh Ngai. 
Plenty of families that travel to Thailand spend as little time in the capital as possible, or avoid Bangkok altogether. We met one parent who had done this and they wondered  "what is there to do in Bangkok with a baby?" 
We fully understand this point of view, but if you are flying into Bangkok with a toddler or baby you probably want to have a couple of quiet days to get over the jet lag. Then you can head off to the next destination on your Thailand itinerary and hit some awesome family friendly beaches or visit lovely Chiang Mai. 
This post includes plenty of places to visit in Bangkok that would be enjoyable for even very young kids.
If in doubt, there is always the option of retreating to an air-conditioned shopping mall or relaxing at a nice hotel with a rooftop pool. 
Check out this post for more advice on travelling to Thailand with a baby or toddler
What will you do in Bangkok with Kids?
Thank you for reading our guide to visiting Bangkok with kids. We hope that we have given you some ideas on how to spend your time in the city. Please let us know how you get on with your Bangkok family adventures!