A Bangkok to Ayutthaya day trip is one of the best things that you can do on a Bangkok itinerary. 
Ayutthaya was founded in 1350 and was the capital of the Ayutthaya Kingdom for over 400 years before being destroyed by the Burmese army. At its peak, it was the largest city in the world. 
What remains is a number of interesting and ornate temples that have earned Ayutthaya UNESCO world heritage status. Despite this, it seems to be relatively unknown to the outside world.
This could be because the temples that remain are similar to, but not on the same scale, as those at Angkor Wat or Bagan. They are definitely worth a visit though and are a must-see for anyone visiting Bangkok. 
If you're wondering how to arrange a day trip to Ayutthaya from Bangkok then keep reading for all the info.
How to Get from Bangkok to Ayutthaya
Ayutthaya historical park (world heritage site), is less than 100km from the capital so getting there as a day trip from Bangkok is relatively straightforward. It can be arranged independently or for complete simplicity, you can join an organised tour that takes care of all the logistics and decision making.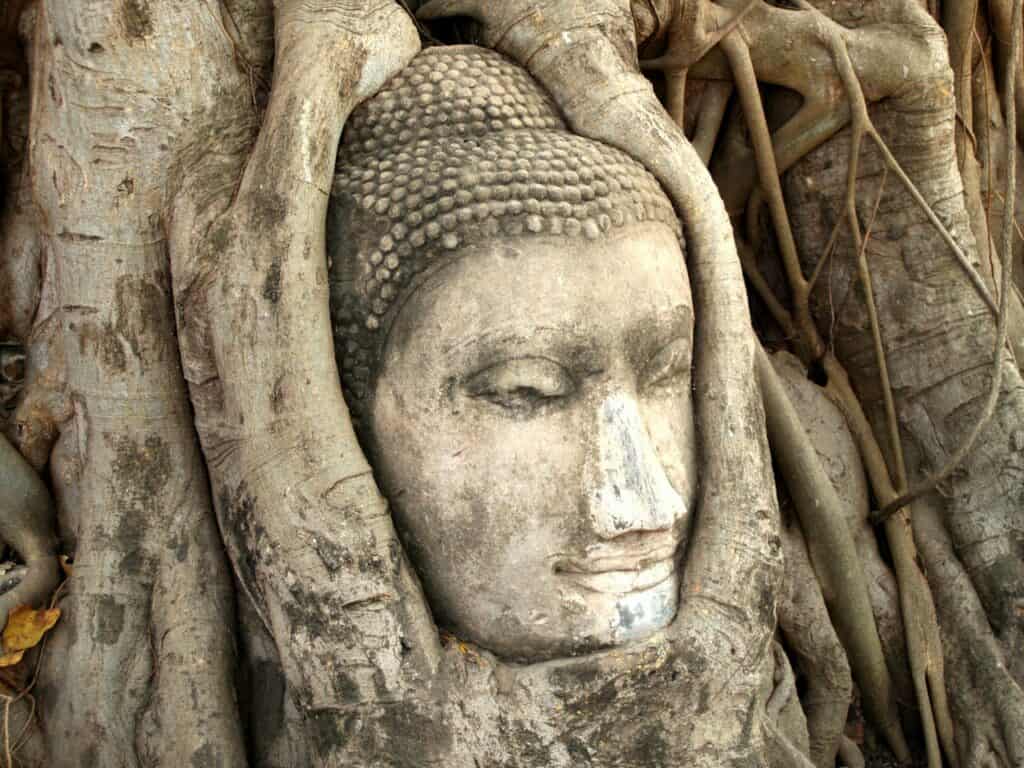 Best Ayutthaya Tours from Bangkok
Taking an Ayutthaya day tour is the no-hassle option. The temples are quite spread out so however you go there you will need some form of transport to get between the different temples. 
Going on a tour solves this problem and also allows you to add extra experiences to your day trip to make it even more memorable. We have linked to a couple of options below that give you the opportunity to combine your Ayutthaya day trip with a floating market or take in a sunset cruise. 
If you prefer, there are also options to go on a private tour to Ayutthaya which will give you more freedom to personalise the tour. This is a very economical option for a family or group of friends.
Tours are also a good choice if you are interested in learning about the history of the ancient capital, rather than just admiring the picturesque ruins. 
There is very little information at the sites (not many signs etc), so if you are interested in finding out about them we recommend either doing some research before you go (this site is great), taking a guided tour, or finding a guide when you get there.
How to Get from Bangkok to Ayutthaya
If you don't fancy going on an organised tour there are a few options for how to get to Ayutthaya from Bangkok.
Bangkok to Ayutthaya Train
Getting the train to Ayutthaya from Bangkok is probably the best option for independent travel.
It is really cheap, convenient and comfortable to go from Bangkok to Ayutthaya by train. Trains leave every hour from Hualamphong train station in central Bangkok. It is easy to get there using the metro. 
Tickets start at just 20 baht for 3rd class. Some trains have first class for around $10 which is pretty steep, but you will get air conditioning in the carriage. The journey takes about 2 hours. 
You can buy tickets for the Bangkok train to Ayutthaya on the day but we recommend that you arrive at least 40 minutes before your train departs, otherwise you might end up stuck in the queue as your train leaves. There are two ticket booths, you need the one on the left, the other one is for trains on future dates. The staff speak English and will show you're their screen so you know you are booking the right train. 
It is probably worth saving this stress and hassle by booking your train from Bangkok to Ayutthaya in advance through 12Go Asia which has a very easy to use website. 
When you arrive at Ayutthaya railway station you can catch a tuk-tuk to the old city for about 60-100baht or you can arrange for them to drive you around all the sights (about 200 baht per hour). It is worth knowing that you can split your journey from Bangkok to Chiang Mai by stopping at Ayutthaya.
Bangkok to Ayutthaya Bus
We don't really recommend getting the bus. You need to get to the Mo Chit bus station which is a bit out of the way and has no direct connection to the BTS skytrain so you will need to get there by tuk-tuk or taxi. 
Buses leave twice an hour and take about 90 minutes to get to Ayutthaya. The cost is 50 Baht. 
Bangkok to Ayutthaya Mini-van
You can catch a shared minivan from the Victory Monument. The minivans go when they are full and you should easily be able to find one waiting for passengers. They will take you direct to Ayutthaya for 100 baht and the journey will be around an hour. 
How to Get Around Ayutthaya
The temples at Ayutthaya are quite spread out so you will need to find a way of getting around. The old city is on an island within the city. You can reach this by ferry for a tiny fee, or just arrange a vehicle to take you around. 
The most popular option is to hire a tuk-tuk to take you around for the duration of your visit. You should be able to get this for around 200 baht per hour.  You should give yourselves at least 3 hours, but 4 would be better. You may be able to arrange a day rate with the driver to take the time pressure off. 
If you would like to have a bit more comfort you can do the same thing but in a taxi. The main advantage of this is that you will have some air-conditioning to cool down in between sites. 1000 baht should cover your ride around the main temples.
Another option is to hire a bicycle and cycle around yourself. This is a really nice way to see the temples and gives you complete freedom to go where you like and spend as long as you like there. It is also really cheap!
Bikes are available everywhere for just a dollar or two for the day. The streets aren't too bad but it is worth noting that you are in a living modern town, not out exploring some remote ruins so don't expect a traffic-free cycling experience. It is also likely to be really hot as you cycle around.
Top 5 Ayutthaya Temples You Have to See on Bangkok to Ayutthaya day trip
There isn't an entrance ticket for Ayutthaya but most of the bigger temples ask for a donation of 50 Baht. This is amazing value to see such impressive and atmospheric places. Here are some of the most important and most impressive temples that you should include in your Ayutthaya day trip.
Wat Chaiwatthanaram
Built in 1603 by King Prasat Thong, Wat Chaiwatthanaram is one of the most beautiful and impressive of the temples. It is built in the Khmer style and the ponds nearby give you the chance to get great photos with the temple reflecting in the water. 
Located on the western bank of the Chao Phraya River, Wat Chaiwatthanaram is a stunning temple that showcases the architectural beauty of the Ayutthaya period. This temple is famous for its central prang (tower) surrounded by smaller satellite prangs. If you take a boat ride along the river you can get a unique perspective of the temple.
Wat Maha That 
Wat Mahathat is one of the most iconic temples in Ayutthaya, Thailand, and a must-visit destination for history and architecture enthusiasts. This ancient temple dates back to the 14th century and is known for its magnificent ruins and the famous Buddha head entwined in the roots of a banyan tree.
Wat Phra Si Sanphet 
Wat Phra Si Sanphet was the most important temple in ancient Ayutthaya, as it was right by the Grand Palace. The three towering chedis (stupas) that once enshrined the ashes of Ayutthaya kings that remain are probably the most impressive structures in Ayutthaya.
Wat Ratchaburana
Wat Ratchaburana is one of the best-preserved temples and you can actually go inside and down to the crypt. Wat Ratchaburana is a significant temple in Ayutthaya that holds great historical and architectural importance. Built in the 14th century, it stands as a testament to the glorious past of the Ayutthaya Kingdom. The temple features a distinctive prang (Khmer-style tower) that provides a glimpse into the ancient Khmer influence on Thai architecture.
Wat Thammikarat
Wat Thammikarat (Temple of the Roosters & Giant Buddha) is great because it is still a working temple. This gives it a whole different atmosphere with monks walking around and local people coming to worship. 
If you are visiting by bike it is well worth heading out to Somdet Phra Si Nakharin Park and exploring the path amongst the trees where you will find some less-visited ruins.
Consider staying the night….
We think that Ayutthaya is one of the best day trips that you can do from Bangkok. But it is even better if you stay the night. It gives you the chance to explore at a more leisurely pace and visit the temples when they are quieter (before 8 am and after 5 pm). It also means that you can go on a sunset cruise along the Chao Phraya River.
If you plan to stay the night we like the Baan Tye Wang Hotel
Final thoughts on a Bangkok to Ayutthaya day trip
We hope that we have helped you to decide how to visit Ayutthaya on a day tour. For simplicity, it is definitely easiest to take a tour. If you want to save some cash then the train and renting a bike is our top recommendation. 
However you go there, remember to dress respectfully. As some of the temples are active places of worship you should respect local customs and ensure that your shoulders and knees are covered. Sometimes they will provide something to change into but it is easiest to go wearing something appropriate.
Enjoy your day trip to Ayutthaya from Bangkok! Let us know how it goes in the comments. If you need more ideas for your stay in Bangkok, check out our Bangkok Itinerary and our guide to Bangkok for Kids.