In this post, we are going to review and compare two of the most famous and bestselling travel strollers,  Babyzen Yoyo vs GB Pockit.
The GB Pockit is the worlds smallest stroller, whilst the Babyzen Yoyo claims to be the world's first luxury compact stroller. 
So, both of these are strollers have impressive claims and are used and loved by parents around the globe. But if you are just looking to buy one compact stroller, which should you go for? GB Pockit or Babyzen Yoyo? 
Keep reading to get the full lowdown on each of these strollers and find out the pros and cons of owning either the Babyzen Yoyo or GB Pockit  (nothing can be perfect!), we hope that by sharing these insights you can decide which is the right choice for you and your baby. 
Babyzen Yoyo vs GB Pockit Review – Quick Verdict
The Babyzen Yoyo 2 and GB Pockit plus are both amazing strollers that are super compact.
Overall the Babyzen Yoyo+ is the better stroller. It's a high-quality stroller that excels in all areas and is good enough to be your main stroller
The Yoyo is more than just a travel stroller, it's a high-quality piece of kit that excels in all areas while being super compact. It has all the add ons you could ever need and is buggy board compatible. Basically it's great and we recommend it to anyone.
Click here to check the price of a Babyzen Yoyo 2
The GB Pockit is a great travel stroller and it is a great choice if size (or the lack of it) is the most important thing to you. It's absolutely crazy how small and lightweight this stroller is and it's a brilliant stroller to take traveling.
Click here to check the price of a GB Pockit+
Babyzen Yoyo 2 vs GB Pockit Plus Comparison Table
| | |
| --- | --- |
| Babyzen Yoyo 2 | GB Pockit+ |
| | |
| | |
| Stroller Weight: 13.6 pounds (6.2kg) | Stroller Weight: 12.3 lbs (5.6kg) |
| Age range: Newborn to 40 pounds (18.1kg) From 6 months without a newborn pack. | Age Range: Newborn to 55 lbs (25kg). From 6 months without a newborn pack |
| Folded size: 20 x 17.5 x 7 inches (52 x 44 x 18cm)  | Folded Dimensions: 14 x 12 x 7 inches (35 x 30 x 15cm) |
| Handlebar height: 42 inches (106cm) | Handlebar Height: 39 inches (99cm) |
| Warranty: 2 Years | Warranty: The Pokit+ has a 2-year warranty from the original date of purchase |
| CHECK PRICE HERE | CHECK PRICE HERE |
GB Pockit Plus vs Babyzen Yoyo 2
Both manufacturers have brought out updated versions of these strollers since their original release, the latest versions are known as the GB Pockit Plus and the Babyzen Yoyo 2. 
We haven't always used the full names in this review but the comparison is of the latest models. If you are thinking about buying either of them second hand, be sure to check that the version you are buying has all the features that you need.
The GB Pockit Plus, in particular, is quite a big upgrade from the original with a much more comfortable seat that now has adjustable positions, a newborn cot add-on and a much better canopy. 
GB Pockit vs Babyzen Yoyo Review
Babyzen Yoyo vs GB Pokit – Age Range
An important factor when choosing a stroller is to know what ages it is suitable for and how long it is likely to last.
You may be asking yourself a question like: Is the GB Pockit suitable for newborns? What is the weight limit of the Babyzen Yoyo? We answer these questions and more in this section.
With the right attachment, both strollers can carry a child from newborn through to a toddler.
The Pokit+ lasts a bit longer through the toddler years as it takes children up to weighing up 55 pounds compared to just 40 in the Yoyo+.
One of the biggest changes for the GB Pockit plus compared to the older version is that you are now able to use it from birth rather than having to wait until your little one is around 6 months and able to sit up on their own.
This is obviously a very welcome feature for parents of newborn babies looking for an ultra-compact and lightweight stroller for their child.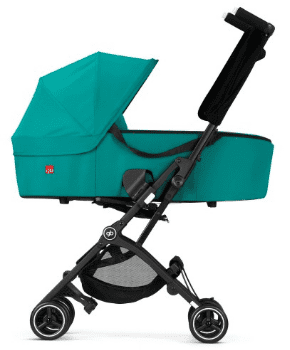 In order to use the GB pocket from birth, you will need to purchase the bassinet attachment that allows your child to lie flat as they would in a normal pram or baby carriage.
Fortunately, GB hasn't forgotten that the whole point of this stroller is the compact size, and they have come up with a newborn attachment that is collapsible and folds up really small so you can chuck it in a bag along with the stroller itself. 
The Babyzen Yoyo stroller is also suitable from birth with the addition of a newborn pack that will allow your baby to lie flat and facing you in a bassinet type arrangement. 
What we love the most about this is that the stroller will still fold up even with the newborn kit attached so you don't waste any time getting the stroller set up or folded away.
This is a real bonus in those first few months with your baby.
The Babyzen newborn seat comes with a super cosy fleece lining, a footrest, a headrest and 2-position pop-up canopy. This makes for a super comfortable sleeping place for a newborn and you can relax knowing that they are safely held in place by the 5–point safety harness.
Babyzen have extended the useful life of the Yoyo+ by creating a great buggy board that attaches on the back and allows you to easily push around 2 children at once.
Overall we call it a tie when it comes to the age range. The Pokit will last your child longer in the seat but the Yoyo has the added dimension of the buggy board which is great if you have another child and it also has a better fold system for newborns.
>>> Click here to compare prices for the Yoyo anhttps://www.amazon.com/s?k=gb+pockit+plus&crid=10ZMJQXP8SKRP&sprefix=gb+pockit+plus%2Caps%2C226&linkCode=ll2&tag=morelifeinyou-20&linkId=fe5d1f9b1abbe46b557d70837fd66f1d&language=en_US&ref_=as_li_ss_tld Pockit
Travel System: Are the Yoyo or Pockit Car Seat Compatible?
Another option for transporting your newborn is to convert your stroller into a travel system by attaching your car seat. This is a great option if your little one tends to fall asleep in the car and you don't want to risk waking them when you move them into the buggy. 
Fortunately, the latest versions of the Yoyo and Pockit will allow you to attach a car seat through the use of special adaptors. 
The Pockit is compatible with GB or Cybex infant car seats.
The Yoyo is compatible with the specially designed Babyzen iZi Go Modular that has been developed in partnership with BeSafe, or you can use a number of popular car seats like Maxi-Cosi Pebble and Pebble Plus, Cybex Aton-Q, Nuna Pipa.
---
This post is one of our travel gear reviews where we aim to help you find the right product to make your travels go that bit smoother.

Head over here to check out everything from family tents to baby and toddler carriers and the best tablets for kids
---
Yoyo Stroller vs Pokit Stroller:
Which is the Smallest?
This is obviously a key category in the fight between Babyzen Yoyo vs GB Pockit.
Both strollers are targeting parents that prioritise having a small stroller over other features. This may be because they intend to travel a lot or it might just be for the added convenience of having a stroller that doesn't take up half the space in the car or apartment. 
Size-wise these are two of the very best strollers on the market but it has to be said that the Pockit is the clear winner with its incredible ultra-compact fold that makes even the Yoyo look bulky.
The GB Pockit plus is actually a tiny bit bigger and heavier than the original version but the added features and comfort is well worth this small compromise and it is still small enough to put in your purse or diaper bag!
Size isn't necessarily a deal-breaker for the Yoyo, please bear in mind that the Babyzen is still very small in the stroller world and will fit in the overhead locker on an aeroplane.  When compared with most of the competition the Yoyo+ is smaller than the likes of the Ergobaby Metro, Babyjogger City Tour or the Uppababy Minu.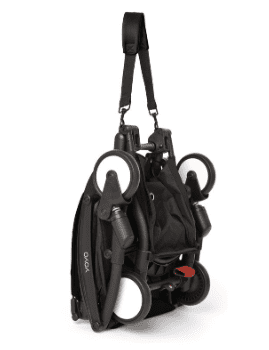 Nevertheless, in this Yoyo vs Pockit contest, the Pockit comfortably wins on size and is also around a pound lighter.
---
Are you considering other compact strollers?

Check out our individual reviews of the Ergobaby Metro, Baby Jogger City Tour, Uppababy Minu and our comparison of the Mountain Buggy Nano vs Babyzen Yoyo

or for a quick comparison check out our
---
How Easy is it to Fold the Yoyo Stroller or GB Pokit?
We have established that the GB Pockit folds up the smaller than the Yoyo. But that is not much good if you have to battle with the pushchair for 10 minutes to get it down to size. 
So, how easy is it to fold the GB Pockit? And does the GB Pockit or Babyzen Yoyo have a one-handed fold?
GB Pockit can be folded up in a kind of concertina action. There is a regular fold and a super small fold that involves folding the wheels up. It is pretty unbelievable just how small this stroller will fold!
The Babyzen Yoyo+ claims to have a one-handed fold system. But, to be honest, it is a bit tricky to fold it with one hand, especially if you are trying to hold your baby in the other. With a bit of practice, you will get the hang of it and this is definitely not one of those strollers that will have you angrily struggling to fold it up. 
Step 1:  You need to press a button on either side of the canopy so that you can fold the handlebar back (this is the bit that needs two hands but this can be done whilst your baby is sat down in the buggy).
Step 2:  Reach under the seat to press another button that releases the folding mechanism. The Yoyo will then fold up neatly and there is a clip to hold it closed. When you want to use the buggy again you just unclip this and shake the stroller out like you are trying to clear the crumbs off a blanket.
Are the Yoyo and Pockit Easy to Carry?
The Babyzen Yoyo comes with a handy carry strap for those times when you need to carry it. This is really convenient if you need to fold it up to hop on a bus or train and quickly sling it over your shoulder.
The Yoyo+ folds up so neatly that it is really easy to carry in this way. For longer journeys, there is also a travel bag that will help to protect the buggy. 
The GB Pockit does not come with a carry strap or bag included which is disappointing for a travel stroller that has a compact fold as its main selling point. It is easy to carry by the handle in the middle or it can even be turned into a DIY backpack if you add a couple of straps.
Real World Use: Features, Comfort and Practicality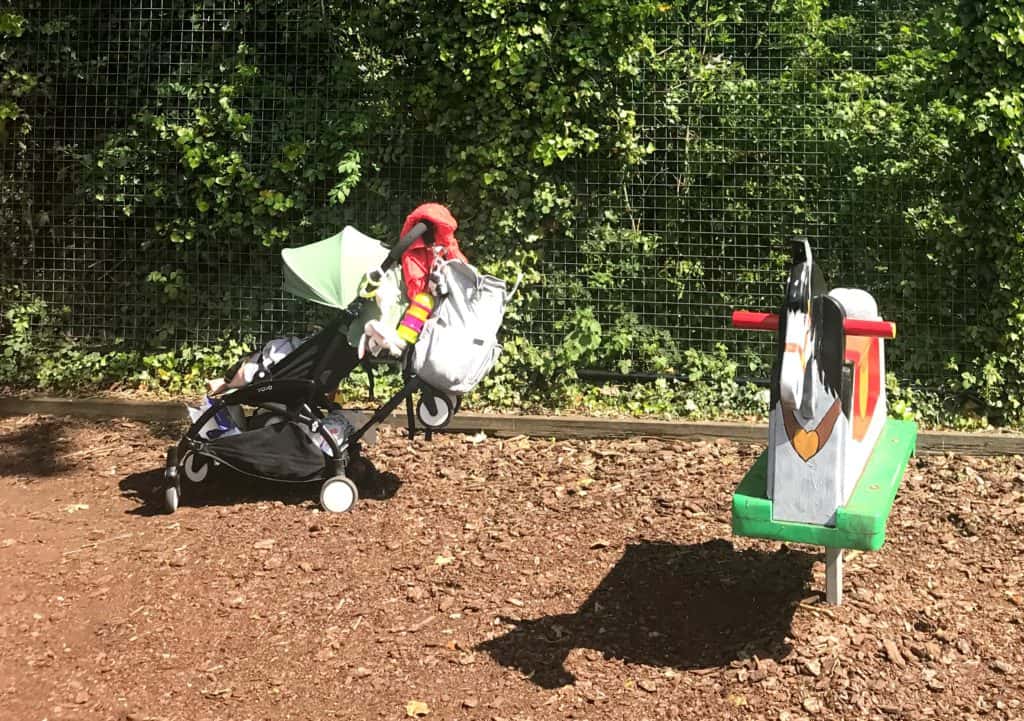 So far we have focused on the size and folding of the two strollers, but what are they actually like for a child to sit in and how easy are they for parents to use in daily life? Is the Babyzen Yoyo comfortable and does the GB Pockit push easily? Read on….
Seat Comfort
The seat in the Babyzen Yoyo is well padded and provides a really comfy seat for your little one. 
Even though the plus version of the Pockit is a big improvement on the original, it falls short of the Yoyo+ in terms of comfort level. 
Both strollers have seats that can be adjusted to various positions but not all the way down to flat. 
The Yoyo has great all wheel suspension which helps to create a far more comfortable ride for the kid onboard. 
Manoeuvrability
The Yoyo has the edge when it comes to pushing your little one around town it feels really smooth when pushed along pavements and the swivel wheels to allow you to turn on a sixpence and dodge everyone else on busy city pavements. 
The better suspension also makes the Babyzen the better choice for occasional use on cobbled streets, or even over grass. 
The Pockit is only really designed for very smooth surfaces and even uneven pavements give a bumpy ride due to the lack of suspension and small 4.5" wheels.
Handlebar
The Babyzen Yoyo handlebar height is not adjustable and is set at 42 inches/106cm. This is a comfortable height for adults of average height.
The handlebar is made from a nice soft material that makes it comfortable and easy to hold and the suspension system will benefit the parent as well as the child by smoothing out the ride.
The Pockit stroller has two handles rather than a handlebar. We do not like this design as much since it makes it much harder to steer the baby buggy using only one hand. They are at a fixed height of 39 inches/99cm from the ground which is quite a bit lower than the Yoyo.
Canopy
The Yoyo has a great extendable hood that offers UPF 50+ sun protection, this has a peek-a-boo window so that you can keep an eye on your baby and see whether they have nodded off or not.  If the weather takes a turn for the worse you can use the rain cover that comes with the stroller.
The Pockit plus stroller has a much better looking and more effective canopy than the original Pockit. However, it is still really small and not as good as the one on the Yoyo.
There is no window or sun visor on the Pokit and it offers limited shade, a rain cover is available separately. The small canopy does mean that there is plenty of space for a tall child to sit.  
Storage Basket
The Babyzen Yoyo plus has a good-sized basket under the seat. It is big enough to be useful with enough space for a few snacks, drinks and a diaper bag. 
The Pockit has quite a small storage space underneath, but it is pretty decent considering the overall size of the stroller. It has a weight limit of 11lbs and you could fit a diaper bag under there with a couple of snacks as well. 
Overall the Yoyo stroller wins this section hands down. It has way better features, is more comfortable and is easier to push.
The strength of the Pockit is its incredibly small folded size, but this becomes a weakness when you start to look at comfort and practicality. 
Whilst the Pockit is pretty good in all areas, it just can't match the Yoyo which has a fantastic build quality throughout and is a match for full-sized strollers in most areas, yet still folds down to a very neat size that can be taken on an airplane as cabin baggage.
>>> Click here to compare prices for the Yoyo and Pockit
Is the Babyzen Yoyo Buggy Board Compatible? And the GB Pokit?
Babyzen have produced a buggy board that is specially designed to go on the Yoyo. It can carry children between around 2 and 5 years old (or a maximum weight of 20kg) and they can sit or stand on the board. 
It is a well-designed piece of kit that fits really nicely and easily on to the frame of the Yoyo+, you simply clip it onto the 2 holes on the stroller and it slots into place.
There is no buggy board for the GB Pokit.
Cost and Where to Buy the Babyzen Yoyo+ or GB Pokit+
The Babyzen Yoyo+ is a fairly expensive stroller but for the price, you get a great quality stroller that is very versatile.
If you would like to buy this amazing little stroller, head over to Amazon where you can buy for the best price in loads of different colours.
The Babyzen Yoyo+ has a really impressive range of extras that really take it to the next level and allow you to use it as your main stroller from birth until the stroller years are behind you.
Newborn pack – For newborns to 6 months old
Car seat adaptors – The Yoyo+ is compatible with Maxi-Cosi Pebble and Pebble Plus, Cybex Aton-Q, Nuna Pipa
Yoyo carry bag – This awesome bag expands the onboard storage
Yoyo+ buggy board – Our favourite accessory!
Yoyo cup holder – Perfect for a coffee on the go
The GB Pokit Plus is a cheaper option, click here to find the best price. It comes in a few colours but there aren't as many add-ons other than the carry cot and car seat adaptors.
Babyzen Yoyo vs GB Pockit: Our Verdict
In summary, these are both fantastic strollers in impressively small packages. We think that they are attractive to slightly different buyers and are both worthy of consideration but overall the Babyzen Yoyo+ is the better stroller.
The Yoyo is a high-quality piece of kit and excels in almost all areas. Whilst it is bigger than the Pockit it is still very compact and makes for a great travel stroller.
What sets it apart for us is that it is so much more than just a travel stroller. It is a genuinely good city stroller that comes in a small package.
There is a huge range of add-ons and with the buggy board available we feel that it is worthy of consideration as your main (only) stroller. Click here to check the latest price for the Yoyo+
The GB Pockit falls squarely in the travel stroller category and it is fantastic in this regard. If size and weight are your main considerations then the Pockit will do you proud.
Whilst it may not have the comfort levels of the Yoyo it is streets ahead of a bog-standard umbrella stroller and should be able to tackle most things that you throw at it.  
It is unbelievable what GB has achieved in creating the Pockit Plus and it is a good solid stroller that is comfortable for the child and practical for the parent. And absolutely tiny. If you are looking for a travel buggy that takes up as little space as possible and that you can easily carry around with you, then the GB Pokit is the one to go for.
We hope that we have helped you to choose the right stroller for you.
Click here to find to read customer reviews of the Babyzen Yoyo+ and click here to read more opinions of the GB Pokit+