When you get to Thailand you will hear a lot about Koh Lipe. If you are on the west coast around Krabi or any of the islands, everyone seems to be either heading to or on their way back from Koh Lipe. 
So when you look it up you might be surprised to see just how small it is. It is a tiny speck of an island off the west coast of Thailand, close to the border with Malaysia.
Over the last few years, it has really taken off as a tourist destination so we thought we would write a quick post about our experiences visiting Koh Lipe with kids.
To be honest, when researching the island we couldn't really work out what all the fuss was about. Yes, it looked beautiful but so do countless other islands in this part of Thailand. What was so special about Koh Lipe?
As we were heading south to Malaysia it made sense to stop off on the way to see what all the fuss was about.
---
Travelling with young children?

Check out our guide to travelling in Thailand with a baby or toddler and our essential baby and toddler travel items
---
Koh Lipe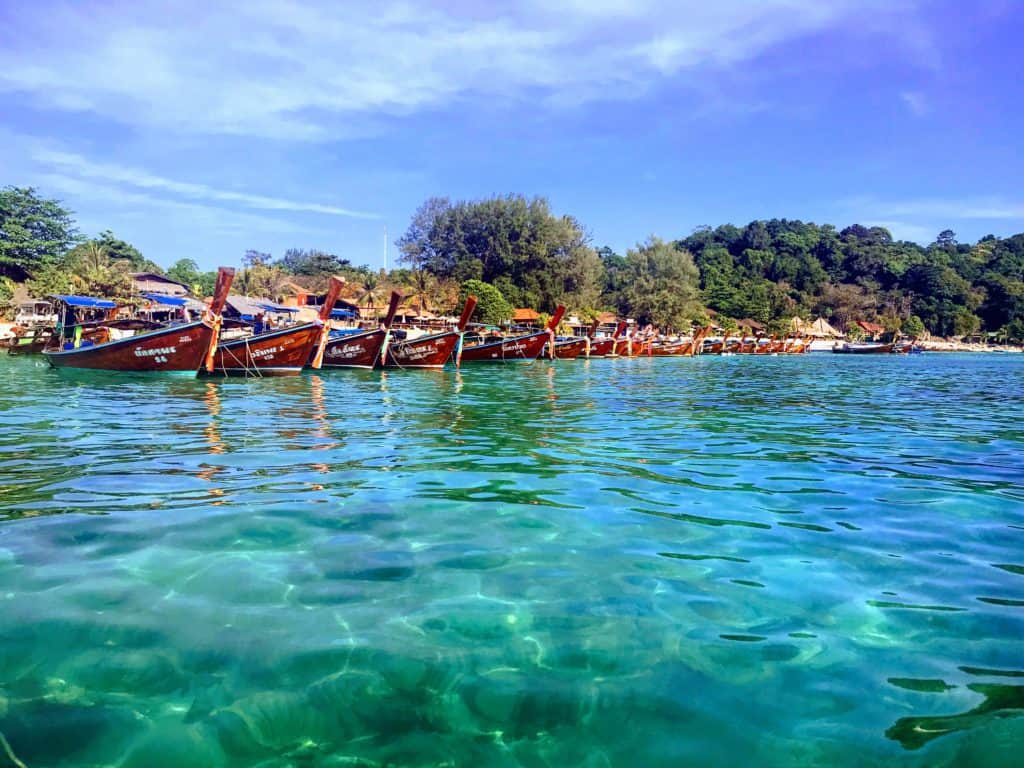 Koh Lipe is the southernmost Thai island and is in the Satun province. It is famous for its wide sandy beaches, shallow seas, and the amazing colour of the water which have earned it the nickname 'the Maldives of Thailand'.  It is situated in the Tarutao National Park and is the only inhabited island in the Adang archipelago. 
You'll read plenty of posts about Koh Lipe that describe it as an undiscovered gem. This is definitely not the case any more. We arrived from very quiet Koh Libong and if felt really busy for us.
The development is all pretty small scale, there is no real traffic apart from the odd tuk-tuk and the island has retained its low key, chilled out vibe.
Koh Lipe is a tiny island and you can get everywhere by walking. If you have heavy bags or don't fancy the walk there are tuk-tuks to help you get about.
There is one main Walking Street that goes between Pattaya Beach and Sunrise Beach. The street is lined with plenty of cool bars, restaurants, convenience stores and travel agents plus a few cheap places to stay.
Getting to Koh Lipe
Despite being fairly remote, Koh Lipe is easy to get to by boat.
From the mainland, you can catch a ferry or speedboat from Pak Bara. This is the only route that is open all year round.
If you are island hopping in high season from islands to the north, you will be able to catch a speedboat to Koh Lipe that stops in at various islands on the route. There is even an express boat all the way from Phuket.
It can be a pretty long journey (depending on where you start) but it is scenic and I always enjoy travelling by boat and gazing at the islands that we pass. They do overfill the speedboats so you aren't guaranteed a seat with your ticket and may end up on the floor which isn't the comfiest experience. 
There is a stretch that is fairly open seas where it got quite bumpy and a few of our fellow travellers needed to reach for a sick bag and you get a few jolts going through your spine. 
If you are travelling with a young baby you should bear this in mind before booking a long speedboat journey as it can put a strain on their young bodies. If you are on a speedboat with a baby be sure to keep them in a baby carrier. 
Our toddlers slept for pretty much the whole journey.
In high season Koh Lipe is also connected with Langkawi in Malaysia with a couple of ferries each day.
When you arrive at Koh Lipe you will be dropped as a floating pontoon a little way out from Pattaya Beach. Here you will have to pay your national park entrance fee and switch to a longtail boat to take you to the shore.
Click here to read more about how to get to Koh Lipe 
Beaches on Koh Lipe
There are 3 main beaches on Koh Lipe, all are pretty stunning with gorgeous white sand and crystal clear water.
Pattaya Beach
This is the beach where you will arrive it is a long sheltered beach with the whitest sand of all. It is a busy place with lots of hotels and bars and the entrance to Walking Street.
You will find the ferry, speedboat and the immigration office along this beach.
All in all, this makes for a busy beach. There is always lots going on but it doesn't make for the most relaxing place to sit or swim.
It is probably not the best place for families to stay as it can be a bit noisy with the bars going on quite late. Lipe isn't a mega party place but it this is the area with the most nightlife.
Sunrise Beach
This is a lovely wide beach which, as you may have guessed, makes a great spot to watch the sun come up. It is quieter than Pattaya Beach with hotels here a bit more spaced out and fewer, quieter bars than on the main beach.
The beach is really wide and has soft sand. There is less boat traffic on this beach so it makes for a good place to snorkel.
If you are looking to stay on the beach this is probably the best choice for families.
Sunset Beach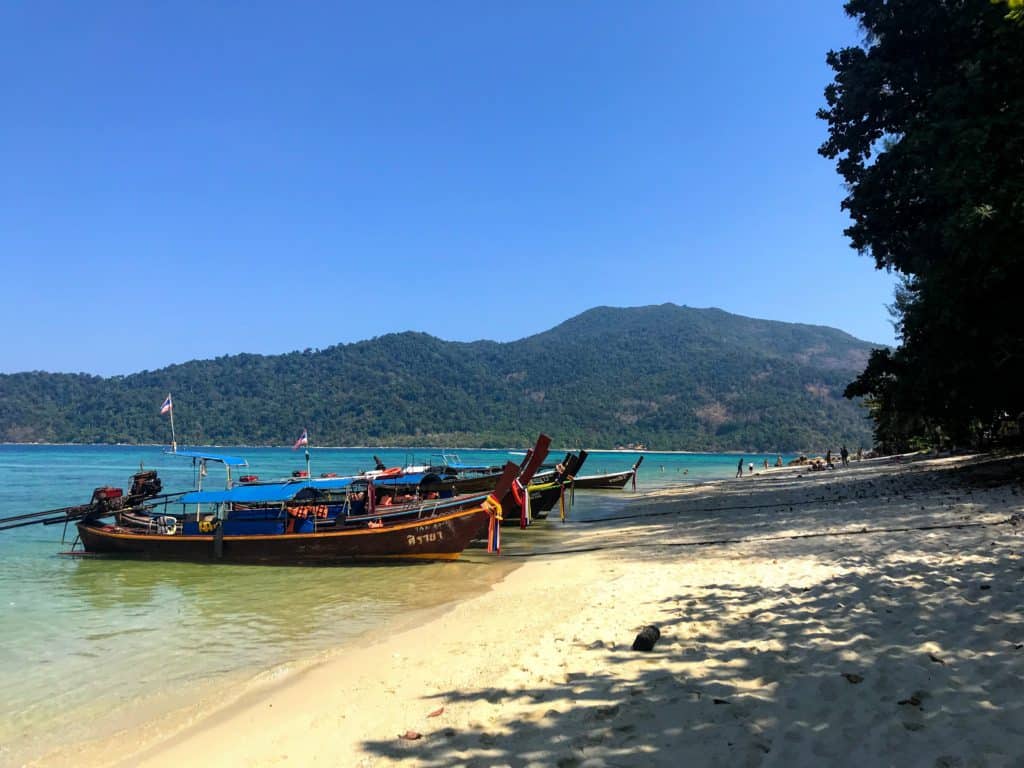 The quietest of all the beaches, Sunset Beach is a short walk away from the action with just a few restaurants and hotels at the seafront.  There are quite a few trees here so it is a great place to sit and enjoy shade during the heat of the day.
---
Love Beaches?

Check out our guide to the best family beaches in Thailand

and our Krabi Itinerary
---
Dogs on Koh Lipe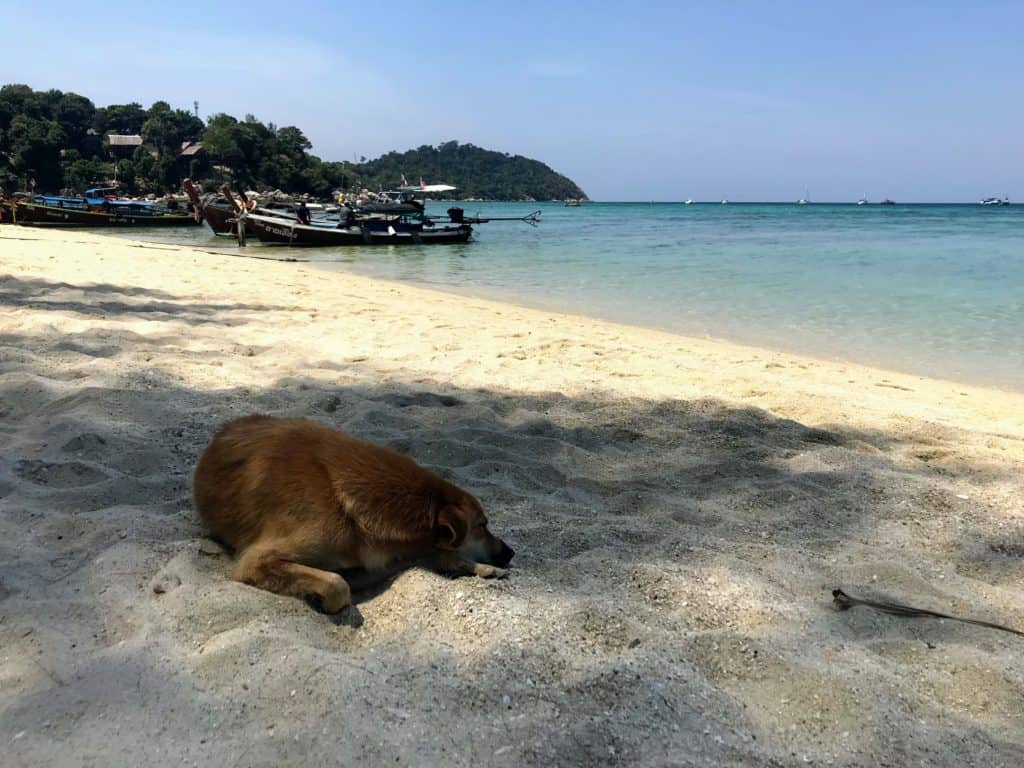 We've spent a good few months island-hopping around Thailand but it was only on Koh Lipe that we came across many stray dogs. They don't include them on the postcards or the brochures but they are pretty much everywhere. 
This may not be an issue for everyone but if you are on Koh Lipe with kids that are scared of dogs (like ours) it can be unpleasant.
When we arrived we picked up a cheese toastie from the 7-Eleven (a bit of an institution in Thailand) and jumped on a tuk-tuk to the beach. As soon as we got out a dog appeared and barked furiously at us.
We retreated into a beach bar. It followed us in and kept barking and pestering us until eventually, someone chased it out with a broom. It sat and stared at us while we had some drinks on a giant swing/table thing that we thought offered us a little bit of protection.
As we sat there and explored a little bit we realised that there were plenty of dogs lazing on the beach. Mostly they were quiet and didn't seem to be bothering people so they must not have had any food on them (we always have something to eat though it might not always smell as good as a cheese toastie). 
As we spent more time on the island we found that the dogs were a common sight on all the beaches (including Sunset Beach which is generally the quietest beach), and also on the main walking street where they hang out by the doors of the shops.
Should you Visit Koh Lipe with Kids?
To be honest we didn't fall in love with Koh Lipe. We didn't hate it but it was a bit too busy for our liking and all the dogs meant that we couldn't really relax on the beach. 
The beaches, particularly Pattaya Beach, were continuously busy with boats so despite its beauty it felt a bit like we were sat at a busy transport hub rather than a paradise beach. To be fair, it is both at the same time since there are boats coming and going from here to all sorts of other destinations from an undeniably beautiful location.   
We were really glad to have chosen to stay at Koh Adang Resort which is actually not on Koh Lipe at all.
As we had struggled to find any good value accommodation on Lipe, we plumped for a stay at Adang Island Resort which is just across the water from its famous neighbour. 
Koh Adang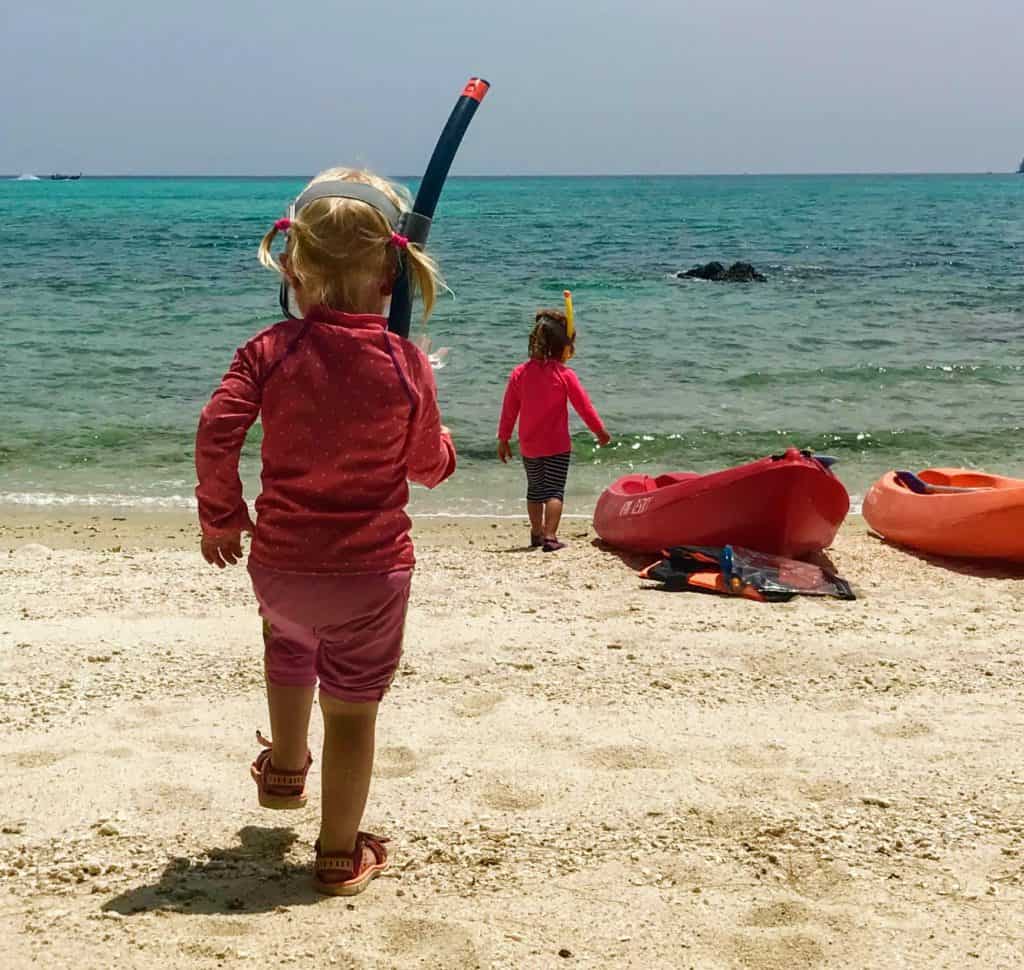 Koh Adang is way bigger than Lipe. It is quite mountainous with stunning viewpoints and a couple of waterfalls to explore. It is so close to Lipe that it looks like the hilly interior of the island, but it is in fact separated by a 200m wide channel. 
We have no hesitation about recommending a stay on Koh Adang with kids. Where we stayed is the only proper hotel on the island and is a nice mid-range option. 
The main reason we picked this place originally was that we couldn't find anything reasonably priced on Koh Lipe. 
Adang Island Resort was great value with an amazing pool, nice room and great breakfast.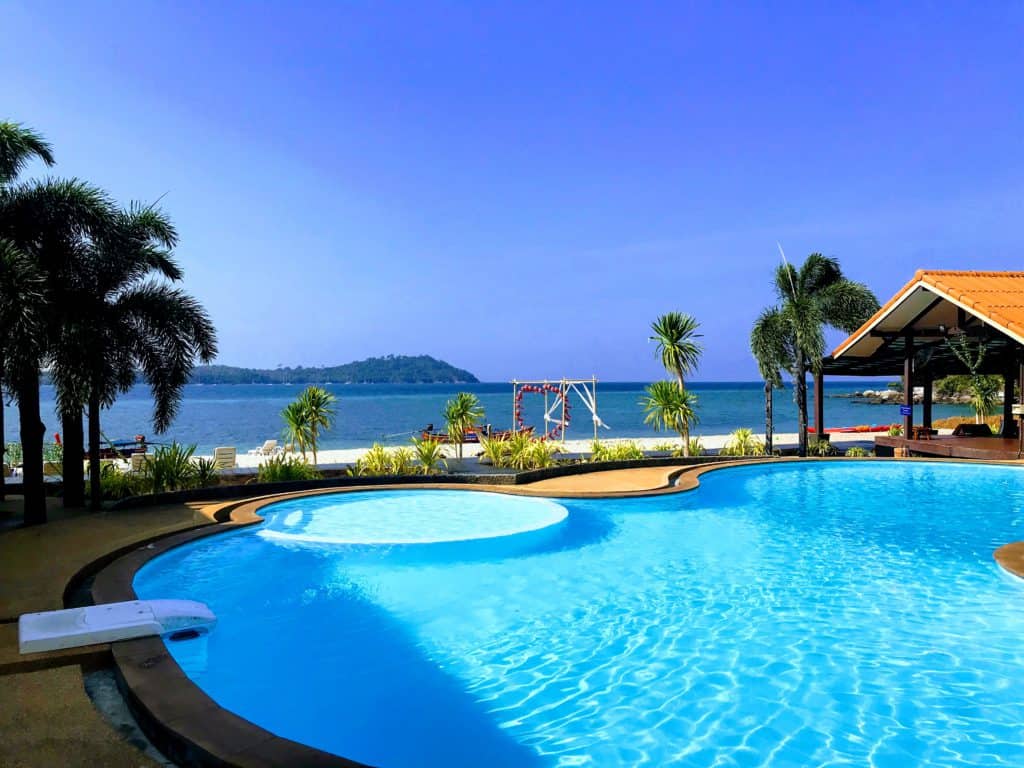 We loved that you could have free use of kayaks and snorkels whenever you wanted. They also do a free scheduled long tail boat over to Koh Lipe a few times a day. 
Outside of these times, you can pay a boatman to take you across the short stretch of sea. When you arrive you can call them and they pick you up for free. 
This hotel has its own sandy beach overlooked by the lovely swimming pool and a comfy shaded sitting area with plenty of Thai cushions and a few books and games to keep you occupied.
In the evening they play films on a big screen on the beach, unfortunately, they weren't always the most family-friendly movies.
If you stay here you either have to eat at their restaurant or pay for a boat back after eating on Koh Lipe. The food here is decent and the prices are good, cheaper than a lot of places on Lipe and the bottled water which we had expected to pay lots for was cheaper than the 7-Eleven on Lipe. 
Our original plan was to stay here a couple of nights and then move to Koh Lipe for a few more nights but we liked Koh Adang better and extended our stay here instead of sleeping on Koh Lipe.
They have a range of rooms to suit all budgets. You can check availability for your dates on Booking.com or Agoda.com
As always, opinions of the hotels featured in this blog are based upon our own experiences and we have never received a free stay or reduced rate in exchange for writing about a hotel (or any other attraction).
Where to Next?
Koh Lipe makes a great stop on an island-hopping trip. You can head north to great islands like Koh Libong, Koh Ngai, Koh Mook and Koh Lanta before reaching the mainland at Krabi.
Heading south by boat you can reach the Malaysian island of Langkawi which offers a very different island experience.
Alternatively, you could head straight to the mainland to the nearest airport at Hat Yai where you could fly on to Bangkok or Chiang Mai.
Final Thoughts on Koh Lipe with Kids
We hope that you have enjoyed reading our quick guide to Koh Lipe with kids. I don't think we liked Koh Lipe as much as most people that have been there or blogged about it.
That's one of the things about travelling, you will always have different experiences to anyone else and they will shape your feelings about a place. Not everyone likes the same things or the same places and this is definitely a good thing.
Koh Lipe is undeniably beautiful and has a lot going for it so you may well find it is your island paradise. If you plan to go there, then check out this post to find out the best time to visit Koh Lipe. For us, Koh Ngai is our favourite Thai island and others like Koh Libong and Koh Lanta have found a special place in our hearts.
What we did love in this area was our time on Koh Adang kayaking between tiny deserted beaches and snorkelling with the colourful fish. Whether you choose to stay on Ko Lipe or Koh Adang we recommend that you spend some time paddling on the water and swimming through the crystal clear seas.
Have you been to Koh Lipe? What did you think of it? Please share your thoughts below.