In this post, I will share an awesome Chiang Mai 3 day itinerary so that you can make the most of one of the most beautiful and most visited cities in Thailand.
It's chock full of shining temples, tuk-tuks, street food, and all that is best about Thailand. It is also a gateway to exploring the mountains, rivers and waterfalls that make this such a beautiful part of the world. 
Chiang Mai makes it onto most Thailand itineraries and we think it should make your Thailand bucket list too.
In this Chiang Mai itinerary, we will help you to plan your 3 days in Chiang Mai so that you enjoy your stay to the full and don't miss out on any of the highlights of the region. 
3 days gives you enough time to check out the main sights in the city, as well as head out into the countryside for a taste of the outdoors. It is not long enough to do everything though so you will need to plan your time well!
Where to Stay 

on your chiang mai itinerary (3 days)

We absolutely loved our stay at Lanna Dusita Riverside Boutique Resort, it is a bit out of the old city, which we really liked (to get into town you can take their free minibus, a Grab taxi back is about 80 Baht).
The hotel and grounds are really nicely designed with lovely rooms, great breakfast and really friendly staff.
We think that this was the best value hotel that we had in Thailand. For a low price, we got a lovely luxurious room with a balcony. The grounds were lovely and the restaurant by the river was fabulous (great breakfast!).
Click here to check availability
If you would prefer to stay somewhere more central, Tamarind Village is a great place to stay with beautiful grounds, a lovely swimming pool and a spa. 
It is centrally located so handy to get anywhere, but the gardens create a tranquil setting away from the hurly burly of the city. 
Click here to check availability
Chiang Mai 3 Day Itinerary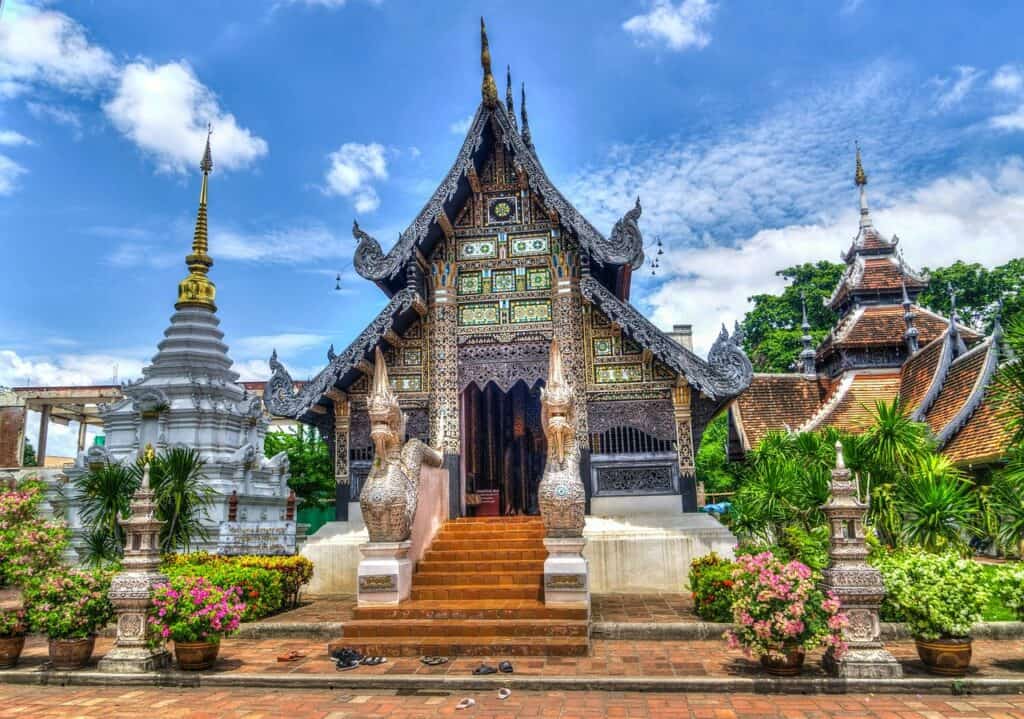 Chiang Mai Itinerary Day 1 – Temples and Markets
We suggest that you spend your first day in Chiang Mai getting to know the old town and exploring some of the most famous sights.
Chiang Mai is best known for its relaxed vibe and plethora of temples. The number of temples isn't exaggerated, you will see one nearly every street. 
There are a few that are well known and popular with tourists, but it is also nice to pop into some of the smaller ones that don't get so many visitors. In the smaller temples, it is quite likely that some of the monks or locals will like to have a quick chat and practice their English. 
You will definitely want to spend some time exploring the streets of Chiang Mai on foot, but if you are keen to see lots of the temples, they are quite spread out so it is worth arranging a tour by tuk tuk.
Be sure not to miss these temples:
Wat Phra Singh
Wat Phra Singh was originally built in the 14th century, but the temple complex has been expanded over the centuries with many smaller temples and chedi being added over the years.
It all comes together to form one of the most attractive temples in Chiang Mai. It has the classic golden rooftop that looks so stunning in photos, and it is also a living temple so don't be surprised to see monks and novices walking around in their distinctive robes. 
Wat Chedi Luang
Wat Chedi Luang is an ancient temple right in the centre of Chiang Mai. It is known as The Temple of the Big Stupa, and it is very distinctive as it is in a semi-ruined state. This gives it a unique atmosphere of its own and is reminiscent of the stupas at Ayutthaya and Sukhothai.
It remains an impressive structure and there are many ornate and notable temples around the complex which are well worth visiting. It is an active place of worship where many locals come to pray. 
There are organised groups where you can chat with a monk, so if you definitely want to speak to a monk, this is the place to come!
It is our favourite temple and one of the must do things in Chiang Mai
A great way to explore the temples of Chiang Mai is on a biking tour
Eating in Chiang Mai and Chiang Mai Night Market
Once you have had your fill of sightseeing, you might like to take the opportunity to sample some of the wonderful cuisine that the city is famous for. You will be spoiled for choice of places to eat, and it is hard to go wrong when choosing a restaurant, but Jarid Thai Food and Baan Buri are popular choices. 
Of course, the streets will be filled with stalls selling you the old favourites like pad Thai, Mango Sticky Rice and banana pancakes alongside other local specialities like Kanom Jeen Nam Ngiaw.
One of the best places to enjoy some street food stalls is at the night bazaar where a number of stalls congregate in an attractive plaza and live bands provide entertainment.  
Even if you are not hungry, you will want to explore the night bazaar where you can buy all manner of things at bargain prices (remember to haggle). You can buy everything from souvenir trinkets to household wares. Of, course there is no shortage of stalls selling elephant trousers if you need to stock up!
If you are in Chiang Mai on a Sunday, be sure to check out the Sunday Walking Street which is right by the famous Tha Pae Gate. The road is closed to traffic and you can buy all sorts at a Sunday night market that has a great atmosphere.
Chiang Mai Itinerary Day 2 – Doi Suthep, Wat Umong and Nimmanda Haeminda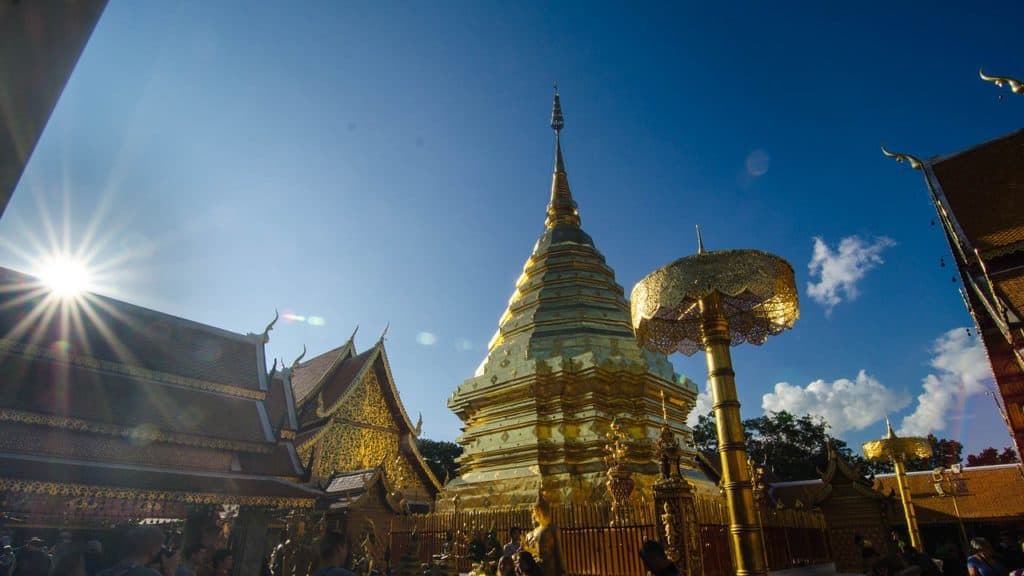 For day 2 of this Chiang Mai itinerary, we suggest exploring a little further out of town by visiting the famous Doi Suthep temple, less well known Wat Umong temple, and the trendy Nimmanda Haeminda area.
Doi Suthep
The Doi Suthep temple is one of the best places to visit in Chiang Mai and the 14th-century structure is generally thought to be one of the most beautiful temples in all of Thailand.  Apparently, it is said that you haven't been to Chiang Mai if you haven't been to Doi Suthep.
The temple enjoys a fabulous location up a mountain, so as well as the temple, it is a popular place to come to get a great view of the city and surrounding countryside. 
It is about 12 km out of town so you will need to take a tour, taxi, songthaew or if you are very fit and a bit crazy, a bike.
Once you have got there, there is an atmospheric 306 stairs to climb up to the temple (or you can take the relaxing option of a cable tram).
>>> This great tour combines a village tour with a visit to Doi Suthep
There is another great temple at the foot of the Doi Suthep Mountain – Wat Umong. It is a really unusual and interesting place to visit as it is an underground tunnel temple set in tranquil, forested grounds with a lake that is home to catfish and turtles.
There is a series of mysterious underground passageways that make this temple a great place to explore and bring out your inner Indiana Jones.  
You can arrange this yourself but it is much easier and great value to take this tour.
Nimmanda Haeminda
After your temple tour, we recommend getting dropped off in Nimmanda Haeminda, this is one of the trendiest parts of town and is full of cool coffee shops, bars, restaurants and shared working spaces for the many digital nomads that have made Chiang Mai their home.  
It is a nice place to spend some time and there is loads of amazing street art to discover. Grab a coffee at Libarista or try some tasty healthy food at Rustic and Blue
---
Planning a trip to Thailand?
They are all packed full of great things to do and places to stay.
---
Chiang Mai Itinerary Day 3 – Sticky Waterfalls and Boat Trip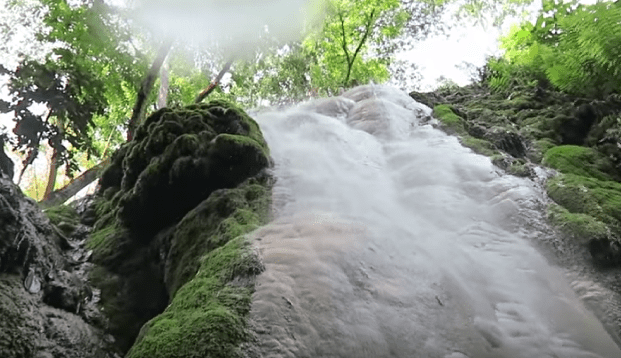 Having 3 days in Chiang Mai gives you the chance to get out and explore a bit further, so our recommendation for your third-day itinerary is to head out to visit the 'Sticky' Bua Thong Waterfalls.
Bua Thong Waterfalls
These waterfalls make for a popular day trip from Chiang Mai due to the unusual stickiness of the rocks. Whilst walking on the rocks at most waterfalls will see you slipping around with a good chance of sliding into the water, the rocks here are actually really grippy and great for climbing on.
The stickiness is apparently the result of the water flowing over porous limestone rocks land leaving behind a residue that gives the rocks an unusual level of traction.
The result is an almost magical level of grip that makes exploring the waterfall great fun as your feet are firmly stuck to the rocks as water gushes all around. Be sure to take a dip in the pools at the base of the falls.
The falls are about an hour's drive from the town at the Rainbow Spring Forest Park, it is a lovely setting with plenty of birds and butterflies flying around.
The best way to visit is with a guide that can help you to navigate your way up the falls (they are sticky but you still need to be careful!). They will also provide a delicious meal to eat while you are at the falls which is great as there isn't much to buy in the area. 
>>> Click here to book a tour to the Sticky Falls
If you are looking for a more adventurous alternative, there is a great option to get to the falls by mountain bike. This tour also includes a boat ride across the scenic Mae Kuang reservoir, and a chance to explore some caves.
It is a really fun way to spend your day and gives you some great views and new experiences.
>>> Book your mountain bike adventure here
Mae Ping River Cruise
When you get back to Chiang Mai you could spend some time relaxing by the hotel pool. Or, if you are looking for another activity, a boat trip along the Mae Ping River is a great way to spend the afternoon. 
As you float along the river, you will see an ever-changing landscape as you pass temples, traditional teak houses and rural scenery.
The boat will usually travel for just under an hour before stopping at a local farm where can learn about rice cultivation and enjoy a stroll around the field before returning to the city.  
If you head out in the evening, you can enjoy a candlelit dinner on one of the floating restaurants that head up and down the river. 
Other Popular Activities in Chiang Mai
If you don't fancy climbing the falls, have more time, or are wondering what to do around Chiang Mai, here are a few other great options that you can add to your itinerary for Chiang Mai.
Doi Inthanon National Park
If you love to get out in the great outdoors then a trip to Doi Inthanon National Park should definitely be included in your 3 days in Chiang Mai. 
In the park, you will be able to enjoy some fabulous views from Thailand's highest mountain (2565 metres/8415 feet).
 It is a huge park with some great hiking options if you can spare a few days here. One of the nice things about the park is that there is such an abundance of birdlife and there are more species here than anywhere else in Thailand. 
At the top of Doi Inthanon are two beautiful temples that were built to commemorate King Bhumibol Adulyadej and Queen Sirikit. They sit on opposite peaks, facing each other and share a similar design. The picturesque gardens around the temples complete the picture and this is a lovely spot to soak up some fabulous views. 
The easiest way to get here on a day trip is to take a tour from Chiang Mai, you could either join a group tour or take a private one. 
Tours to the park will include time at Doi Inthanon peak where you can also visit the twin stupas, stops at two waterfalls and visit a Karen hill tribe village.
>>> Buy a reduced price tour to Doi Inthanon here
Visit Elephant Nature Park
We are never sure what to write about elephant parks in Thailand. Many tourists love them but the treatment of the animals can be questionable so it is important that you choose the right place to see elephants. 
We haven't visited an elephant sanctuary for 20 years but one place that consistently wins praise for the good treatment of the elephants, along with a great visitor experience, is Elephant Nature Park, an ethical rehabilitation centre. 
Here you can feed and bathe the elephants but cannot ride them (as it hurts their backs, ethical elephant sanctuaries do not encourage elephant riding).
It is a popular place to visit and you will need to book well in advance.
>>> Book a day trip to Elephant Nature Park here
Thai Cookery Class
After spending time in Thailand, you will surely have fallen in love with the food.
Taking a cookery class is a great way to learn how to make your own versions of delicious Thai Green Curry or Pad Thai or Tom Sum.
This Thai cooking class includes a visit to the market to purchase fresh ingredients before you are taught the skills and techniques involved to make your own delicious Thai meal. Of course, you get to eat your creation at the end!
>>> Book your cooking class here
Timing your 3 days in Chiang mai itinerary
The best time to visit Chiang Mai is between October and early February. At this time you should expect warm dry weather.
The rainy season runs from about June until October, but as the rain falls mainly in short heavy downpours, you should still be able to enjoy your time in Chiang Mai.
You should be aware that during the burning season, the air quality in Chiang Mai is awful and there won't be much of a view from Doi Suthep or Doi Inthanon 
The exact timing of the burning season changes each year but is around February to April or May.
Check out our detailed guide to when to go to Chiang Mai.
---
---
How to Get to Chiang Mai
Chiang Mai is well connected to the rest of Thailand and the outside world. There is a domestic/international airport and bus and rail connections to the rest of Thailand.
A popular journey is the overnight sleeper train from Bangkok. This is a fun experience and actually quite comfortable if you get a sleeper cabin. 
Be sure to book the train well advance though and consider that it may be cheaper to fly. There are also lots of cheap buses that do the journey north from the capital.
Low-cost flights also link Chiang Mai with other tourist hotspots like Krabi, Phuket, Koh Samui and Kuala Lumpur.
Final Thoughts on Spending 3 Days in Chiang Mai
We hope that you have enjoyed reading our 3 day Chiang Mai itinerary and that you now know exactly what to do in Chiang Mai in 3 days.
Three days in Chiang Mai is just the right amount of time to get to grips with the city and gives you the chance to explore a little bit around the town. 
Having somewhere nice to stay always makes a big difference to our enjoyment of a place, and we really loved staying at the beautiful Lanna Dusita Riverside Boutique Resort. 
If you have enjoyed seeing Chiang Mai then you might like to consider exploring Northern Thailand a bit more and taking in some of the highlights like the charming small city of Chaing Rai, the rural idyll of Pai, or heading to the Golden Triangle border region where Thailand meets with Laos, and Myanmar.