For anyone travelling through the Andaman Sea, the islands of Koh Lipe and Langkawi make for obvious destinations. 
The distance between Koh Lipe and Langkawi is less than 60km.
Yet we have two islands in two countries that could hardly be more different.
In this guide we will show you how to travel from Koh Lipe to Langkawi, the different options that you have, what your need to consider before booking, and what you can expect from immigration at either end.
Koh Lipe to Langkawi Ferry
In high season, it is very easy to travel between Koh Lipe and Langkawi as there is a high-speed ferry that will take you between the 2 islands in around an hour and a half. 
Exactly when the ferry from Koh Lipe to Langkawi runs varies slightly each year, depending on the weather,  but it is generally early October to early June.
The important thing to realise when catching the ferry Koh Lipe to Langkawi, is that there are two different ports in Langkawi that are quite far apart.
Langkawi is a big, developed island and distances between places can be quite long. This comes as a bit of a surprise if you have been island hopping your way through Thailand and have hardly seen a road in weeks.
So, when choosing your ferry you must decide whether to head towards Kuah Jetty or Telaga Harbour International Terminal.  
Kuah Jetty: This is the major ferry terminal for Langkawi and has ferry connections to other Malaysian destinations like Kuala Perlis, Kuala Kedah and Penang. 
It is within the major city of Kuah to the southwest of the island. 
Telaga Harbour is near Pantai Kok and is a bit closer to Koh Lipe as it is near the mountainous southeastern tip of Langkawi. This area is close to the Langkawi Sky Cab and Sky Bridge, Langkawi airport and to some of the most popular beaches. 
Whether you choose to go to Kuah Jetty or Telaga terminal will largely depend on where you have chosen to stay, but make sure you pick the one closest to where you are going (we didn't and had a long taxi ride from Telaga to Kuah – If only we had read a handy Koh Lipe to Langkawi blog explaining that the ferries go to different places!)
Whichever port you are heading to you should be aware that the time in Langkawi is one hour ahead of Koh Lipe.
>>> Book Ferry Tickets Here
Leaving Koh Lipe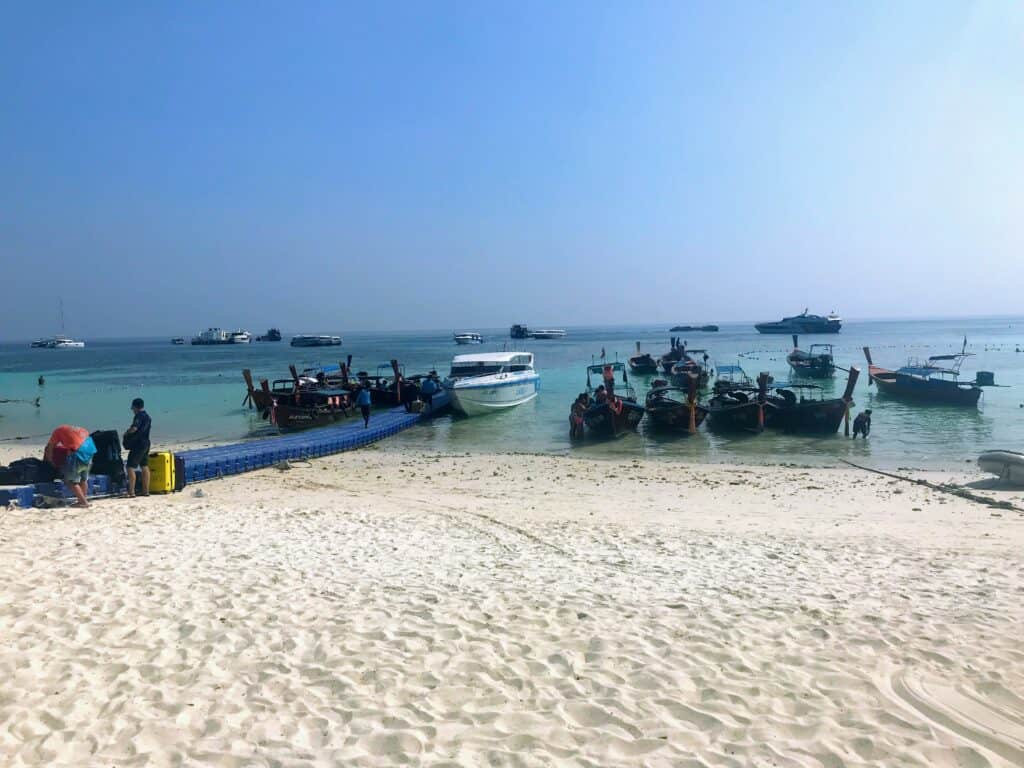 Before departing from Koh Lipe you will need to pass through immigration and get your exit stamp on your passport. Fortunately, this is all done at the same location as where you board the ferry service and it is just along the beach from Walking Street. 
You will be told to arrive 1.5 hours before departure which is way longer than is needed. We were some of the first to arrive and handed in our passports and tickets to an officer. In return, we were given numbers and asked to sit down and wait. 
Sometime later they started calling people up to the counter but this was a bit confusing as they were not calling us up in the order of our number – it turns out that the numbers were for boarding the ferry, but this was not explained.
Anyway, there was quite a bit of hanging around before being taken to the ferry in a long tail boat (no extra charge for this, unlike on arrival). The plus side is that the immigration office is right on Pattaya Beach so it's not such a bad place to wait!
Arrival in Langkawi 
When you arrive in Langkawi you will need to go through Malaysian immigration.
This took quite a long time since we were pretty much the last ones off the ferry and had to stand in a queue whilst everyone got stamped in. Get off quickly if you can (not always easy if you are travelling with two young kids like we did)
We arrived at Telaga pier. If you need some Malaysian Ringgit you can go to the ATM at the petrol station which is right by the ferry terminal. The taxis waiting at the ferry terminal ask for very high prices so be sure to barter hard or use the Grab taxi app to get a fair price.  
If you are going to Kuah Jetty you will arrive in a big modern passenger terminal, it has the feel of being at an airport and couldn't be more of a contrast to the shack on the beach immigration of Koh Lipe.  
Once you have cleared immigration you can find all the facilities you might need, including ATM's money changers, shops, restaurants and taxis.
Koh Lipe to Langkawi in the Off Season
It is possible to travel between Koh Lipe and Langkawi in the offseason, but it is much more time-consuming. The only way to get off Koh Lipe in the green season is to take a Bundhaya speed boat to Pak Bara pier on the Thai mainland. 
From there you will need to head to Tammalang Pier which is 8 km from Satun town centre. The ferry from here to Kuah Jetty in Langkawi takes around 1 hour and 15 minutes.  
If you want to travel from Langkawi to Koh Lipe in the off-season you will need to travel to Satun and then to Pak Bara to catch the boat. 
Final Thoughts on Travelling from Koh Lipe to Langkawi
We hope that you have enjoyed reading this travel guide, and now have a good idea of how to get to Langkawi from Koh Lipe. 
As long as you are there in high season, it is a pretty straightforward journey and in just a couple of hours, you will travel between tiny laid back Koh Lipe and the much larger, more mountainous and more developed Langkawi. 
Both are great travel destinations and have quite different attractions and opportunities. Visiting both gives you the chance to mix it up and include lots of different experiences on your journey through South-East Asia.
If you haven't yet reached Koh Lipe, be sure to check out our post that explains how to get to Koh Lipe and our post on Koh Lipe with kids.