If you are wondering how to get to Koh Lipe, we hope that this guide will answer all of your questions and show you the best way to get to Koh Lipe, no matter where you are coming from.
Lipe Island is a tiny but beautiful island that has become an increasingly popular holiday destination over recent years. It is the farthest south of all the inhabited Thai islands in the Andaman Sea and is close to the border with Malaysia.
During the high season (November to May) Koh Lipe, Thailand is a popular stopping off point for people that are island hopping up or down the coast. Various speedboat and ferry services sail to all sorts of other nearby destinations so that you can visit lots of idyllic islands in one trip.
If you are travelling outside the high season options are far more limited and the only service that keeps running all year round is to and from Pak Bara, the nearest port on the Thai mainland, which is around 60 km from Koh Lipe.
How to get from Bangkok to Koh Lipe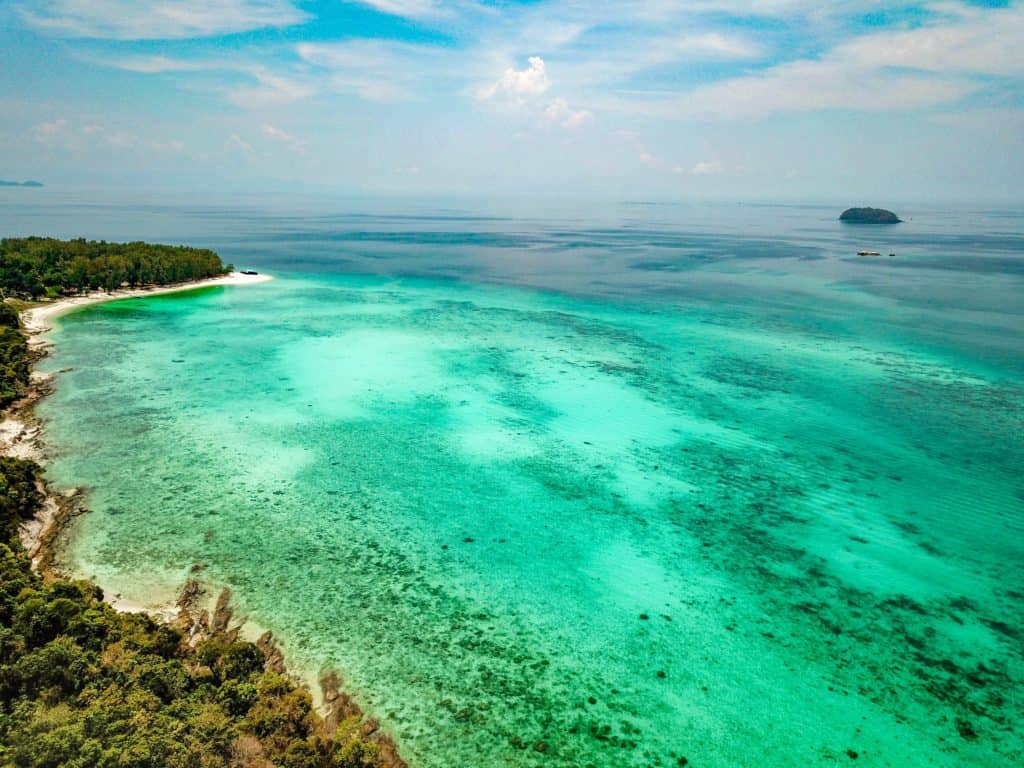 Fly from Bangkok to Koh Lipe
Whilst there is no airport on Koh Lipe, by far the easiest and quickest way to get to Koh Lipe from Bangkok is to fly from Bangkok to Hat Yai which is the nearest airport to Koh Lipe.
From Hat Yai Airport you will need to catch a minivan to Pak Bara pier (250 baht) and then catch a ferry or speedboat for the final leg of your journey (650 baht).
The best option is to book a combo ticket that will cover the trip by plane, van and high-speed ferry. The combo ticket guarantees that you will make your connections (waiting if necessary).
The combo ticket works out at the same price and is a slightly easier way to do it. Prices vary for the flight section of the journey but the total price from Bangkok to Koh Lipe starts from 1900 baht. If you prefer to book your tickets as you go along it should be no problem.
The boat section should take 1.5 to 2 hours but this depends on whether they stop at any other islands on the way to Lipe.
If you are travelling in high season, and have a bit of time to play with, you might want to look at flights to Phuket, Krabi or Trang. From any of these places, you can continue to Lipe by boat, stopping for a night or two at various islands along the way.
Find tickets for your dates using this search box:
Bangkok to Koh Lipe by Bus or Train
If you prefer not to fly you can travel from Bangkok to Hat Yai by train or bus, but you are unlikely to save any money by doing this. It is a long journey by either bus or train, so it is best to go overnight.
When buying your ticket, bear in mind that you will need to arrive in Hat Yai by 10 am to make sure that you can get on the ferry to Lipe at 11.30.
The sleeper train takes 15 hours. Tickets prices vary but start at 855 baht for a 2nd class sleeper with a fan. 2nd class with AC and first-class are a bit more, you can check prices here 
The bus from Bangkok to Hat Yai takes around 13 hours and costs around baht.
From Hat Yai, you will need to catch the shuttle bus to Pak Bara and then a ferry to the island. The easiest option is to buy a combo ticket that covers your whole journey from Bangkok to Koh Lipe.  You can buy a combo ticket here.
Planning a trip to Thailand?

We have some posts that can help!

Check out our Thailand Itinerary, Bangkok Itinerary, and guides to the beautiful islands of Koh Lanta, Koh Lipe and Koh Libong, Koh Mook

and The One Island that you Must Not Miss

If you are travelling with young kids we have written about our experiences of travelling in Thailand with a baby and toddler
How to get to Koh Lipe from Langkawi and Malaysia
If you are in Langkawi during the high season you have a nice straightforward option of catching the direct ferry between Langkawi and Koh Lipe.
There are two different ferries that leave from either Telaga or Kuah Jetty. They are quite far apart so check where you are staying before booking your tickets.
The journey takes 90 minutes in a high-speed ferry and you will need to pass immigration before departure and also visit the immigration office on Pattaya Beach when you arrive in Thailand.
If you want to travel from Langkawi to Koh Lipe in the off-season you will need to travel to Satun and then to Pak Bara to catch the boat.
If you are on peninsular mainland Malaysia, the easiest option is for you to head to Pak Bara and catch the boat to Koh Lipe as described above. Depending on where you are it may be an option to fly into Hat Yai or Krabi or Phuket.
How to get to Koh Lipe from Hat Yai, Krabi or Trang
Pak Bara to Koh Lipe
The simplest way to get to Koh Lipe from southern mainland Thailand is to head to Pak Bara and catch a boat from there.
You can catch a shuttle to Pak Bara from Hat Yai, Trang, or Krabi. The ferry to Lipe takes 1.5 to 2 years depending on how many islands you stop at on the way. You can book tickets here.
How to get to Koh Lipe from Phuket and other islands
In the high season, you will be able to arrange transport to Koh Lipe from any of the islands south of Phuket. If you are going from Phuket to Koh Lipe you can catch the direct high-speed ferry
The speedboat companies are pretty well organised and will be able to put together whatever journey you need. It is quite a long journey and depending on where you start you will probably stop at a number of islands on the way.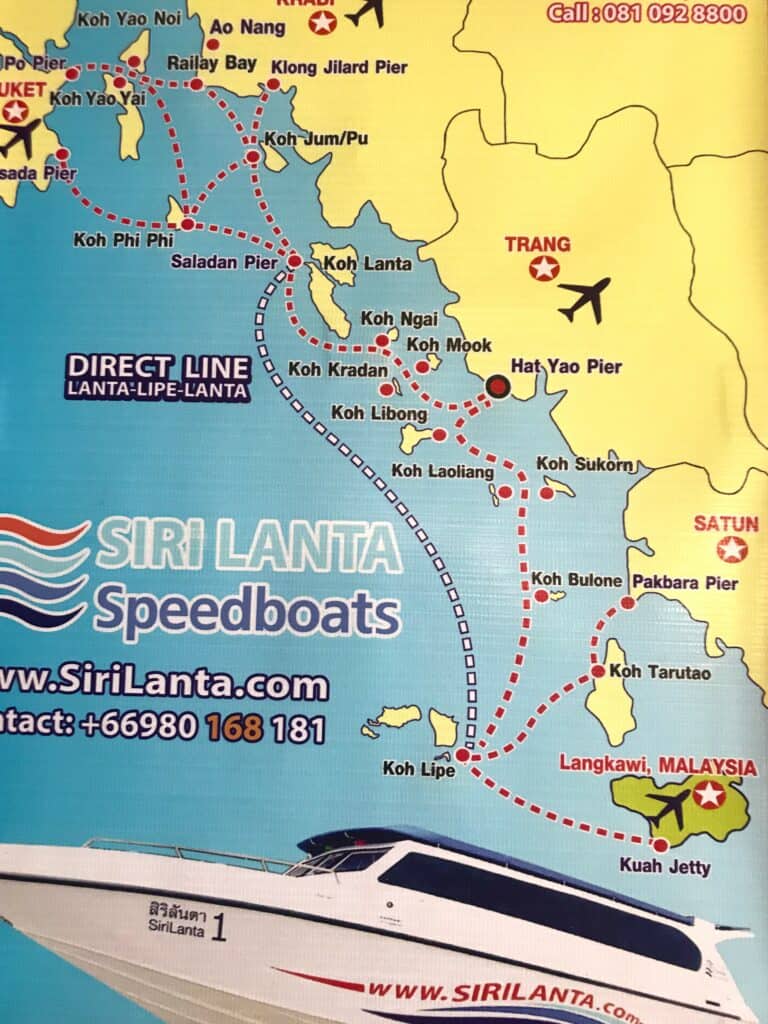 There are stretches of open sea that can get bumpy even on calm days in the high season. There were a few people that needed a sick bag on our speedboat and we were clinging on tight to our children (who happily slept through it all!)
If you are travelling with a young baby you should bear this in mind before booking a long speedboat journey the bumps can be tough on their back and neck. If you are on a speedboat with a baby it is a good idea to hold them in a baby carrier.
Getting to Koh Lipe in Low Season
It is possible to get to Lipe island all year round, but in the offseason, you can only catch a speedboat from Pak Bara on the mainland. Boats do not set sail for any of the other islands during the rainy season, this is partly because there are fewer tourists around, but also because the seas can be very rough during the rainy season.
The journey between Koh Lipe & Pak Bara takes approximately 1.5-2 hours.
If you have concerns about travel by boat in rough seas (maybe you are in Thailand with a baby or toddler) you may want to give Koh Lipe a miss in the low season as the sea crossing could be pretty hair raising. There are other great islands far closer to the mainland like Koh Lanta and Koh Libong.
Arrival in Koh Lipe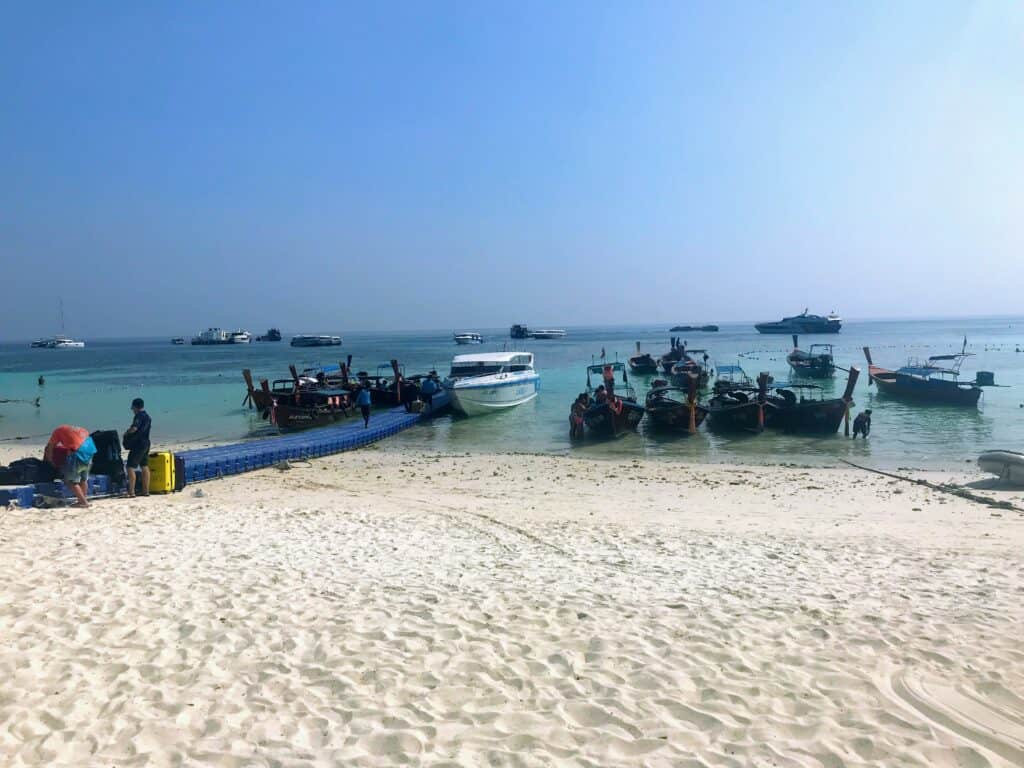 However you travel to Koh Lipe, you will arrive at a floating pontoon near to Pattaya Beach. Here you will have to get off, pay your national park entrance fee (200 baht) and board a long tail boat that will take you to the beach for another 50 baht.
From here you will be at the end of Walking Street that is full of bars, restaurants, shops and travel agents. If you need to get a lift to your hotel on Sunrise Beach or Sunset Beach, walk up the street a little bit and you will find tuk-tuks waiting just past the 7-eleven.
Koh Lipe Accommodation: Where to Stay in Koh Lipe
If you are looking for somewhere to stay on Koh Lipe, our top pick hotels are Ten Moons Lipe Resort and Chareena Hill Beach Resort
Ten Moons Lipe Resort is one of the best Koh Lipe hotels. It is a luxury resort that is well worth the money for gorgeous beachfront bungalows that are on their own private stretch of beach. The restaurant here serves some of the best food on the island and you can enjoy fabulous sunrise views from the comfort of your room.
Check availability on Agoda or Read Reviews on Booking.com
Chareena Hill Beach Resort is a great mid-range choice tucked away at the end of Pattaya Beach. Rooms are up on a small hill so you get great views but it is just a short walk to the beach.
Check availability on Agoda or Read Reviews on Booking.com
Our top tip is actually to stay just off Koh Lipe at the fabulous Adang Island Resort, it is just a couple of minutes away by boat but offers you an almost private island experience but with easy access to the attractions to Koh Lipe.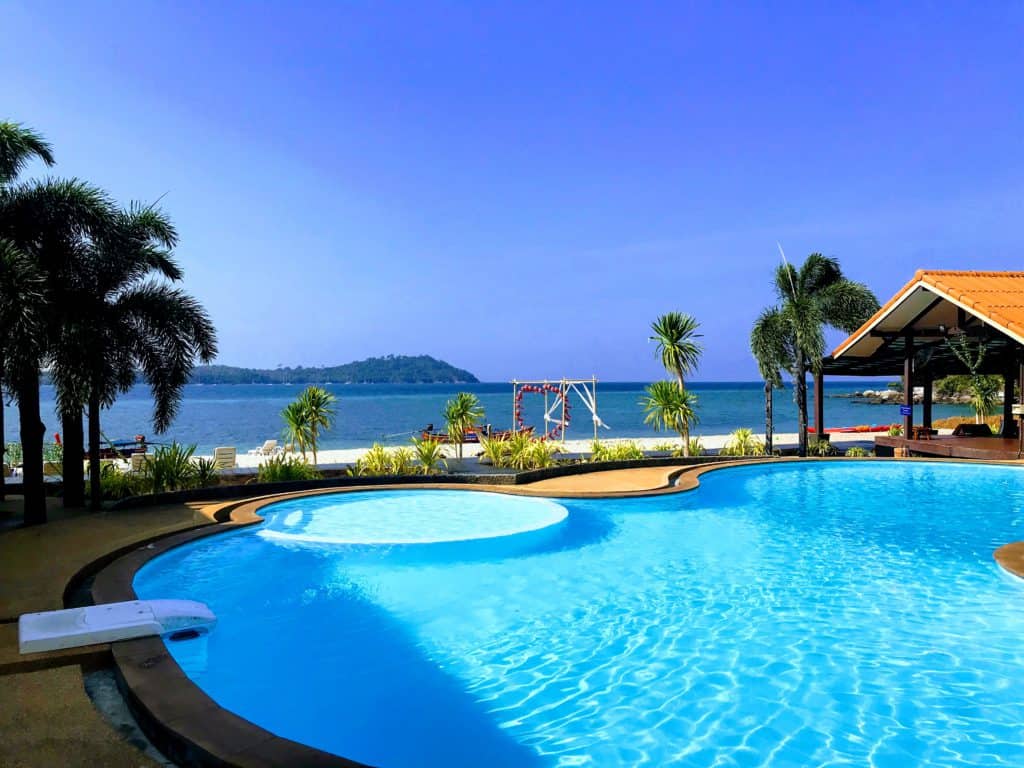 We loved that you could have free use of kayaks and snorkels whenever you wanted. They also do a free scheduled long tail boat over to Koh Lipe a few times a day. 
They have a range of rooms to suit all budgets. You can check availability for your dates on Booking.com or Agoda.com
Final thoughts on How to Get to Koh Lipe
We hope that this blog has helped you to plan how to get to Koh Lipe and you are no longer asking "how do you get to Koh Lipe". We have tried to cover all of the possible route options to show the best way to get to Koh Lipe Southern Thailand.
It is a fairly long journey from most nearby places but we think that you will find it worthwhile, particularly if it is part of a journey up or down the coastline.
Once you are there be sure to relax on the stunning beaches and get out to explore the Tarutao National Park on one of the great tours that take you to visit stunning uninhabited islands and beautiful snorkelling spots.