Hoi An is top of many people's Vietnam bucket list. The quaint, picturesque streets of the old town are a glorious mix of Chinese shop houses and French colonial architecture. Throw in some lovely temples, colourful lanterns, boutique shops, a beautiful riverside setting and you have the perfect oriental destination. 
Hoi An is a delightful, charming place to visit and it has deservedly become a very popular tourist destination. It is a very family friendly place and in this guide to Hoi An with kids we will give the full low down on what to do in Hoi An with family. 
Things to Do in Hoi An with Kids
Explore Hoi An Old Town by Foot
The main draw to Hoi An is the fantastically atmospheric and well preserved old town which has been designated as a Unesco world heritage site.
It is a great place to wander around with many fascinating sites dotted around the town. It is relatively compact and easy to explore on foot. Getting around with a stroller shouldn't be too much of a problem if you are travelling to Hoi An with a baby or toddler, although we prefer to rely on our baby carrier to get about. 
Traffic is banned from the streets from 8-11am and again from 3-9.30pm. These make for nice times to visit the city without traffic to worry about. You can't fully switch off from traffic concerns though as you and your children can still get caught out by the bikes and rickshaws that still silently travel around the streets. 
To visit the old town you are required to buy an entrance ticket which costs 120,000 VND (5 USD) per person but it is free for kids. The ticket is technically required to walk anywhere in the old town. Enforcement of this seems pretty inconsistent and we were only asked to show our ticket once out of many separate visits into the old town. 
Having a ticketed old town is something that we have come across a few times on our travels but having to have a ticket just to walk the streets can seem a bit odd and we saw a few people reacting angrily when getting stopped without tickets when attempting to cross the famous Japanese bridge. 
The ticket is pretty cheap and also allows you to visit 5 of the 21 historic sites and museums around the town that are some of the best things to see in Hoi An with kids. The fees should go towards the maintenance and preservation of the city. 
You can only buy the ticket at one of the small yellow huts that act as ticket booths around the edge of the old town, not at the individual historic buildings, so be sure to pick one up when you enter the old town and keep it on you at all times. 
It is a shame that you can't visit all the historic buildings, so you will need to prioritize what you most want to see, or buy extra tickets if you want to see them all. Many of the old houses are pretty similar so you should get a good taste of what Hoi An has to offer in your 5 visits.  Your ticket will be checked and stamped at each of the historic attractions so don't forget to take it with you. 
A fun alternative to walking around the town would be to rent a cyclo (cycle rickshaw), and relax as you are pedalled around the town taking in the most important sights. You can book one here
Hoi An Market
Before arriving in Hoi An we had read a lot about how touristy it is and that it has become a bit sanitised. I can see where they are coming from but the first place we went to was the central market which is anything but sanitised. It is a hectic, motorbike filled streetscape filled with local stall holders selling anything from fruit and veg to live fish and crabs.  
It is a great place for kids to discover new and exciting things to eat and is an interesting place to wander around if you can stand the smells! 
On the streets around the market, you can also find more tourist-oriented stalls.  We bought some lovely pop up birthday cards for about 20-30p we have seen the same cards for 10 times more in Chiang Mai, Thailand!
Hoi An Night Market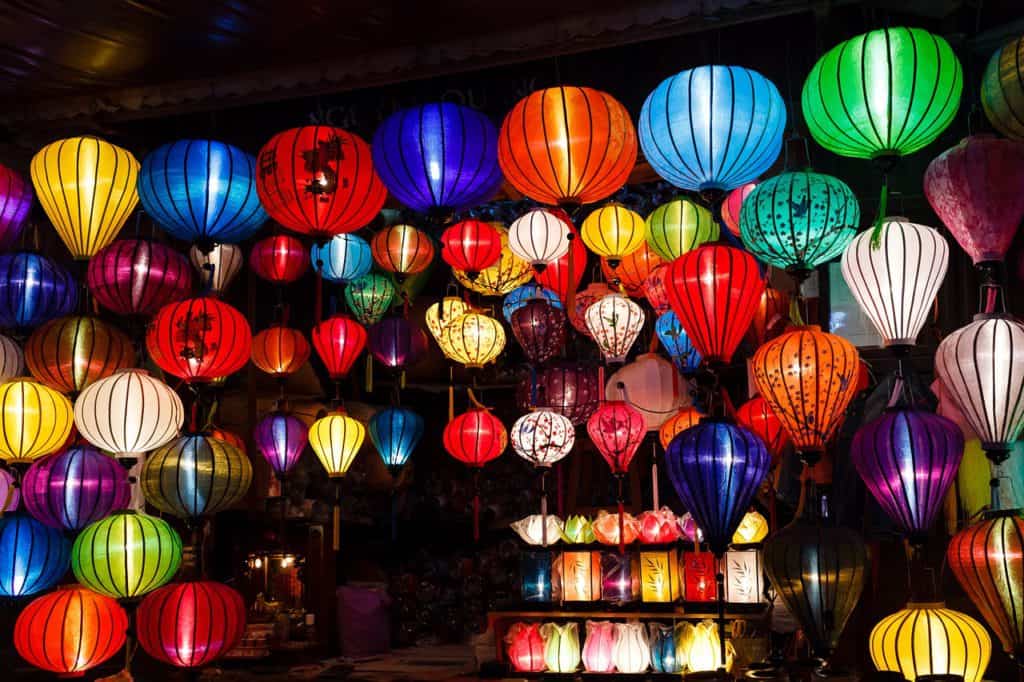 The night market in Hoi An came as a bit of a shock. Where had all these people been during the day? The area around the river and on 'the other side' becomes the focus in the nighttime with stalls and hawkers filling the streets.
It has a bit of a festival feel to it thanks to the crowds and the music playing. The stalls filled with lanterns add to the beauty of the spectacle.  
The river itself becomes filled with boats as couples and families take candlelit cruises in the boats that has sat idly at the site of the river by day.
You can release a candle in a cardboard boat along the river if you wish – just like the old HSBC advert, remember that? It looks quite pretty but where does all that cardboard end up? We passed but it is certainly one of the most popular Hoi An, Vietnam things to do. 
If you are in Hoi An with kids you should definitely make the effort to be out after dark and enjoy the night market and the river based activity. It must be even more exciting (and busy) at the monthly full moon lantern festivals.
Hoi An Boat Trip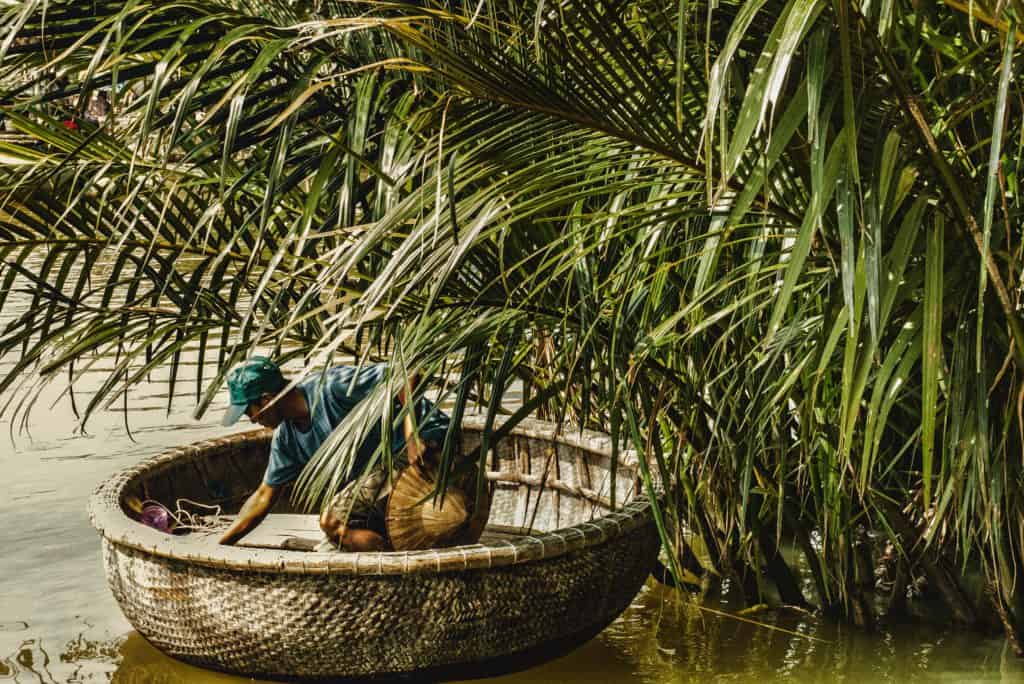 Another great thing to do in Hoi An with children is to take a boat trip on the Thu Bon River. As mentioned above these are really popular at night but we think the better plan is to take a trip in the daytime when you get the chance to see life on the river.  
If you walk along Bach Dang Street near An Hoi Bridge you will be approached by boat owners who can offer boat trips ranging from one hour to half a day. Be sure to negotiate on the price and you can get a pretty reasonable rate.
A fun alternative with older kids would be to paddle yourself on a traditional 'thung chai' boat. These circular basket boats made from bamboo were originally designed to avoid boat taxes imposed by French colonialists.
The crafty locals simply convinced the authorities that they were baskets and not boats and managed to avoid paying the taxes!
These days you can organise a tour on one to explore the submerged coconut forest or fishing villages near to Hoi An. 
Hit the Beach in Hoi An 
One of the great things about visiting Hoi An with kids is that there is not just a delightful old town to visit, there is a beach as well! In fact, there are a couple of beaches. Cua Dai beach and An Bang beach are about 3km apart whilst in the middle, you can find a 'secret beach'.
Our girls always love spending time at the beach building sand castles and digging holes. We came here after spending a couple of months on the islands in Thailand so we didn't spend that much time at the beach but it is a bit of a bonus to have alongside the gorgeous town.
We think that visiting the beach is definitely one of the top things to do in Hoi An with kids. The image above is from the lovely Tropical Beach Hoi An Resort 
See a Water Puppet Show
Another great thing to do in Hoi An with children is to see a water puppet show. This ancient tradition is culturally unique to Vietnam and is sure to enthral your kids.
The shows feature hand-made puppets dancing to music and last 45 minutes so hopefully short enough to hold your kids' attention. Tickets are reasonably priced at 40,000 Dong ( $2) for kids, 80,000 Dong ( $4) for adults which is good value for one of the top Hoi An attractions. 
Lantern Making in Hoi An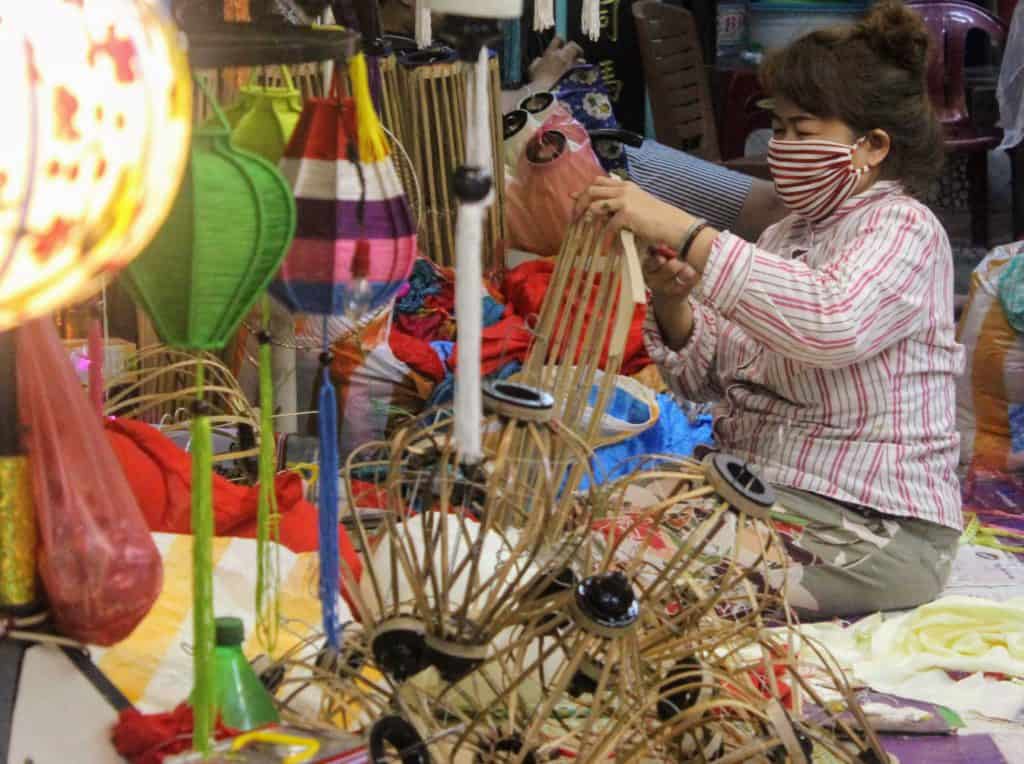 Lanterns are everywhere in Hoi An as it lives up to the moniker of being the 'City of Lanterns', so why not have a go at making one of your own? The beautiful traditional lanterns come in all shapes, sizes and colours and act as a symbol of wealth, happiness and luck. 
This is a great activity for older kids who are into craft activities but it is a bit fiddly for young kids (or you could do it together).
There are various places in town where you can do a lantern-making workshop, including the Lifestart Foundation where you can learn to make silk lanterns and paint in the Vietnamese style. They also offer free Vietnamese lessons (you need to book in advance). 
Playgrounds in Hoi An
Vietnam is not generally a very good place to find children's playgrounds but there are a couple of good playgrounds in Hoi An.
They are privately rather than out in the parks but they can be a good place for your little ones to let off some steam.
Dingo Deli east of the old town has a nice playground and an indoor playroom (with aircon) that is perfect for babies and toddlers. They also do great western food and have a lovely bakery.
Outdoor Playground at Hoai Square. This is not really a playground in the way that we think of it but there are bouncy castles, train rides etc for kids at low prices. It is open 5.30 to 9.30pm

The Salt Pub at An Bang beach has a good playground right by the beach
Where to Stay in Hoi An with Kids
Hoi An has loads of great places to stay and you can find nice hotels at very good prices. You have a few options for location, you could stay right in the old town, in one of the other areas of the town, by the beach, or in the countryside so there is sure to be somewhere that suits you perfectly.
We initially thought we would want to stay right in the old town, but in the end, we decided to stay a bit further out in the Cam Thanh area and I think that this suited us better as we had a nice relaxing hotel with a pool right by the river.
We stayed at Hoi An Coco River Resort & Spa and really recommend it as perfect family-friendly accommodation in Hoi An. The rooms are nice, the breakfast is outstanding and the location is really peaceful with the restaurant nicely set right over the water.
They offer free bikes and a free shuttle bus to the old town and to the beach (where they have teamed up with a restaurant so that you get free use of deckchairs and parasols). All in all, it makes a perfect base to enjoy Hoi An.
Click here to check availability at Hoi An Coco River Resort & Spa
If you are looking for an atmospheric stay in the old town, Nha Lan Homestay is a great option. You will find it on a quiet lane right in the heart of the old town, near to the famous Japanese bridge, and the location is hard to beat.
Click here to check availability at Nha Lan Homestay
Another great place to stay in Hoi An with kids is Tropical Beach Hoi An Resort. This is right by the beach and has fabulous swimming pools to keep the kids happy.
They also serve a great buffet breakfast and have free bikes and a free shuttle into town. If we weren't looking for a bit of a break from the beach, we would probably have stayed here.
Click here to check availability at Tropical Beach Hoi An Resort
Hoi An with Kids
Hoi An makes a great family travel destination and we are sure that you will have a great time in the ancient city. It is somewhere that we think everyone should visit when they are in Vietnam, so we have included it in our Vietnam Itinerary
We hope that we have helped you to decide what to do in Hoi An with kids, please let us know how your trip goes in the comments below, we love to hear from our readers and are always looking for extra Hoi An family travel tips! Don't forget to check out our Hoi An itinerary.
If you are travelling around, be sure to read our guide to the best ways to travel from Danang to Hoi An,  Hoi An to Hue, and Hoi An to HCMC