There are essentially two choices when deciding when to go to Koh Lipe, Thailand. You can visit in high (dry) season or low (rainy) season, and there are pros and cons for visiting in either of these seasons.
In this post, we will help you to decide when is the best time to visit Koh Lipe by outlining the differences between the two seasons and the different atmosphere and experience offered by the island at different times of the year.
Koh Lipe sits within the protected Tarutao National Park where you will find stunning crystal clear turquoise waters, glorious white sands, living coral and colourful sea life. it's as a lovely island destination with great beaches like Pattaya Beach, Sunrise Beach and Sunset Beach all linked by the famous Walking Street.
Don't get stuck! Book your transport to Koh Lipe in advance, especially during high season.
When is the Best Time to Visit Koh Lipe?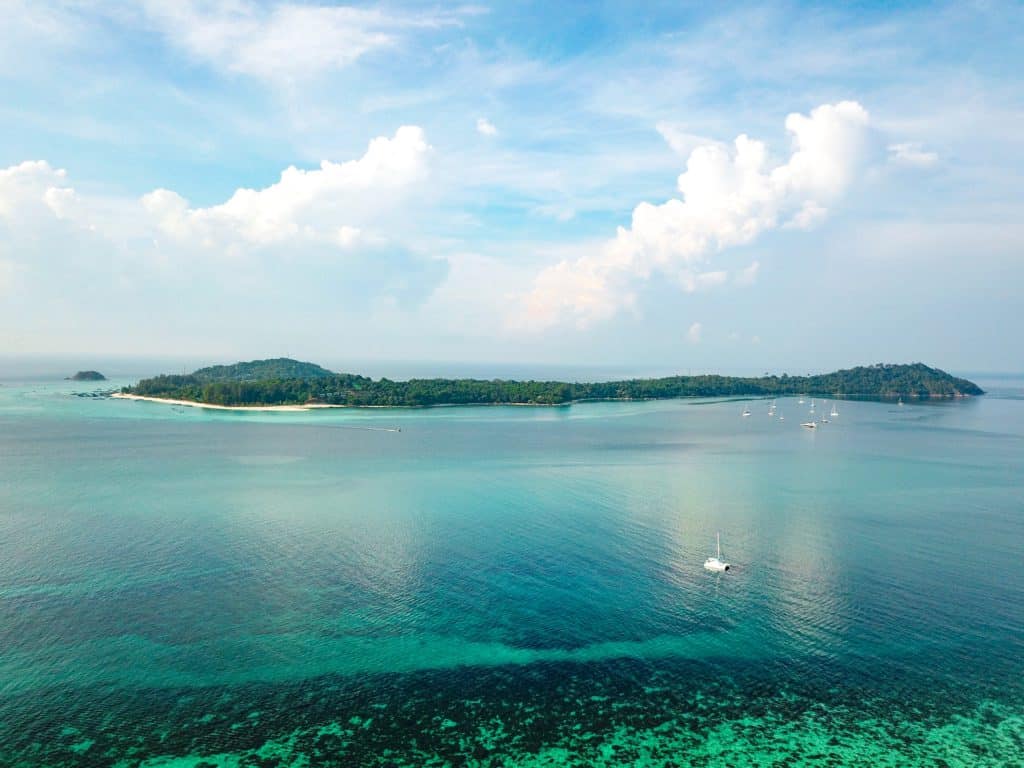 The best time to visit Koh Lipe is during the dry season from November to March. This is when Koh Lipe weather is at its best and you will be best able to enjoy the feeling of being on a paradise island.
Having said that, there is no perfect time for visiting Koh Lipe Thailand. When choosing when to go to Koh Lipe, you will need to balance up what is most important to you.
If you are looking for the best weather in Koh Lipe, lots of activities and vibrant nightlife. You will want to visit Koh Lipe during the High Season (November to May). The trade-off is that the island will be busy and more expensive.
If you are prepared to take a risk on the Koh Lipe weather in favour of lower prices, quiet beaches and limited nightlife, then the low season (June-November) could be the best time to stay in Koh Lipe. You will most probably experience some rain in the low season (thats why it is also called the rainy season!), but whether it is a few hours a day or for weeks at a time is hard to predict.
If you are looking for the best of both worlds, the end of May or beginning of June could be the Koh Lipe best time to go as it gives you the best chance of combining good weather with cheaper and quieter island life. If you are travelling around you might like to take a look at our guide to the best time to visit Krabi.
When is high season in Koh Lipe? What can we expect during High Season?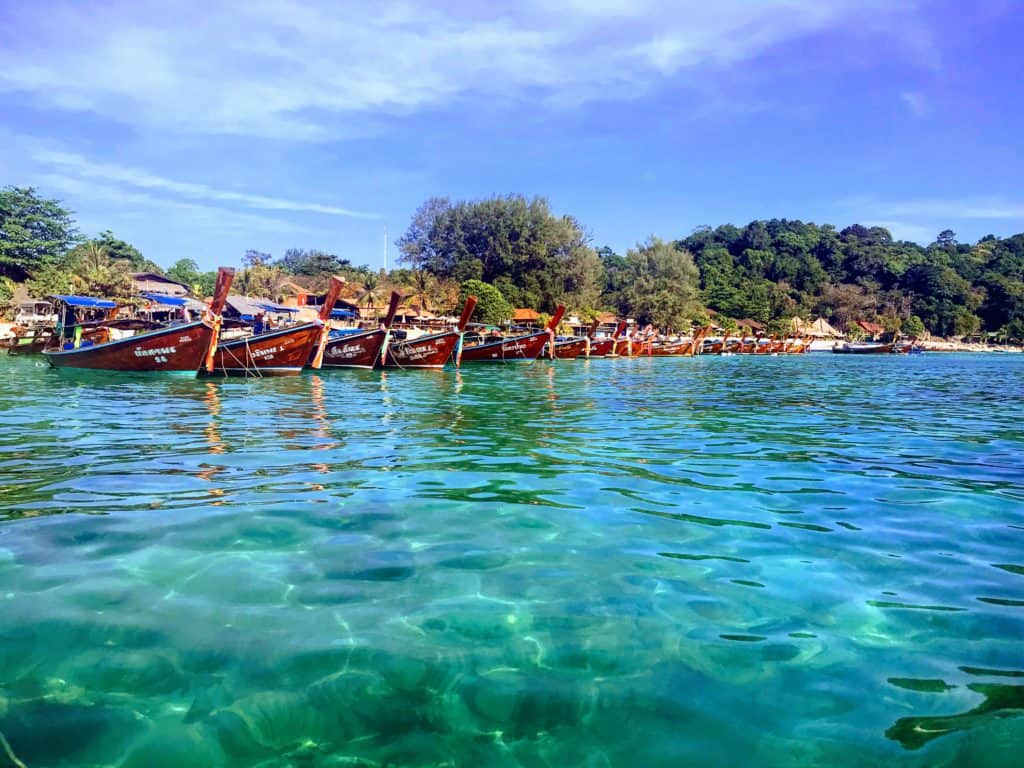 High season in Koh Lipe runs from December to early May. Within high season is a peak season that starts just before Christmas and lasts until the end of February. During this time it is well worth booking your hotel & transportation in advance as the best hotels fill up fast and ferries and speedboats can get booked out.
You do have a far greater range of transport options in the Koh Lipe high season. There are high-speed ferries and speedboats that will take you to any of the islands between Koh Lipe and Phuket. There is also a ferry to Langkawi in Malaysia if you fancy continuing your adventure to the south.
As well as booking your tickets in advance, it is worth making sure that you are one of the first to get on board. They will sell more tickets than there are seats and a speedboat journey without a seat can be pretty uncomfortable, especially if you have to stand, keep your balance and carry a toddler (like I did).
To help plan your journey, check out our guide on how to get to Koh Lipe.
During the high season in Koh Lipe, you are almost guaranteed good weather so for many people this is the best time to travel to Koh Lipe Thailand.
Rain is rare at this time of year and most days will be sunny with blue skies. Of course, there is always the chance that you won't be lucky with the weather but this time of year is definitely best for weather.
High Season Pros
Good weather
Lots of day trips available
Good visibility for diving and snorkelling
Lots of nightlife and other travellers to meet
Lots of ferry/speedboat connections.
High Season Cons
High Prices
Busy everywhere
Need to make hotel reservations well in advance
Need to book transport in advance
The good weather draws the crowds and you will have to be prepared for the island to be busy during high season. Some people will prefer this as it means there is lots going on with plenty of options for day trips to neighbouring islands for snorkelling, diving and exploring.
There is a lot more action in the evenings as well. It's not a full-on party island like Phi Phi but there is a good amount of bars to keep you entertained with live music and other events going on every night.
During the day the beaches will be busy but you should easily find a space to sit. It won't be wall to wall towels like you find in some European beach resorts. It will be very hot in the daytime so shady spots tend to get taken first.
The high season is probably the best time travel to Koh Lipe if you are interested in diving or snorkelling as you will find that underwater visibility is much better. As the seas are much calmer at this time of year, less sediment is disturbed and waters tend to be crystal clear.
The Best of Both Worlds?
If you want the good weather without the crowds, we recommend staying on Koh Adang. It is a beautiful, mountainous island just a couple of minutes in a long tail boat from Koh Lipe island.
You can stay at the lovely Koh Adang Resort which is the only hotel on the island and has its own private beach, free use of kayaks and snorkels, beachside swimming pool and a free shuttle boat to Lipe.
This might sound like it is some exclusive hotel that costs a fortune, but it is actually very affordable, we chose to stay there mostly because it was cheaper than anything we could find on Koh Lipe. It surpassed our expectations and we loved it there so much that we stayed an extra 4 nights! We got a great deal by booking through Agoda.
What is it like in Koh Lipe during low season?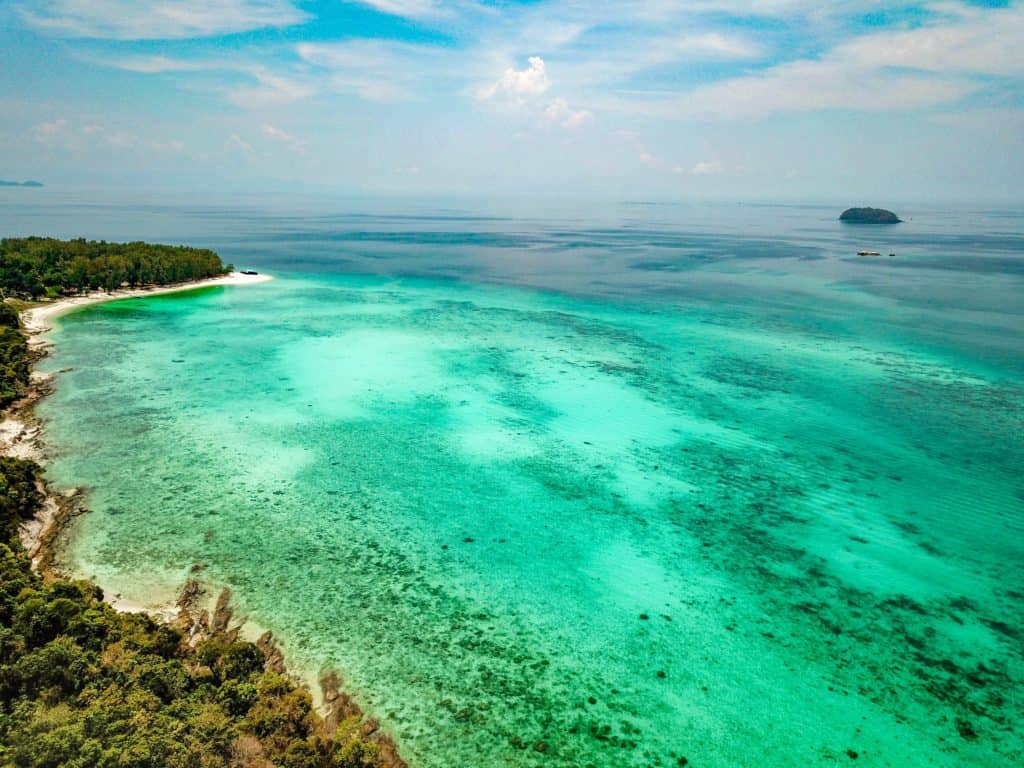 The low season on Koh Lipe runs from Mid-May to December. During this time the island is a quieter and more peaceful place to visit.
You will find that the beaches are almost deserted, the nightlife is somewhere between chilled and non-existent, and hotels have rooms to spare and offer some bargain prices.
This is the time to come if you dream of living in a stylish beachfront bungalow without breaking the bank.
So far so good but the big catch is the weather.
During the rainy season, there is a good chance that you will have rain every day. This could be for an hour or two each day, or you could have consecutive days of non-stop rain. When you are on a tiny island like Koh Lipe there is not a huge amount to do in the rain and it certainly isn't the island experience that you dream about.
Koh Lipe is quite a remote island and there is a chance that boats won't be able to go to and from the mainland in the worst weather conditions during the Koh Lipe rainy season.
The rains tend to get worse as the summer wears on and October and November are probably the months when you are most likely to experience rain all day. Of course, this is just a general trend and weather patterns are changing the world over so you could end up with better or worse weather than expected.
Low Season Pros
Low prices
Quieter
Less need to book ahead
Low Season Cons
Likely to rain
Not everywhere is open
Limited nightlife and fewer travellers to meet
If you visit Koh Lipe in the low season you will find island life quite different from the high season. The lower numbers of visitors give the whole island a more relaxed vibe. But it does get so quiet that many places shut up shop for a few months. In the rainy season, over half of the bars, shops and restaurants on the island are closed down for the rainy season.
Most hotels remain open (at reduced rates) but some will take the opportunity to do repair and construction work so you may find that it is a bit noisy relaxing around the pool, or that some facilities are not available.
The bars that stay open tend to close early at around 10-11pm and there is rarely any live music on the island as there is not enough custom to justify paying the musicians.
Your choice of day trips from Koh Lipe will also be more limited as some small islands in the area islands close to snorkelling visitors, the weather can also result in cancellations of some trips.
Lipe itself is open year-round with 2 boats running to and from Pak Bara to Koh Lipe every day. Other routes close down over this period and seas can be rough so it is harder to reach Koh Lipe in the offseason and harder to incorporate it into an island-hopping itinerary.
If you have concerns about travel by boat in rough seas (maybe you are in Thailand with a baby or toddler) you may want to give Koh Lipe a miss in the low season as the sea crossing could be pretty hair raising. An alternative would be to visit Koh Lanta which can be reached by road with just a short hop on a ferry in a sheltered bay.
It is worth noting that the weekends tend to be busy all year round on Koh Lipe. Thai and Malaysian tourists like to head to the island for a weekend break so it is worth booking ahead for Fridays, Saturdays and Sundays, especially if they fall on a national holiday.
Which Month is Best for Koh Lipe?
The best months to visit Koh Lipe are between November and March. The weather is perfect at this time with hardly a cloud in the sky and very little rain. It will be busier during these months but we think this is still the best time to vist Koh Lipe.
Where to Stay in Koh Lipe
If you are looking for a great place to stay on Koh Lipe, our top pick hotels are Ten Moons Lipe Resort and Chareena Hill Beach Resort
Ten Moons Lipe Resort is one of the best hotels in Koh Lipe. It is a high-end resort that is easily worth the money for beautiful beachfront bungalows on a private stretch of beach. The restaurant here serves some of the best food on Koh Lipe and you can enjoy lovely sunrise views from the comfort of your room.
Check availability on Agoda or  Read Reviews on Booking.com
Chareena Hill Beach Resort is an awesome mid-range choice hidden at the end of Pattaya Beach. Rooms are raised on a small hill so you get panoramic views but it is just a short walk to the beach.
Check availability on Agoda or Read Reviews on Booking.com
As mentioned above, our top tip is actually to stay just off Koh Lipe at the Adang Island Resort, it is just a few minutes away by boat but offers you an almost private island experience.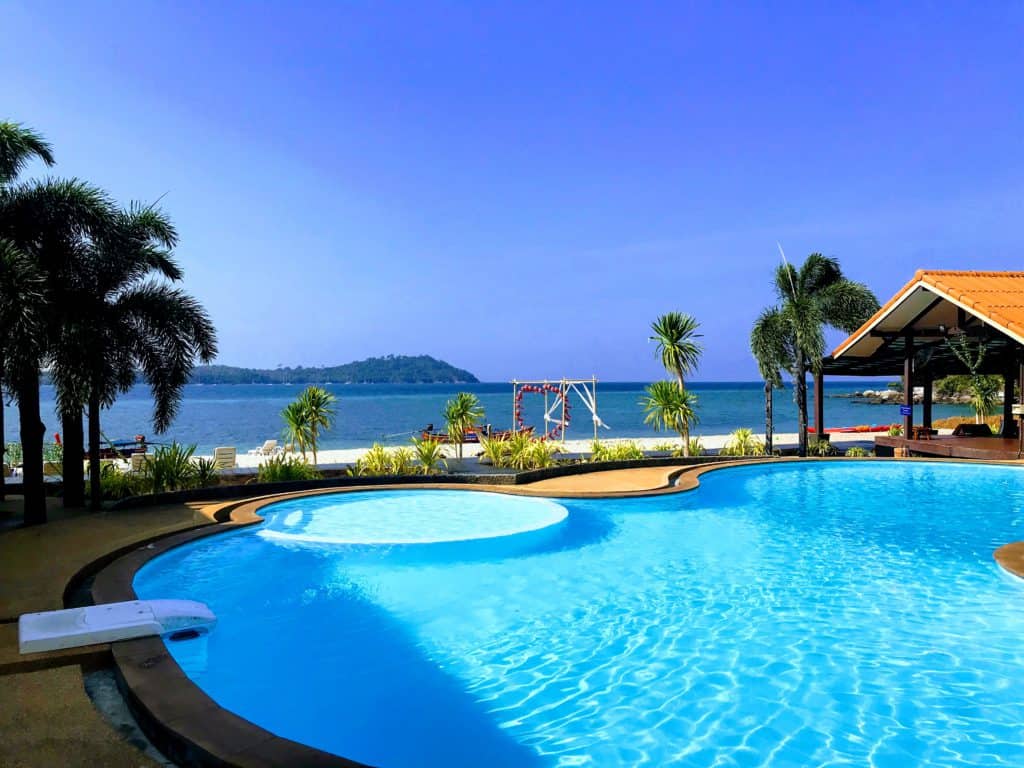 We loved that you could have free use of kayaks and snorkels whenever you wanted. They also do a free scheduled long tail boat over to Koh Lipe a few times a day so you can still easily get to the bars and attractions of the more famous neighbouring island. 
They have a range of great rooms to suit all budgets. You can check availability for your dates on Booking.com or Agoda.com
Final Thoughts on When to Go to Koh Lipe
We hope that you have enjoyed reading about the Koh Lipe best time to visit. It is a very pretty island that can easily be added on to our 10 Day Thailand itinerary if you have a bit more time in the country.
You may like to also visit some other nearby islands like Koh Lanta, Koh Ngai, Koh Mook or Koh Libong. Each has its own unique feel and offers something different to travellers interested in exploring some of the stunning islands in this part of Thailand.
If you are travelling with kids be sure to check out our guide to Koh Lipe with Kids and our Thailand with a baby and toddler post.
If you are planning a trip throughout Thailand please take a look at our Krabi, Bangkok and Chiang Mai content for some great ideas of where to stay and what to do.