Kids and toddlers just love tablets.
Looking at photos, playing games, watching videos, taking close up pictures of their nose. They just can't get enough of them!
So should you get them a tablet of their own? And if so which one would be best for your child? Or are they harmful to young children and best avoided?
In this post, we look at the research into tablet use at a young age and present our guide to what we think is the best tablet for toddlers and young kids in 2022.
Don't worry if your child is older, these are the best tablets for kids of all ages whether they are toddlers, preschoolers or a bit older.
---
Our Top Tablet for Toddlers
If you don't have time to read all of this, our top pick is the Amazon Fire HD 10 kids edition tablet. It is a bargain price and has everything that your child needs.
It comes ready loaded with some of the best kids security features out there so you don't need to worry what your child might see and it is also pre-loaded with great kids content (games, books, tv shows etc).
If this isn't enough to persuade you, it comes with an awesome 2-year guarantee that means Amazon will replace it no matter what (yes, even if your little one throws it in the bath, out of the window or under a bus!).
Reasons to pick the Amazon Fire HD 10
Great Price

2 year no-quibble guarantee

Great kids security features

Protective case included

Loads of great age-appropriate content with Amazon Kids+
(Pssst….. if you like the sound of this but want to save some money, the smaller Fire HD 8 and Fire 7 tablets are also great choices – see the full reviews below)
---
Should You Get a Tablet for Your Child?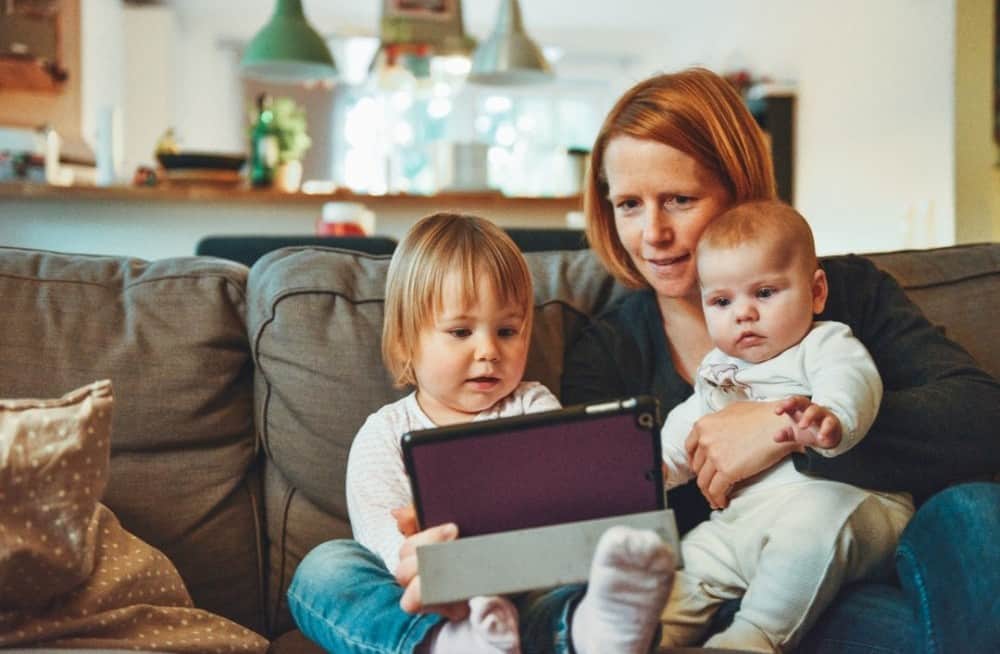 Tablets and smartphones are an important part of the world we live in and children will naturally be curious to use them, particularly if they have older siblings.
It is interesting to note that research in the UK has shown that of families which own a tablet, a third of children under 5 have their own device.
Whilst people often have concerns about screen time, when managed properly tablets can be an important source of learning as well as entertainment.
Age-appropriate apps can help to foster a wide range of play and creativity.
We feel that tablets really come into their own when you are travelling. Whether it is when waiting for a plane, in a restaurant, or just some quiet time at the end of a busy day, there are always times when having some portable entertainment for your toddler is a life saver.
Introducing a Tablet to Your Toddler
The BBC has published a great article about introducing a tablet to a young child, this is based on work with the Tech and Play research group.
To ensure that tablet use is an enriching experience they offer the following advice:
Get one when you feel it is the right time for your child. There is no right or wrong answer to when to introduce a tablet to your child.
Use the tablet alongside your child to help them to understand how to use it and what it can do. Media use alongside an adult is more beneficial than independent media use in the early years.
Develop a routine for using the tablet. This will help avoid the problem that some parents face where children won't turn off the technology
Choose appropriate apps for your child. There are so many apps aimed at babies and toddler that it can be hard to know where to start. Be sure to check the apps before using them with your child.
Link tablet play with real play, e.g. connect with the real world by taking photographs when out and about, or take photos at stages during the construction of a lego/block tower and look back on it later.
How to Choose Tablets for Toddlers
This buying guide covers what we consider to be proper tablets that will allow you to download apps and games, watch videos, take photos and all the other things that you expect from a tablet and that kids love to do.
We hope that once you have read it you will have a good idea of what is the best tablet for a toddler (and older kids).
There are toddler specific products from companies like VTech, they may introduce your child to the concept of a tablet but they don't really provide the tablet experience that we are looking for in this post.
Size: Not too big for small hands, or larger so that you can watch cartoons better. You decide.
Screen Resolution: A higher resolution will give you a sharper picture.
Storage Memory: A higher GB of memory will mean that the tablet has more space to download apps and store photos, music and videos etc.
RAM: Higher RAM will mean that the tablet is better able to cope with multiple tasks and will increase the speed of the tablet.
Robustness: We all know that even the best-behaved toddlers have been known to drop and throw things at times so a robust tablet is essential. This is often achieved through the use of a snuggly fitting silicon case.
Kid Friendly: Child-specific safety mode to restrict inappropriate content.
Content: How much content is available, how easy is it to access and how much does it cost.
Toddler Tablet Reviews
Amazon Kindle Fire HD 10 Kids Edition – The Best Tablet for Toddlers
Size: 10" | RAM: 2 GB | Memory 32GB | Screen: Full HD | 1.8 GHz Quad-core processor | Fire OS
The Kindle Fire HD10 is the largest of the Amazon Kindle Fire tablets and has the best specifications. We think that it is one of the best kid-friendly tablets, and a great option when choosing a tablet for a toddler.
One of the reasons that we think this is the best toddler tablet, is the 2-year guarantee that covers any accidental damage. This is an awesome offer from Amazon considering that these are marketed as tablets for kids and surely makes this the most durable tablet for toddlers.
The display is full HD (224 pixels per inch) so will provide you with a crisp picture whether playing games or watching a movie, and 32GB will provide plenty of space to download your favourite content.
In terms of processor speed, you get a healthy Quad-core up to 1.8 GHz with 2 GB of RAM. As with the smaller Kindle Fire tablets, the HD 10 has expandable memory.
The Kindle Fire HD 10 kids edition tablet claims a maximum battery life of 10 hours (in our experience you are likely to get a bit less than this but still a decent amount).
As this is a full-sized tablet, it might not be the best tablet for an 18-month-old but older toddlers should be fine.
Our daughter generally puts it on her lap or on a table so it isn't really an issue but it is worth considering whether one of the smaller models would be better for young kids.
Amazon has a range of fire for kids tablets specifically aimed at children and we feel that these are all good tablets for toddlers and great options when choosing a tablet for a toddler or pre-school kid. It makes it one of the best tablets to learn on, as well as providing hours of entertainment.
There are different models that are of different sizes and have different specifications. (keep reading you may find some of the others in this list!)
They all come with a case to keep the tablet safe and a fantastic 2-year no-quibble guarantee should there be any little accidents.
On top of this, they are packed with kid's specific content with Amazon Kids+ (formerly known as FreeTime Unlimited in the US and Fire for Kids Unlimited in the UK). 
You get this free for a year with the purchase of the tablet and this gives you access to 15,000 popular apps and games, books, videos and educational content.
This subscription will automatically renew at the end of the year so be sure to cancel if you find that you aren't using it.
One of the great features of the Amazon tablets is the extensive parental controls that allow you to manage usage limits, content access, and educational goals. We think that this makes them some of the best kid tablets available.
The parental control software can all be managed through your child's device, or remotely from the Amazon Parent Dashboard. The dashboard even provides discussion cards to help encourage conversations between you and your child based upon the apps that they have been using.
You do not need to worry about your toddler accidentally seeing something that they shouldn't as the tablets all come with a kid-safe browser that will screen out inappropriate content when they are browsing the internet. 
You should get a few years use out of the tablet and the content is designed to grow with your child with smart filters that can ensure that only age-appropriate material is available as they grow you can hide the baby stuff and open access to the slightly scarier stuff. There is content for the very youngest kids so this also makes a great baby tablet.
There is one feature of the Kindle Fire tablets that may not be quite so welcome. They run on Amazon's own Fire OS rather than Apple iOS or Google Android that you are likely to be more familiar with.
You still get a decent choice of apps but you only get YouTube of the flagship Google apps and overall there is far less choice than with an Apple or Android device and they are geared towards tying you into the Amazon ecosystem.
Amazon regularly reduce the price of the Fire tablets, it is definitely worth keeping an eye out for Black Friday Deals.
For more details on the Kindle Fire HD10 please click here.
PROS
Great Price

2 year no-quibble guarantee

Large 10″ HD screen

Great kids security features

Protective case

Loads of great age-appropriate content with Amazon Kids+
CONS
Fire OS has a more limited choice of apps than Android or Apple tablets.

Subscription charge to keep Amazon Kids+

after the first year
Dragon Touch K8 Kids Tablet
Size: 8" | RAM: 2 GB| Memory: 16GB| Screen: 800 * 1280 |
1.3 GHz Quad-core processor
| Android
The Dragon Touch K8 kids tablet is a great affordable tablet for kids and is worthy of serious consideration if you are looking for a cheap toddler tablet.
The tablet comes pre-installed with Kidoz, a child-friendly interface that makes it a great android tablet for kids.
Your preschooler can access loads of fun and educational games, videos and websites without any risk of them coming across anything inappropriate. 
Advanced parental controls include timer settings and content control features. You can control what content they can see and restrict access to the device data and settings.
It also personalizes content recommendations to suit the interests of your child.
One of the unique features of this tablet is the specially designed tablet case which incorporates a stand and stylus. This combination is great as it gives your child the opportunity to draw and write on the tablet without needing to hold it. This is one of our favourite baby tablets and a good choice of learning tablet for 1 year old. It is also perfect for watching their favourite shows and movies.
One of the things that we like about this tablet is that it runs on the Android operating system. This means that you can access the Google Play store for all the entertainment and educational apps you could ever need.
We think that the Dragon Touch K8 is one of the best kids tablets and makes for a great option for anyone that would prefer an Android tablet to an Amazon tablet. The parental controls are great, the screen is really good quality and it even comes pre-loaded with 20 Disney storybooks and 4 Disney audiobooks. All in all this is one of the best cheap tablets for kids.
For more details on the Dragon Touch K8 please click here
PROS
         An innovative case with stand and stylus

         Budget friendly Android Tablet
CONS
      Rubber at the end of the stylus comes off easily   
---
This post is one of our travel gear reviews.

We aim to help you find the right product to make your travels go that bit smoother.

Head over here to check out everything from baby carriers to travel strollers and travel cots
---
Amazon Kindle Fire HD 8 Kids Edition – Best Tablet for 3-Year Old
Size: 8" | RAM: 1.5GB| Memory: 16GB| Screen: HD 720p |1.3 GHz Quad-core processor| Fire OS
The Kindle Fire HD 8 tablet has a smaller 8-inch screen and is overall a slightly less powerful machine than the HD10 above but is is still one of the best tablets for little kids.
It has a slightly lower resolution (189ppi), a slower processor and less RAM (Quad-core 1.3 GHz with 1.5 GB of RAM), but otherwise retains all the great features of its bigger brother.
The tech specs should be more than sufficient for the needs of a toddler so we do not feel that should unduly sway your decision.
The key difference with the 10-inch version is simply its size, the 8 inch may be slightly easier for small hands to hold, whilst the bigger screen on the Fire HD 10 makes it better for watching cartoons, videos etc.  
One advantage that the Fire HD 8 has is a longer battery life thanks to the smaller screen, Amazon claim this should be up to 12 hours of reading, surfing the web, watching video, and listening to music.
This is one of the best tablets for kids and well worth purchasing.
For more details on the Kindle Fire HD 8 please click here.
PROS
2 year no quibble guarantee

Great kids security features

Protective case

Amazon Kids+
CONS
Fire OS: limited app choices

Monthly subscription for Amason Kids after the 1st year

(if you want to continue to access the content)
Apple iPad 10.2
Size: 10.2" | RAM: 2GB | Memory: 32GB | Screen: 2048*1536 |Processor: A10| Apple iOS
If you are looking for a tablet that doesn't have the constraints of the Fire OS, the new Apple iPad 10.2 is a great option that is quite an affordable price for an Apple tablet.
It has great performance and premium features that mean your little one has great scope to explore their creativity using the huge selection of kids apps on the App Store.
One of our favourite features that set this apart from the other tablets on review is the ability to use the Apple pencil, this takes the tablet to another level as a portable drawing pad which never runs out of paper.
We think that this is the best educational tablet to buy a toddler and is the best tablet for toddlers to watch movies thanks to the amazing screen.
You get the slick Apple iOS, App Store and great processor speed, 32GB memory (not expandable), great camera, good battery life and the beautiful retina display 264ppi. The iPad boasts a great 12-hour battery life.
If you use iPads/iPhones yourself you will be familiar with how it works and this will mean that you are better able to help your little one use it. 
To turn this into a true toddler tablet you will need to get a robust case to ensure that it is this less vulnerable to being dropped and enable the kid's mode. Once you have done this you are looking at one of the best tablets for kids.
Parental controls are included as part of the operating system but will need to be turned on (unlike on the Amazon tablets). It is pretty simple and the video below will walk you through the steps that you need to take.
Of course, once the kids are in bed you can use this lovely tablet for yourself! Maybe you could start a blog! (although, you are better off using a laptop for blogging).
For more details on the iPad 10.2 please click here.
PROS
         Top specs in every area

         A nice size for kids

         Good enough to use as your family's only tablet
CONS
---
Need a case for your tablet?

Check out our review of the best tablet cases for toddlers
---
Amazon Kindle Fire 7 Kids Edition – Best Tablet For 2 Year Old 
Size: 7" | RAM: 1 GB| Memory: 16GB| Screen: 1024*600 |1.3 GHz Quad-core processor| Fire OS
The smallest and cheapest Amazon kids tablet, the Kindle Fire 7 still comes with the great no quibble accidental damage guarantee, silicon case, kid's operating system and kids content for a very low price.
If you can get this reduced on Black Friday or one of the other sales they do throughout the year it really is a cheap toddler tablet.
As the smallest in the range, it is well suited to small hands so it could be the best tablet for a 2 year old. The lower price is due to the lower specs and you do get less RAM and less memory on this tablet.
It remains a capable tablet and is worthy of consideration but we feel that it doesn't quite live up to the two larger tablets.
Given the small price difference to the HD8 Fire kids edition, you might want to consider going for that over this one. It should last you longer as the better internals will stand up better to OS upgrades and increasingly memory-hungry apps.  
Having said that, this one is a total bargain and a great choice for your baby's first tablet. 
For more details on the Kindle Fire 7 please click here.
PROS
Cheap

2 year no quibble guarantee

Great kids security features

Protective case

Amazon Kids+ provides great content
CONS
Fire OS: limited app choices

Low Spec device

If you want to keep Amazon Kids+ after the first year you will have to pay a subscription

.
Samsung Galaxy Tab E Kids Edition
Size: 7" | RAM: 1 GB | Memory: 8GB | Screen: 1024 x*600| 1.3 GHz Quad-core processor | Android
Samsung Galaxy Tab E Lite Kids Edition is one of the few dedicated kids tablets that run on the Android operating system.
In my opinion, this is an advantage over the Amazon tablets as it creates a far less restrictive user experience.
This tablet comes with over 20 kid-friendly apps pre-installed and makes it easy for your child to explore games and books that align with STEM and Common Core curriculums
This tablet comes with the Samsung kids app pre-loaded so it is ready to after just a couple of minutes set up form the parent.
This is more than just a kids' mode app and functions more like a locked down launcher that comes with loads of kid-focused entertainment available on subscription. It is also one of the best educational tablets for kids.
All of the apps in the 'Samsung Kids' library have been selected for kids from 2 years old to 8 years old and have been tested and checked by Samsung, to ensure that they have no ads, no in-app purchases, and no questionable content.
So there is no need for you to worry about what they might be downloading. All of the apps are presented in a catalogue format, and the kids themselves can download and install the apps themselves, straight from the launcher.
This is such an awesome feature. A standard Android tablet running with a kid's mode will need you to install the apps yourself or supervise your child doing it, but with this one you can simply do the initial set up and hand it over to them and let them explore a world of apps that will keep them happy, entertained, and learning, safe in the knowledge that they cannot access anything you wouldn't want them to.
Side note – if you think that a pre-school child won't be able to figure this out on their own then you need to think again! But, as we said above it is best to try and get into the habit of using the tablet with your little one rather than leaving them alone with it all the time.
You get 3 months of Samsung Kids for free, after this, it is either $7.99 each month or $59.99 for a year.
If you are thinking that this all sounds a bit too restrictive, don't worry, you can access the full Google Play store using the parental controls. When setting it up you can also use the parental controls to implement time restrictions or limit the categories of apps that are available.
The battery life on this kids tablet with wifi is a decent 9 hours, memory is easily expandable using a micro SD card and you get a nice silicon case to keep the whole thing protected.
All in all, this Samsung childrens tablet is a very tempting choice for a first toddler tablet for a 2-year-old, 3-year old or 4-year-old and is probably the best android tablet for kids.
It has a great kids mode that means your young child will only access safe content (and won't rack up any expenses with in-game purchases), but it also allows access to the whole world of free and cheap apps that are available on the Google play store so is far less restrictive than the slightly cheaper Amazon Fire tablets.
For more details on the Samsung Galaxy Tab E Lite kids edition, please click here.
PROS
Great toddler-friendly kids interface with loads of good content
Flexible Android OS
CONS
Only 3 months of Samsung Kids for free
Silicon case isn't as good as most of those in this review
Only 1 GB RAM
Final Thoughts on the Best Tablets for Toddlers (2022)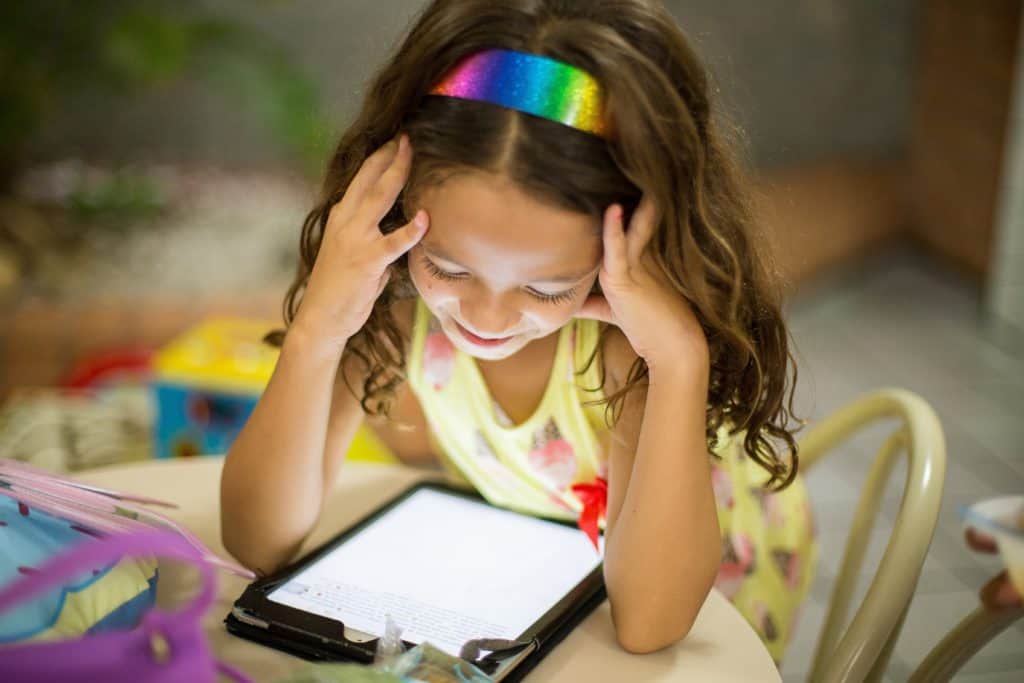 We hope that you have enjoyed reading our guide to the best tablets for toddlers in 2022. We think that the tablets that we have reviewed are the best toddler tablets available and there is one for every budget.
Overall we think that the Amazon Fire HD10 is the best tablet for a toddler and the best tablet for preschoolers. 
Click Here to Buy Your Amazon Fire Tablet
We understand that buying a tablet for a toddler can be a difficult choice and fraught with parenting guilt over whether you should be shielding your little one from technology like this.
Our feeling is that the technology is there and they will see you on your phone/tablet and be interested to investigate these intriguing devices for themselves.
Given this, we think it is best that they have their own child tablets that they can use safely and learn to value for themselves. It also avoids accidents like your toddler wiping your phone and losing a year of photos and other stuff (yes, this did happen to us, and no it wasn't backed up. Lesson learnt!)
Have you introduced a tablet to your little one? How has that gone? Do you agree with our top picks above? We would love to hear from you in the comments below.